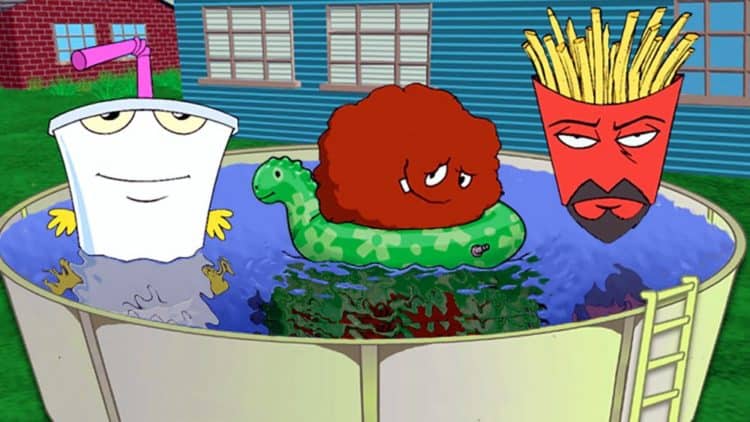 Fans of Aqua Teen Hunger Force are probably going to be pretty happy to hear that their favorite trio is returning since the news that Frylock, Master Shake, and Meatwad are coming back for a standalone movie should be big news in certain circles. The trio that was a part of Adult Swim until around 2015 is going to be taking on another adventure, but in the spirit of the show, no one really knows what the adventure is going to be since as many people already understand the show is so off the cuff crazy that trying to predict what's coming is bound to be the only way to really understand what could happen. There's also no release date set at this point either so trying to say what it's about or when it's going to be coming out is next to impossible at the moment. All one really needs to focus on is thinking that eventually the movie will be released and it's easy to imagine what could possibly happen after that even if nothing is going to or if there are already plans in place. Adult Swim has been known for churning out some of the craziest stories ever imagined, and it's fair to state that this is bound to be another one of them since those that know about this team have already seen what they do and what tends to happen around them, so it's not a big surprise that there' no way to tell what's going to come from this just yet. The issues that the group had to deal with were quite often so off the wall that even the fans had to wonder what in the hell was going on, even as they loved it. Having run for a good 11 seasons, the show ended in 2015 with an impressive number of episodes and was even given a movie at that time. Now that it's coming back it's very easy to think that people might actually do what it takes to get the show back up and running again, but that's another matter that would require another discussion.
It does sound as though the movie will be featured on DVD, Blu-ray, and digital for the first 90 days before being released to Adult Swim and HBO Max, but if it's here before 2022 it might be a small miracle. Trying to guess when this will happen is kind of pointless at this time, but again, fans are bound to understand and might be thrilled just to hear it's coming out. There are times when one really has to wonder why animated series such as these tend to draw so enough fans to keep going and to inspire movies to be made, but when looking at what each one of us values and enjoys when it comes to pop culture it's usually best to not throw stones. There are plenty of oddities and weird shows out there that people love to watch, and Adult Swim has at least a few of them but not all. The fans have definitely spoken over the years when it comes to what they like, and while this might not be enough to bring back the series it will likely be enough to entertain those that might have been missing the Aqua Teen Hunger Force for a few years. If nothing else they'll get another wild and unpredictable adventure out of the group, and perhaps another movie if things go well. It's hard to say without seeing the movie first since there are times when another movie might be underway even as the next one is coming out and there might be no plans at all for continuation after something is well and done. Trying to anticipate this show is almost impossible since the unpredictability of it is one of the biggest charms. To be fair, the craziness and the unpredictable nature are both pretty important since the stories of a shake, a box of fries, and a lump of meat might otherwise be kind of awkward if there wasn't something else going on with the whole thing.
There have been seriously weird animated series over the years, then there have been weirder series and at some point, there are people that wonder just how weird could it possibly get. The folks at Adult Swim appear to take that question to heart and answer it in a very strange but pointed way with their contributions and this upcoming movie is just one of them since the idea already sounds like something that a stoner might have thought up while visiting a local fast food restaurant. But somehow, an idea is grown out of this kind of thinking and it captivates people in a way that's hard to deny. So at one point, it's better to ask 'why fight it?'.