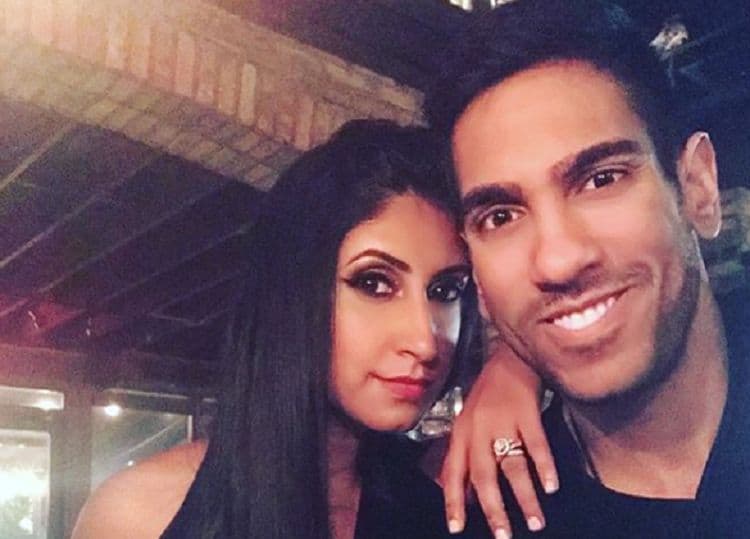 Being on a reality TV show could be a life changing experience. When Amrit Kapai was offered the opportunity to appear on Bravo's new reality series, Family Karma, he was excited to say yes. The 32-year-old lawyer came out to his parents a little more than 5 years ago. Although homosexuality is generally frowned upon in Indian culture, he has since been able to rebuild a positive relationship with his parents. He hopes that his presence on the show will help open the door to discuss sexuality – especially within the Indian community. Keep reading for 10 things you didn't know about Amrit Kapai.
1. His Boyfriend Is From A Conservative Family
One of the first things viewers learn about Amrit on the show is that he's in a serious relationship. His boyfriend, however, is still in Chicago and working as a teacher. Another interesting piece of information about Amrit's boyfriend, Nicholas, is that he comes from a conservative midwestern family. Like Amrit, he may have faced some challenges when coming to terms with his sexuality.
2. His Parents Were Nervous For Him To Be On The Show
If there's one thing that's true about most parents, it's that they'll continue to worry about their kids even after they've reached adulthood. That was definitely the case for Amrit when he decided to be on the show. Although he wasn't nervous about sharing his story, his parents expressed some concern. According to Amrit, his parents "were nervous about me sharing my personal story with viewers across the country and the possible implications that may carry. "
3. He Lived In Chicago For 7 Years
After completing law school in St. Louis, Amrit relocated to Chicago and took the Illinois bar exam. He continued to live and work in Chicago for the next 7 years. After being raised in a strict home, he enjoyed his newfound freedom and independence. However, he eventually moved back home to south Florida and currently stays with his parents.
4. He's a Practicing Lawyer
Lawyers and reality TV may seem like a strange combo, but it's one that viewers have seen quite a few times. Other Bravo shows, such as The Real Housewives of Atlanta, have also featured cast members who are lawyers. Amrit is currently an attorney at Goldstein & McClintock. He relocated back to Florida in order to help the firm set up a new branch.
5. He's Into CrossFit
The cast of Family Karma definitely has the health and fitness came on lock. Each of the cast members seem to take very good care of themselves, Amrit Kapai included. He is very serious about fitness and staying in shape. When he's not busy filming or working, exercising is his pastime of choice. He specifically prefers CrossFit
6. His Name Has An Interesting Meaning
Names are a big part of Indian culture. Amrit hasn't revealed whether or not there's a special story behind his name, but he did open up about the meaning. In an interview with Windy City Times, Amrit revealed that his name means "sweet nectar".
7. He Drank A Lot Before Coming Out
For many members of the LGBT community, coming out of the closet is one of the hardest things they'll ever have to do. For Amrit, keeping the truth about his sexuality hidden was causing him to head down the wrong path. He was constantly drinking and seeing some of his relationships suffer because of it. Amrit described the moment when he'd finally had enough: "I was planning on going to see a movie with my mother and I was sitting on the couch at their home. I blurted it out. I came out as bisexual, then I told them I was gay later. It was a bomb to drop and my mom just thought we were going to the movies!"
8. NeNe Is His Favorite Housewife
Bravo's Real Housewives franchise is responsible for some of the network's most successful shows. And while all the housewives series have made their mark, Amrit has a special place in his heart for The Real Housewives of Atlanta. He says NeNe Leakes is his favorite housewife and that he thinks she's "fantastic".
9. He Hopes The Show Will Break Stereotypes
With an all Indian cast, Family Karma is the first show of its kind. Amrit Kapai hopes that the show will help represent a new perspective and shed some light on Indian culture. He hopes that the show will help undo some of the stereotypes that were created by other series. He says, "I want viewers to see the struggles we have had growing up in this country, just being different. Specifically to me, I hope they see that Indian parents can be accepting of a different lifestyle. I hope the youth that are dealing with sexual orientation and gender identity crisis can see me and hear my story. They will see that positivity can come out of it when you simply be who you are."
10. He's A Fan Of Shahs Of Sunset
Shah's of Sunset is another show on Bravo that features cast members from the same ethic group. The all Persian-American cast first hit the airwaves back in 2012 and the show is currently in it's 8th season. Amrit says he is a huge fan of the show.
Tell us what's wrong with this post? How could we improve it? :)
Let us improve this post!