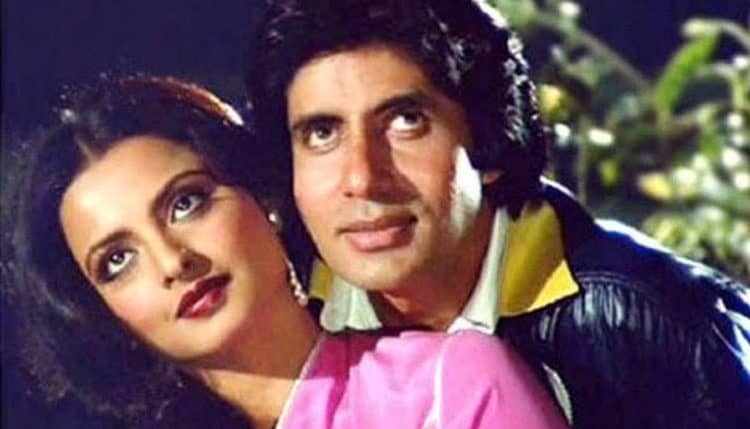 Amitabh Bachchan is described as the "greatest actor of the century" and it is with good reason. He has made a name for himself in the Bollywood industry with a career that spans over five decades and even has few Hollywood film credits under his belt. The massive success has led to even more opportunities for him, but a few scandals have also accompanied it. Although he once tried his hand in politics and business, none of them bore fruits, so he returned to his true calling, which is acting. Below are a few little-known facts about him.
1. He cheated on his wife with a co-star
Amitabh married Jaya on June 3, 1973, but that did not stop him from noticing a beautiful woman who happened to be his co-star in Do Anjaane. The actor met Rekha during the shooting of the film, which resulted in the start of his infidelity. They used to have their rendezvous in Rekha's friend's house. However, you cannot hide love, and during the filming of Ganga ki Saugandh, Amitabh could not stand to see Rekha getting too close to a male co-star, so he snapped.
2. His mistress never dared to hide the affair
Whenever there are rumors, the best strategy that celebrities use is to neither confirm nor deny, at least until there is enough evidence to implicate them. Amitabh used this knowledge and never bothered to confirm the allegations, but he also never denied them. However, Rekha went public during an interview to say that the only reason the actor did not confirm the rumor was that he is old-fashioned and did not want to hurt his wife. Unfortunately, Amitabh could not leave his wife for Rekha, who was more than ready to be the new Mrs. Bachchan. Since she did not want to be labeled "the other woman" the relationship eventually faded according to BollywoodShaadis.com.
3. He was once accused of attempted murder
Amitabh has an eye for beautiful women, and one of his exes is an Indian actress, Parveen Babi, who was described as the hottest and most seductive during her time. The actress was also the first in Bollywood to grace the cover of Time magazine. Despite her achievements, Parveen suffered from schizophrenia thus accused her boyfriend of trying to kill her. In his defense, Amitabh opened up during her tribute that Parveen was ill hence prone to hallucinations and delusions.
4. Why he ended his affair with Rekha
The actor may not have said a word about the affair, but Rekha did not cover up the truth. According to Scoop Whoop, she could see how much Jaya Bachchan was suffering, seeing her husband cozying up to Rekha. Jaya, therefore, prohibited her husband from ever working together with Rekha and Amitabh obeyed by informing his producers he would never work with Rekha. The disappointed actress said that she also returned the two rings the actor had gifted her.
5. He married Jaya so he could go to London with her
Amitabh was dating Jaya at the time he filmed Zanjeer, and before its release, he had promised all his friends that should the movie become a hit, he would take them to vacation in London. The film was successful; thus, he informed his parents of his plans to travel to London. However, they said that since he and Jaya would be alone, it would be better if they got married first before traveling. The actor, therefore, married his girlfriend the next day and went to London the night of their wedding.
6. How he fell in love with his wife
Unlike those who fall in love at first sight, the love between Jaya and Amitabh took time to grow in their hearts. After seeing Amitabh for the first time in Pune Film Institute, Jaya felt some attraction towards the actor. Amitabh, on the other hand, only saw Jaya's beauty and elegance on a magazine cover and thought she could be a potential wife. The two met finally met face to face when they were introduced during the filming of Guddi. It was not long before Jaya was head over heels in love with the actor while Amitabh fell in love with Jaya on the set of Ek Nazar.
7. He advocates for gender equality
Some parents have been known to be tough on their children when it comes to money. Gordon Ramsay does not pay for his children to fly first class while Steve Jobs' widow said her fortune worth billions would end with her. Amitabh is unlike such celebrities who believe children who do not have to work to earn some money become irresponsible. Therefore he said that when he dies, his assets shall be divided equally between his two children, which cements his belief in gender equality.
8. He contracted Hepatitis B during a blood transfusion
Amitabh speaks boldly about how he survives on 25% of his liver function. In 1982, he almost died after being involved in a car accident that resulted in a lot of blood loss. When undergoing a transfusion, the blood was not adequately screened; thus, he contracted the disease from one of his donors. His doctors informed him that he also suffered from liver cirrhosis despite having never drank alcohol.
9. He has been an ambassador for WHO and UNICEF
With the actor being diagnosed with Hepatitis B, WHO saw it fit to pick him as the goodwill ambassador for the disease in the South East Asia region. UNICEF appointed Amitabh as the ambassador for Polio in India, and he did such a good job that his ambassadorship was extended for another two years. He was tasked with raising awareness against measles and rubella infections.
10. He did not know he had tuberculosis for almost eight years
As published in Economic Times, Amitabh was unaware he had tuberculosis for nearly eight years, thus encourages people to get tested. He was diagnosed in 2000, leading to a rigorous treatment that involved more than eight tablets a day to help with the pain. His TB was of the spine, meaning he could not sit, and lying was difficult too. However, after a year of treatment, he was declared TB-free.
Tell us what's wrong with this post? How could we improve it? :)
Let us improve this post!