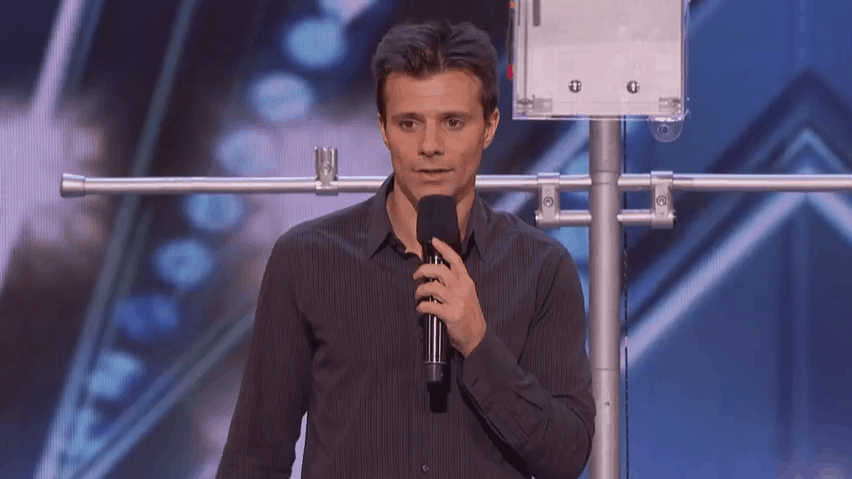 The third night of auditions continues on tonight's episode of America's Got Talent. Some will shock and awe while others will earn themselves an irate eye roll. There is danger and heart and soul. Howie Mandel also presses the Golden Buzzer tonight. Which act will have the privilege of heading straight to the live shows?
Best Acts:
Sixto and Lucia: This quick-change duo makes the crowd roar with applause with their ability to change into various outfits. They even managed to change Tyra's party-girl dress into a beautiful sundress. Simon praises the duo on their audition, saying that it's the best he's ever seen.
Lord Nil: I was pretty much sitting on the edge of my seat with my heart racing as I watched this escape artist do his thing. His fianceé/assistant tied his wrists onto a metal pole while a box filled with poisonous scorpions are lowered onto the container that his head is encased in. Giving himself ninety seconds, Nil managed to free himself from his restraints in the nick of time. I also applaud him for channelling his inner Hercules when he bent the metal pole so he could reach the second knife.
Noah Guthrie: I loved his rendition of Rihanna's hit song Love on the Brain. The former Glee actor took to the AGT stage after the show ended and he decided to continue his pursuit of a career in the music industry. His voice reminds me of a combination of Bryan Adams and maybe a bit of Steven Tyler. Very rough and sexy. Wonder what song he will sing in the next round?
Front Pictures: There have been acts that involve technology in past seasons of the show, but this puts all of that to shame. Using a large screen and suspension cables, they created a virtual world that drew me right in. It's a bit similar to the music video made for the Black Panther movie, but this is a million times better. Kudos to them for making it through.
Good Acts:
Miss Trysh: Her audition was good. I liked that her voice has this Jennifer Hudson-like quality to it. I found it amusing that she dedicated the song to Simon given that she has a crush on the British judge. Though when she revealed to him that she has a husband after Simon admitted to her that he had developed a crush on her, my jaw dropped. That has to be the most embarrassing thing that has ever happened to Simon Cowell. #SheHasAHusband
Hans: When this accordion-playing, makeup-wearing dancer/singer (maybe primadonna?) came onstage, I half-expected him to get buzzed by the judges. He ended up surprising me with his fabulous dance routine that ended with a chair split. It was also lovely to hear Heidi speak German to Hans. The judges ended up giving him four yeses, though Mel B had a difficult time understanding what happened.
Samuel J. Comroe: It's always heartbreaking to see someone suffer through a disease like cancer or Tourette's Syndrome, in Samuel's case. The comedian uses his comedy to make light of his condition and dreams of being the first comic to win the competition. His material was on-point and very funny, but he would have to up his game if he wants to win.
Boring Acts:
Sophie Fatu: I know for a fact that talent shows like AGT don't fully criticise young children for fear of hurting their self-esteem. Little Sophie is very cute and polite, but I find her audition to be less than mediocre. The song choice was weak as she doesn't have the vocal range to sing Sinatra's My Way like an older, more mature singer would. The judges gave her four yeses, but I have a feeling that somewhere down the line, she will be sent home.
Butterfly Man: I didn't quite catch his real name so I'll just refer to him as the Butterfly Man. His act of going through the stages of a butterfly's growth bored me to death. It felt like something one would see at a children's birthday party. Though with today's technological advances and the fact that children are exposed to technology on a daily basis, no one would want to hire him for their child's party.
Golden Buzzer Act:
Like the Vanessa Williams song says, I saved the best for last. It's time to find out which act earned the coveted Golden Buzzer from Howie Mandel. Drumroll, please! The act that will be sent straight to the live shows is…
Courtney Hadwin: When the thirteen-year-old high school student made her way to the stage, I half-thought that she would sing a current pop song. Imagine my surprise when she brought the house down with a powerful rock performance. Howie later compared the young girl to the legendary singer Janis Joplin and pressed his Golden Buzzer.
Side Note: I can't believe that the person under the American Eagle costume is Tyra Banks. The judges thought that it was a contestant auditioning for the show and they buzzed her. Maybe she should stick to hosting the show instead.
Photo via NBC
Tell us what's wrong with this post? How could we improve it? :)
Let us improve this post!