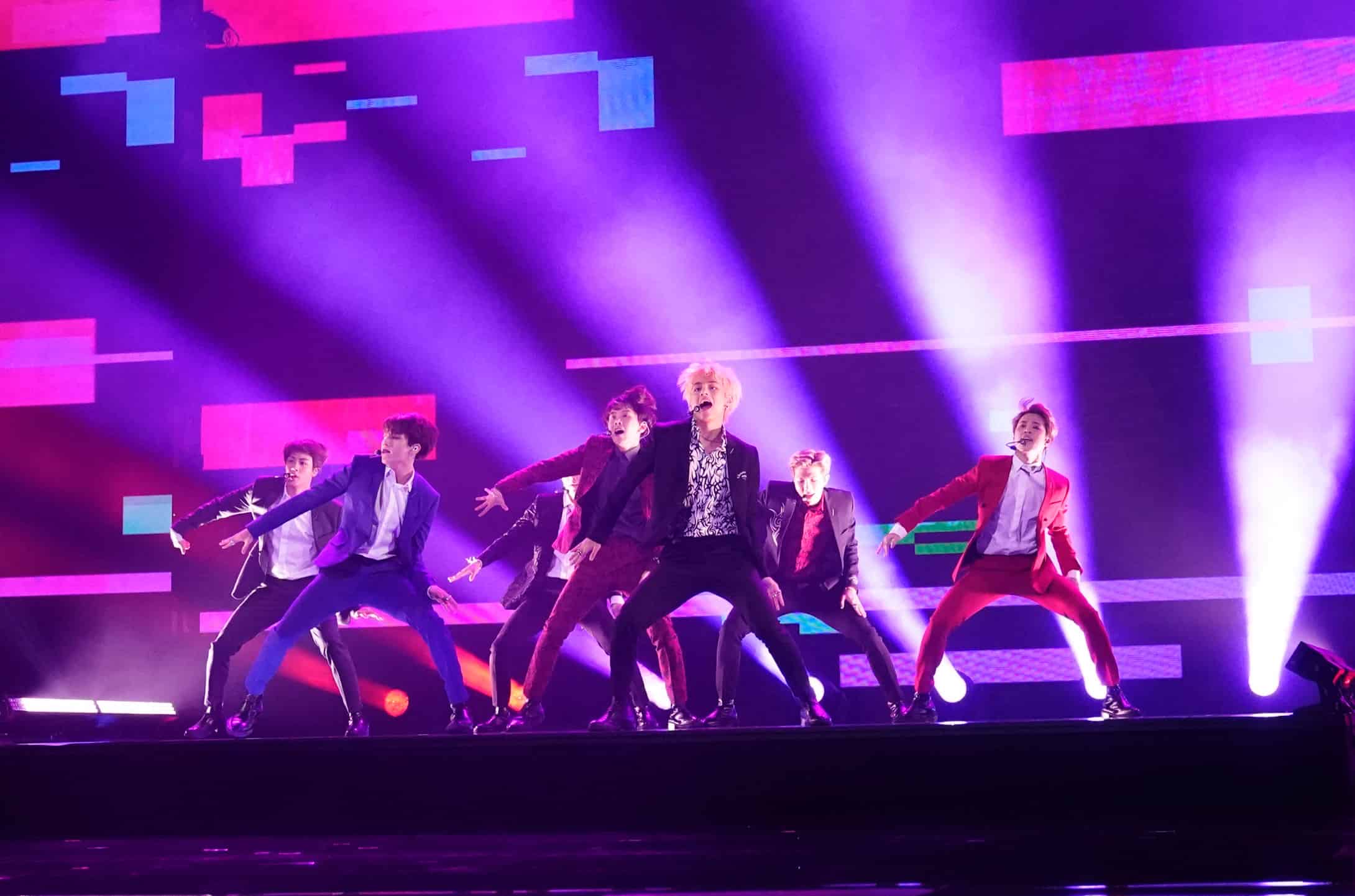 This is it. The final results show before the big America's Got Talent finale next week. The top ten acts are revealed. Did your favorite act make it? Or did they get the metaphorical boot off the stage?
The hour began with a thrilling performance from the South Korean boy band BTS (Bangtan Boys). They performed their new song Idol for the Dolby audience and the judges. I couldn't help but notice, aside from the energetic dance moves, that one member's suit looks similar to the one that Tom Hanks' SNL character David S. Pumpkins wears. Well, minus the jack o lanterns. When the performance ended, it was time to get to the results. As usual, we start with the bottom three.
Bottom Three:
Daniel Emmet
Glennis Grace
We Three
Okay, though the previous bottom threes made my jaw drop, this one takes the cake. Glennis Grace was spectacular last night as was Daniel Emmet. Granted, the latter was a bit like musical theater, but both acts were unique in their own way. We Three kind of deserves to be in the bottom three because they didn't quite step things up. I still agree with Simon. They did not come out with a showstopper song.
When it was time for some comedy relief halfway through the show, we see Heidi going undercover. The supermodel plays Jennifer, a Heidi Klum lookalike. There were three other people with her as doppelgängers of the other judges, though I have to say, none of them bears a resemblance to Simon, Mel B and Howie. On the other hand, I have to give the Howie clone some props because he does look a bit like him. The Simon clone kind of looks like the Italian opera singer Andrea Bocelli. Well, a shorter version of him.
I had a bit of a sweat-drop moment when Heidi asked a random shirtless guy if she could cut his hair. If a random stranger, celebrity lookalike or not, asks me if they could cut my hair, I would flat out refuse. I mean, you don't know if they have experience cutting people's hair or if they have a sense of style when it comes to hair styling. Then again, she did an okay job with Shirtless Guy's surfer look. I smell a second job for Heidi!
The results continued and Vicki Barbolak was the first act to make it to the final top five. To be honest, I'm very surprised. Her comedy routine did not amuse me last night. Guess it amused America enough for them to vote her through to the finals. It was rather sad to see Aaron Crow leave the competition but his recent acts brought his level down. Better luck next year, Aaron! Maybe try speaking next time!
I also felt a bit sorry for Tyra when she was introducing the sneak peek clip for the upcoming Grinch movie. The production team did not show the clip, instead, we went to commercial. When we came back to the live broadcast, Banks did not even mention the Grinch clip faux pas and went right to the next result. I'm assuming that a production member told her to keep the show going and pretend that the whole Grinch clip thing didn't happen. Yeah, try as you might, AGT production team, we all saw it happen so don't go sweeping it under the rug.
Speaking of the Grinch, we are then treated to another holiday themed performance from the members of A Magical Cirque Christmas. I could have sworn that I saw a balance beam (?) trio that auditioned for the show before. Though I could be mistaken. I was distracted by all the LEDs that were used on the props and costumes.
The final top five acts were then revealed as the final eleven acts were whittled down one by one. The second group of five acts are as follows:
Top Five (final group):
Vicki Barbolak
Courtney Hadwin
Brian King Joseph
Glennis Grace (Dunkin' Save votes)
Daniel Emmet (Judges Save)
Seems that I actually got some of them right. I missed it by one since I put Aaron Crow as one of the five. Prediction powers aside, the nail-biting pressure continues as the finals begin next week as season thirteen comes to an end. Who do you think will win the ultimate prize? Howie says it will be his Golden Buzzer act but you never know. Perhaps a certain magician will claim the title? Or a high-flying acrobatic duo?
Photo via NBC