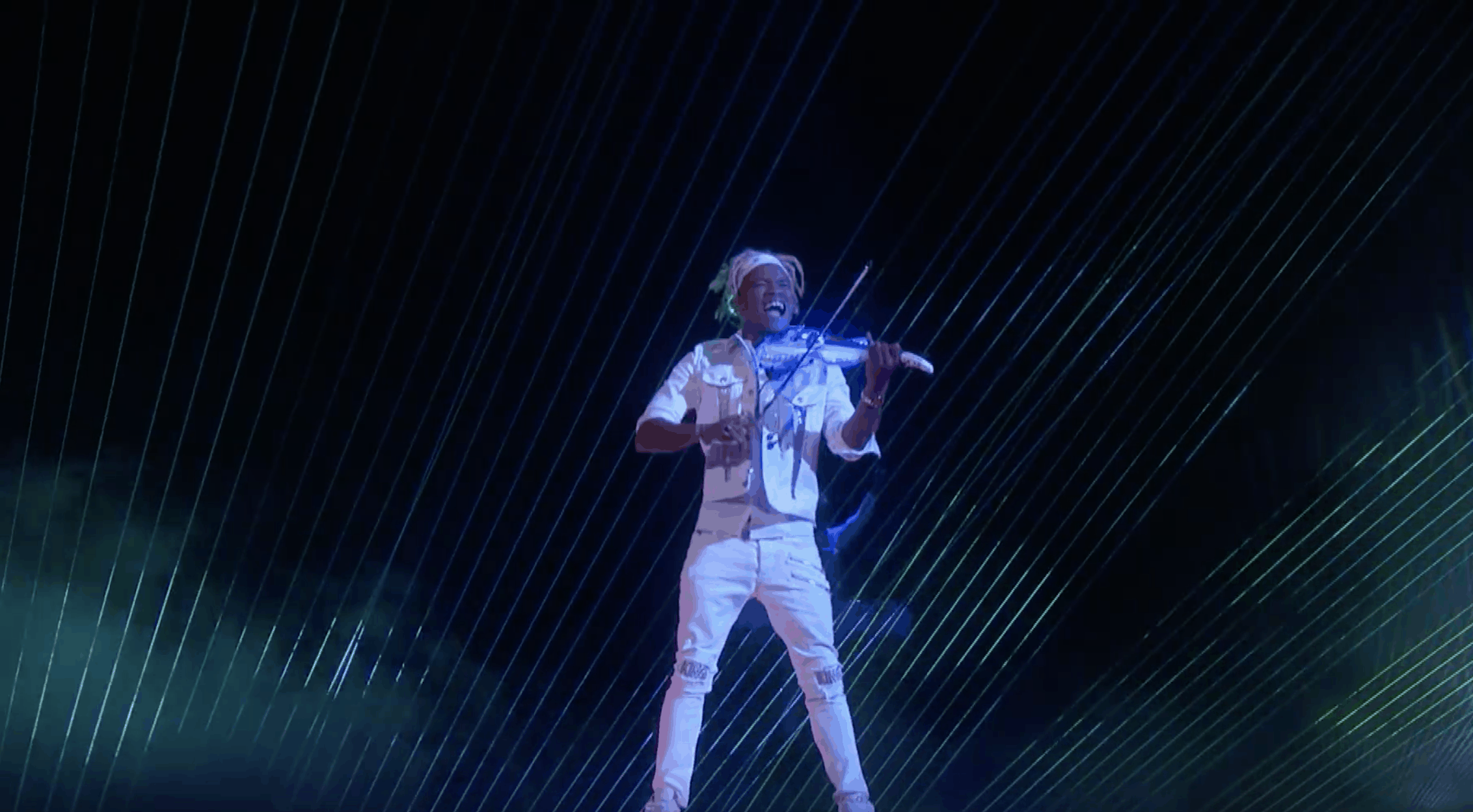 It's been a wild three and a half months of America's Got Talent season thirteen. Now, it's about to come to an end with tonight's finals. The Top Ten acts will perform for America's votes for the final time. Which one will bring their A-game?
The first two-hour finale kicks off with electric violinist Brian King Joseph. For his final performance, he jams out Kanye West's Heartless as he moves from backstage to the main stage. The fact that he rose from below on a platform just adds to his star power and I loved the soundwaves effect that moved along with his violin playing. By the end of it, the crowd were on their feet as were the judges. The whole performance was like watching a concert and he definitely has a shot at winning the entire competition. Oh, and Heidi Klum somehow got his name mixed up when she was giving comments at the end of the performance. She called him Brian Joseph King instead of Brian King Joseph.
Next up is underdog Daniel Emmet. The Italian crooner clawed his way from the bottom and made it to the finals. I applaud his "never give up" attitude and for having a positive outlook on things. He serenaded the Dolby Theater with the Italian version of Ed Sheeran's Perfect which the latter recorded with Andrea Bocelli. Having listened to this version of the hit song over and over, I'd have to say that Daniel did it justice. If Bocelli heard his rendition, I'm sure that he would be amazed. I'm not entirely sure that he has what it takes to win, but one thing's for sure: the man can SING!
The show then took a bit of a boring turn when Vicki Barbolak took to the stage. I don't hate her as a comedian or as a person but her jokes just don't make me laugh out loud. It could be that I don't understand her brand of humour. Nevertheless, at least the crowd and judges enjoyed the performance. Simon even said that she can have her own sitcom. Like Daniel, I'm uncertain if Vicki has what it takes to win or even be a runner-up. All I can say is good luck, Ms. Barbolak.
Things then went back on track with Glennis Grace. She chose Snow Patrol's Run, a powerful song for what I think is a powerful performance. Her vocals were on-point and she could really be the next Whitney Houston if she wishes to be. I like that she can take a well-known song and make it her own. It's what makes her such a great singer. She definitely has a shot at winning the competition and the million dollars. Let's hope that America thinks the same way.
Zurcaroh's final performance tonight reminded me of The Lion King or maybe Moana. The entire theme of the act feels like we're transported to the wilds of Africa. Their whole routine was flawless and looked absolutely effortless. If they managed to win, maybe I'll consider going to see them in Las Vegas.
After watching a thrilling acrobatic act, we see another comedian Samuel J. Comroe take the AGT stage. Unlike Vicki, his jokes actually made me smile and chuckle at certain times. I'm not playing favorites, really I'm not, I'm just going with what my gut tells me. When he finished his set, he says that he wants to be the first comedian to win the show. I have my doubts about him being the winner of season thirteen but who knows? Perhaps he will be the first comedian to ever win AGT.
Courtney Hadwin's rendition of Tina Turner's River Deep, Mountain High wowed me. She wasn't pitch perfect, then again, no one is when they first started out in the music industry. Her stage presence was electrifying and when she took off her jacket and threw it on the floor, it was as if I was at a rock and roll concert. I'm still amazed that such a big voice could come out of such a timid girl. Could she be the million-dollar winner?
Then, the mesmerizing Shin Lim graced the stage with his sleight of hand close-up magic. He began the act by playing the piano, telling the story of how he moved from music to magic after getting carpal tunnel syndrome in his wrists. He definitely made the right choice as he dazzled the crowd with card tricks and changing his sheet music into a deck of cards. I can see him having his own magic show in Vegas regardless of whether or not he wins.
Acrobat duo Duo Transcend is up next and though this performance felt similar to their previous performance in the semifinals, it was still amazing nonetheless. The overall production is great and the routine was smooth and well-done. I didn't expect the ending where Mary dropped her husband onto the mat below instead of the other way around.
The final act of the night is Simon's Golden Buzzer Michael Ketterer. The song he chose to sing for his last performance is Diana Ross's Ain't No Mountain High Enough. He put his own rock and roll spin on it with his gravelly voice. I could hear his nerves coming through as the song progressed, which may or may not hurt his chances of winning, but other than that, he gave it his best and now has to hope for the best.
Photo via NBC