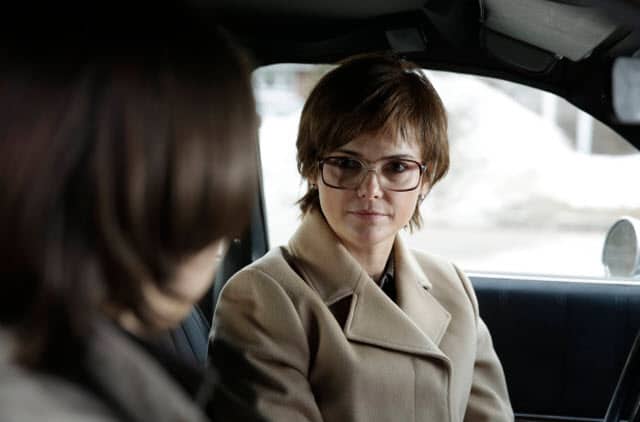 There are two things going on in "Operation Chronicle" that are rather exciting, even by the standards of The Americans. The first is the obvious, which follows on from the episode's cliffhanger. When Lee Tergesen was introduced as Andrew Larrick this season, the show picked up a high caliber actor with an impressive pedigree. But I wonder if Joel Fields and Joe Weisberg knew exactly what they were getting, because I really can't believe they knew just how good Annet Mahendru was going to be in the first season of the series. Tergesen hasn't just made Larrick into a great villain. He's made Larrick into a terrifying boogeyman, not unlike any of the Terminators from that franchise that plague the protagonists at every corner. There are plenty of ways to build a Big Bad for a season of television. In prestige dramas, they tend to be more nuanced with clearly defined and interesting motivations. The Americans, though, is only partially a prestige drama, and I'm actually really glad we have a character like Larrick who doesn't necessarily have to be engaging on an intellectual level to be effective. He is much more the genre villain–and the best version of one, at that–who can dominate scenes through sheer force of brutality. Anyone who has played Silent Hill 2 might balk at the comparison, but Larrick has been stalking these episodes like Pyramid Head haunts that game. And for those who haven't played it, just know that is a compliment of the highest order.
The other aspect of "Operation Chronicle" that really works for me is how close Paige is coming to stumbling across that one detail that will set her down the path towards figuring out who her parents actually are. Holly Taylor has been somewhat of a revelation this year (although, she was still very good in the first season), emphasized by how you can see the frustration and impatience in Paige's face as Philip and Elizabeth churn out lie after lie in front of her. She knows it's all BS, but she can only play the game and pretend that it doesn't deeply bother her; after all, she still needs permission to go to events and whatnot. In a scene that has the capacity to stop the viewer from breathing, Philip keys in on Paige picking up her bedroom phone, trying to listen in on her parents' conversation. They have plenty to deal with at the moment, but this should be some indication to Philip and Elizabeth that they'll need to figure out how to handle Paige now that she is, as Philip says, ridiculously bright. The cloak and dagger routine seems to work just fine for the Jenningses when they're doing their job, but they can't disguise themselves to fool Paige. She sees right through them, and it is utterly satisfying to see that happening as the season is climaxing.
After a fine show of heroism in last week's episode, Oleg continues his trend of trying to do the right thing by a set of moral standards that probably fits the audience's collective compass better than one belonging to any other character. Nina is at serious risk of being sent back to Russia for trial and execution, but she has two people fighting in her corner. The smarter part of Oleg knows that he probably shouldn't be getting involved, but the amount that Nina has put on the line–in spite of committing treason–is nothing to shrug off. As he hands her an envelope of cash that should be enough to get her on her way, the two have to remain silent because of Arkady overhearing their conversation. Both performers execute it perfectly, and Nina's quiet breakdown as she can only communicate to Oleg with her eyes is heartbreaking and beautiful. Where that leaves Stan, I don't know. It may be that Nina will be gone and Stan will be left in the dust, living with a son who doesn't really acknowledge him much. Stan's not been played as a complete dupe all season, but he's pulled the short straw several times. The way the sequence in which he returns from the car lot only to find Nina beaten and surrounded is framed suggests that he genuinely does have a severe blindspot as far as all of this is concerned, because we can clearly anticipate exactly what's going to be in that room when he arrives. Yet, I think that makes Stan a much more sympathetic character than he would have been otherwise. We don't want our characters to be dumb (and Stan certainly isn't dumb). We do want them flawed, though. There's been so much going on this season that hasn't had to do with Stan, but in an episode that has some great beats for several other characters, his messed up personal life is another highlight of "Operation Chronicle," capped by the helplessness of Sandra leaving and simply asking her if the man she's moving in with is a good guy.
The last thing I wanted to mention was Martha's role in the episode, which is more multi-faceted than usual. We get three noteworthy points: 1) she retrieves security files for Clark, 2) she knows Clark wears a toupee and 3) she wants kids. Paralleling the Paige story, Martha doesn't exactly have an idea of what the toupee thing actually means, but it unintentionally draws her closer to the truth about her husband. That can't be good for Philip's stress levels. Also not good? The prospect of Clark being a father; there's a difference between faking the husband role through sex, because he can shut off, but having children is something else entirely. Either this causes a significant wedge that makes Martha a less-than-useful asset or else it is, in fact, the first step to the dissolution of that big play. It's perfect timing, too, because Martha shows how resourceful she can be, bringing Clark files that can help tip the balance in the KGB's favor. As always, though, I fear the worst for Martha. Here's hoping all the characters we like make it out alive in next week's finale.
[Photo via FX]