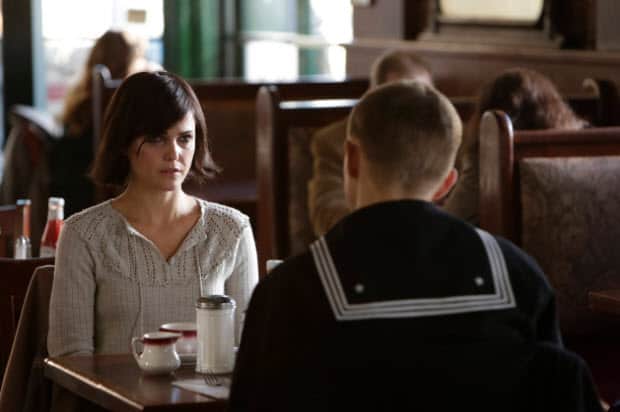 It's easy to forget that the real names of the main characters in The Americans are not Philip and Elizabeth Jennings. Matthew Rhys and Keri Russell play the parts so well that they embody both the American characters and the various other characters that Philip and Elizabeth have to become on a regular basis. It's not quite on the level of Tatiana Maslany in Orphan Black, but it's getting there. Take, for instance, the character Elizabeth becomes in "A Little Night Music" as she tries to manipulate Brad to get the files on the potential murderer of her former Soviet friends. Everything about Elizabeth's performance is stunning as she fully externalizes her backstory of assault (helped, of course, by the experience we saw Elizabeth go through in the flashbacks of the pilot) by shying away both physically and verbally, her body and voice shaking. Later, Philip's Clark has a martial spat with Martha, and more and more I'm left wondering where one character ends and the other begins. How much of Elizabeth's performance is triggered voluntarily? How much of Philip's tension is being expressed through Clark?
These aspects are hardly the most important parts of "A Little Night Music" or The Americans in general, but they stand out and show how layered everything in the series is. It's there to examine if you want to think about it. But an episode is still capable of pulling its own weight simply by being entertaining–and "A Little Night Music" is easily the most entertaining episode of the season so far. It helps that Margo Martindale makes an appearance as Claudia, because no matter how good this cast is, it's better with her in it. Like Elizabeth, we can tell something is up Granny just in the few minutes we spend with her in the car. Rather than that thing being some kind of elaborate scheme to influence Philip and Elizabeth to do one thing or another, she grabs Elizabeth's hand and says she's shaken up and doesn't want to lose anyone else. If Claudia was ever a maternal figure in the first season of The Americans, that was overshadowed by her role as part-time antagonist and part-time punching bag for Elizabeth (also part-time Pac-Man player, because no one should ever forget that; and while we're at it, part-time fake mother to Clark at another memorable wedding in a year full of memorable television weddings). However, she's completely convincing as concerned "parent" to her assets, adding an interesting dimension to an already interesting character.
That idea of expanding upon pre-existing foundations is what "A Little Night Music" is all about, such as the development in Stan and Philip's friendship. Elizabeth is taken aback when Philip uses that word to genuinely describe that relationship. And while it's important that Philip reaches that stage with Stan so that they know how far along that mission is, Philip also tries to exchange some words with Stan at the bar that hold some kind of meaning. This isn't just pure manipulation, I would say (although it absolutely is a huge amount of it). In Stan, Philip sees what the American life might have looked like as an American, which has always been something in the back of Philip's mind. In the moment, there's definitely a part of Philip that just wants to reach out and help a figurative brother.
It's not the only time we've seen Stan confide so deeply in someone else this season. Last episode, he told Nina he loved her, and now we're seeing the repercussions of that on both sides. Nina's is actually the more engaging in this case because of her confrontation with Oleg after he has used his familial connections to gain higher access and to Nina's mission files. Nina has to keep that facade of total detachment, but Oleg's thoughts on the difficulties of the job when it comes to allowing the parts of the body that can love to be used are some of the episode's most provocative and they obviously hit home pretty hard with Nina, who is torn between doing her job and managing what she wants to believe are irrational feelings towards Stan.
But the most purely entertaining part of "A Little Night Music" is its spectacular closing action sequence that revolves around a kidnapping gone wrong. Two people, also trained in some kind of military fashion, interrupt the grab and get into an all-out brawl with Philip and Elizabeth, pairing off in male-female duels with results you might not expect (unless you were expecting Elizabeth to go crazy and bash the guy's head through the car window before slamming the trunk down on him many, many times–you people were right). Unfortunately, as I've exposed myself to a lot more television over the past couple years, something like this doesn't hold a candle to the hand-to-hand fights in something like Banshee (also a show with characters pretending to be other characters, by the way), but the stunt coordination was something that originally struck me about The Americans. When the show finally gets around to these scenes after episodes of more subtle plotting, they pop with fury. Fight scenes are kind of superficial in and of themselves, but if a show can make them look, sound and feel this good, it warrants their inclusion.
What I'm a little concerned about, though, is what's going on with Paige. Her foray into religion is great in terms of expanding that conflict of trying to be a good parent on Philip and Elizabeth's parts, but the tone of it all feels so strange and out-of-character that it's worth a raise of the eyebrow. If this is her answer to the nagging sensation that something is wrong with her family dynamic–that people are constantly lying to each other–you have to wonder if it's the route that makes the most sense even given that it's the one that's dropped right in front of her nose. Most viewers had a major problem with Dana's love story arc on the most recent season of Homeland, which was an obvious direction for a young character. If Paige's participation in the second season of The Americans boils down to a religious arc, that may be less obvious but just as superfluous. She's innocent until proven guilty, however, and it's somewhat of a minor issue in an otherwise fantastic episode of FX's spy series.
[Photo via Patrick Harbron/FX]