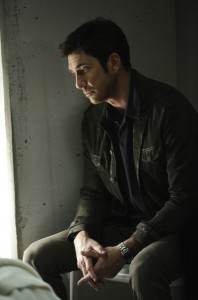 Last week's American Horror Story continued its mission to shock and awe the audience by adding more layers to the overall mystery of the House and its past inhabitants, which now includes notorious L.A. murder victim The Black Dahlia (more on that later). However instead of keeping the twisted and macabre completely close to home (no pun intended), American Horror Story took an unexpected turn with the reveal of Vivien's unborn twins (or the one fathered by Tate) being a vessel for the Anti-Christ to step foot on earth.
While the notion of an American Horror Story version of Damian Thorn (of The Omen film series) running around, the concept brings up two nagging thoughts, or 'worries,' that came to mind. First, bringing in the Apocalypse seems a bit too ambitious for American Horror Story so early in its infancy, at least for now. It sounds as if it would be ideal for a series finale concept rather than an inaugural season ender, because the stakes are so much higher when you dealing with a Big Bad as well-renowned as Satan himself. This leads me to my second thought, which is not really necessarily a 'worry' as much as it is a pseudo-confirmation of where I felt American Horror Story would be taking the Harmons at season's end. In other words, the AHS Apocalypse could mean the death of a Harmon family member or the entire clan as a whole. It would be a bold move for Ryan Murphy and Brad Falchuk to kill off the entire family after just one season, but at this rate there are two more things to look at when it comes to that possible choice.
First, and most importantly, the House has (IMHO) become the true star of the show with its rich, yet debauched history continuing to thrive to the point where it could (and have, in some respects) transcend the Harmon family's tragic drama. The second aspect to think about is basic common sense when it comes to how the Harmons, namely Ben and Vivien, haven't figured out that they are basically residing with Los Angeles's answer to the High Hopes house from The Amityville Horror. While Violet has been exposed to the House's supernatural component, she still wants to stay firmly put in the middle of all the hauntings, which doesn't necessarily grant her a happy ending of sorts. So, if the Harmons join the fraternity of ghosts in the basements at season's end, I wouldn't be surprised. With that said, I personally hope the Devil and the end of the world will not factor into the Harmons' (possible) demise or into American Horror Story's overall picture. At least for the moment.
While we are on the subject of the possible apocalypse on American Horror Story, who else caught whiplash from the doctor's revelation of Vivien's twins having two different fathers?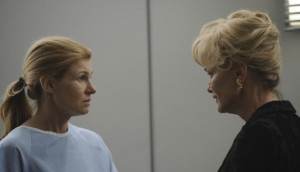 Now we have to wonder if Ben's actual kid will be the savior who is destined to fight his demonic brother and evil itself. Also, I wonder if Tate had any inkling about what he was getting himself into when he agreed to give Nora a baby, or if his actions would have global consequences once performed. The way Constance wailed on him in the basement probably proves otherwise, but again, it wouldn't surprise me if Tate knew what was at stake and went with the plan anyway. He has voiced his opinions on how he views the world multiple times, so could Tate bringing in the apocalypse be his ultimate Westfield High massacre?
Other than the Apocalypse, American Horror Story introduced another ghost to its line-up of victims past, but this new apparition isn't just some average haunted house casuality. She's none other than Elizabeth Short, aka The Black Dahlia, whose murder is arguably the most notorious unresolved case in American crime history. The Black Dahlia's inclusion into American Horror Story's overall tapestry of the House's victims isn't the first time a major historical figure has been included in a TV show's faux timeline for the sake of story. However, while there were several factors which made The Black Dahlia's inclusion into the House's official canon of victims memorable, it was Mena Suvari's portrayal of the character that was the icing on the cake. I pray that Murphy and Falchuk locked her down for more reappearances down the line, because her story is really just beginning.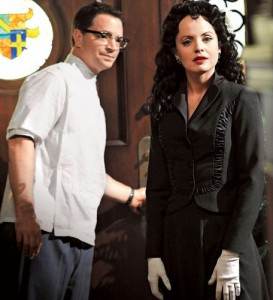 Also, The Black Dahlia not knowing of her death gave Hayden a good platform to work her wicked 'wisdom' on her fellow ghosts. By guiding The Black Dahlia and Nora into discovering, and accepting, their deaths, one has to wonder just what the hell Hayden is planning. For starters, Hayden's plan has to deal with the demise of Ben and Vivien, but I wonder if said plan will be a shot against the impending apocalypse or if it will be an unpremeditated catalyst to shepherd in the end of the world?
One last thing that should be noted is Ben passing his "test" of not giving in to his desires and finally seeing Moira as the wise old woman she is for the first time. Now seeing Moira in her old state isn't necessarily warranting of a celebration for Ben, but it closes a chapter in his character arc that opens new doors, yet coincides with my theory that Ben might not be long for this world. Let's be honest. One of the intriguing aspects of Ben's character was his interactions with Moira and the unhinged scenario of him only seeing her as the young temptress hellbent on having Vivien catch Ben with his pants down. Now that Ben sees Moira as other women and ghosts do, it doesn't take away the OMG factor of the storyline, but makes you wonder just where else they can take it other than Ben meeting his maker by the finale.
Well folks, American Horror Story has several layers to peel back, but I'm going to return your eyes back to you so you can get on with your day. What are your theories on American Horror Story's final four episodes?