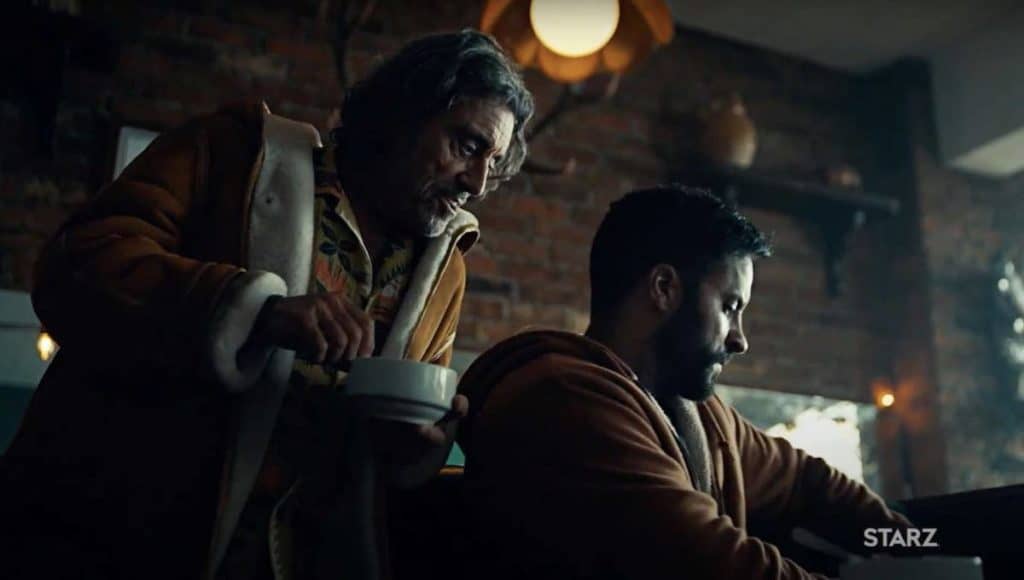 When last we saw Shadow Moon, aka Mike Ainsel, we couldn't help but notice a large firearm being thrust against the back of his skull as he was attempting to enter the Lakeside apartment that his father, Wednesday/Odin, had set up for him. Well, the good news is that Shadow is still alive and after meeting his landlord, who was more than a little cold to him, helped him to get into his new home for the time being. He was then introduced to the rest of the town by none other than Ann-Marie Hinzelmann, who is well-versed in the town's history and lore and is brought back into contact with Chad Mulligan, the lawman that gave him a ride to his place upon his arrival. For the most part, the town is accepting of Shadow and doesn't appear to care too much that he's an outsider, but that changes quickly during his return after making his way to Chicago to attend the wake of Zorya Vechernyaya, who was killed off in season 2. The reception he receives is less than comforting as Czernebog reminds Shadow of the deal they made in season 1 when it was deduced that since Czernebog had beaten him in a game, that Shadow would be meeting the business end of his hammer. And of course, Wednesday showed up as well, uninvited and no doubt less than wanted according to the Slavic god's reaction. Yet one can't help but wonder whether Wednesday was there to pay his respects while pushing his case for others to join in the war against the new gods.
So far the third season is moving ahead at a fairly slow pace, but one can still hear, and feel, the thrum of the war drums in the distance as the two factions continue to move just a little closer to one another, drawing definite lines in the sand as it were to indicate where they stand. Wednesday/Odin/Wotan is currently running out of options, while Shadow is simply attempting to move forward and live his life without interference, but finding that this is nearly impossible thanks to his father. But the visit to the wake does appear to have helped since Czernebog is still up for a fight to avenge Zorya, and the possibility of recruiting new names to the fight is definitely looking as though it might happen. But upon his return to Lakeside, Shadow found that he was a suspect in the disappearance of Alison McGovern, a local girl that Shadow met upon his arrival in Lakeside. The suspicion towards him and the sudden switch make it a little more obvious that he's the outsider, as well as the fact that this town is incredibly close-knit and will gladly point fingers when something happens to one of their own.
From this point on though there are many things in motion that some folks might already be drawing up theories about since Bilquis is still very much a part of the story, and yet upon her most recent acquisition of a follower it would appear that something is wrong, as her need to vomit shortly after absorbing her most current follower appears to state that all is not well with the goddess. Those that have read the book might get the idea that things are going a bit differently than Gaiman wrote them, but at the very least the story is still compelling and the secrets and hidden facts that have yet to be revealed are no doubt going to reveal themselves as the season continues. In the coming episodes, it feels certain that Shadow will be introduced to new gods and old alike, and that things will continue to move forward as the gods continue to plot and scheme their way towards what they hope will be a victory. The concern that exists when it comes to their followers and their need for worship continues to fluctuate however, as in some cases it feels as though the gods desire the attention more than they need it, as the power inherent within each god is that which is not entirely constrained by belief but is also given over to the dependency that is placed on their shoulders as humans call out to the gods for protection only to be ignored, or answered for their prayers. In other words, the old gods appear to need humanity far more, while the new gods have sat back and been content to feed humanity what they want, and plenty of it, to build up a long list of addicts that can no longer do without the technology that they have provided in abundance.
It's a rather dark way to look at the technology we rely upon so much, but it feels truthful in many ways as it explains why the old gods would have such a hard time retaining followers. Who else can't wait for episode 4?