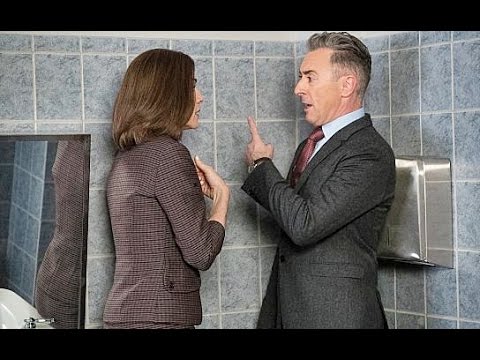 It has been two weeks since we were last treated to an episode of The Good Wife. Thankfully the series returned tonight and it was definitely worth the wait. The episode entitled, "Hearing," focused on the charges that are being brought against Peter (Chris Noth). However, it was the steamy scenes between Alicia (Julianna Margulies) and Jason (Jeffrey Dean Morgan) that made this episode a must watch. With only six more episodes left after tonight, is it too early to state that The Good Wife will be ending on an extremely high note? After tonight's spectacular episode, I do not think many people will disagree with me.
The show begins with Alicia and Jason watching television sans clothing. So it is safe to say that the two are continuing their relationship! It is nice to see Alicia more relaxed and not drinking, which is pretty much how you can sum up the first half of this spectacular final season. The fun ends when Alicia's mom Veronica (Stockard Channing) shows up. Her money was stolen by a financial advisor, which based on her personality I am surprised this hasn't happened sooner. The family reunion continues when Owen (Dallas Roberts) arrives with bagels. Alicia's cozy Sunday quickly turns to work when Eli (Alan Cumming) stops over to discuss Peter's hearing. All in the day of a life of a successful lawyer!
The man prosecuting Peter will be a familiar face to Glee fans. It is Matthew Morrison, who also recently popped up on Younger as well. Another familiar face at the hearing is Ruth (Margo Martindale), who has been subpoenaed to testify against Peter. While Alicia is calling her new beau in the bathroom at the courthouse, she overhears the hearing taking place through the vent. She quickly finds Eli so he can listen in on what is going on because as a lawyer that was subpoenaed, she is unable to listen. I find it hard to believe that this situation would happen in real life, but stranger things have happened!
Though Eli has a hard time hearing what is going on in the courtroom from the vent, he is able to report back to Alicia and Mike Tascioni (Will Patton) that the hearing is over an event that took place in 2012 between Peter and a donor by the name of Lloyd Garber and a case involving a man named Locke. After Eli's bathroom shenanigans, he pays Cary (Matt Czuchry) a visit. Apparently, Cary was working on the Locke case that is being discussed during the hearing. Based on the information he is being fed by Cary, Eli is very worried.
In the B-Storyline, Jason is asked to investigate the pyramid scheme that caused Veronica to lose all her money. It turns out the guy informed her it was a risky investment and he also lost tons of money too. He reports back to Veronica about what he found and she still believes she was taken advantage of by him. Apparently, her private information was put on a list of people that have been cheated in the past. Now Veronica and Owen get in the fun and tell the man who lost all her money that she has more to invest and he was quick to help. Jason shows him the recording and threatens him to get more information.
The ridiculous C-Storyline regarding Diane (Christine Bransanski) starting a female only firm continues this week in order to give the rest of the cast something to talk about. Diane and Alicia meet and Alicia asks her something Cary (Matt Czuchry) should have done himself: Is she trying to put together an all-female firm. That is not Diane's plan. She wants to create a firm with just her and Alicia. If this happens, this would be the 1,000th time the firm has changed names in seven years.
The only thing that would have made this episode better was the earlier inclusion of Lucca (Cush Jumbo), who has been a welcomed addition to The Good Wife this season and only appears in the final few minutes. Hopefully, she is on more when The Good Wife returns in two weeks with a new episode.
What did you think of tonight's episode of The Good Wife? Let us know in the comments section below.
Photo by: CBS