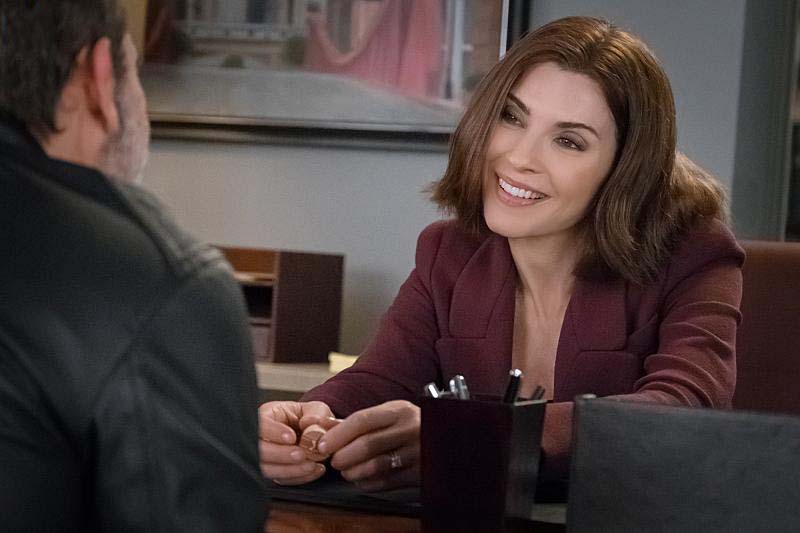 The Good Wife will be ending in a little more than two months. With only seven episodes left after tonight's airing entitled, "Targets," a lot of questions still need to be answered. Will Alicia (Julianna Margulies) continue to stand by her unfaithful husband Peter (Chris Noth) while the FBI is investigating him? Will Jason (Jeffrey Dean Morgan) be the new man in her life? Will Cary (Matt Czuchry) be given a storyline at all this season? I am guessing we will find out the answers to those first two questions, if we keep watching. Tonight's episode contained two very important things: Elsbeth Tascioni (Carrie Preston) and Alicia and Jason's relationship heating up.
Let's first start by discussing Alicia's case of the week. Our favorite lawyer is now on a secret panel that is advising the U.S. Government on an important case regarding ISIS. We all knew Alicia is at the top of her game, but this puts her in a whole new ballpark! The real twist in the case is that the man fighting for ISIS is an American citizen. The group is unable to reach an agreement about how to handle his behavior, so they break for the evening.
Back at the office, things begin to sizzle with Alicia and Jason over a cork stuck in a bottle. And Alicia asks the question The Good Wife fans have been wondering all season: Does she have a drinking problem? In order to get her to not drink, Jason has Alicia close her eyes and listen to his breathing. This turns into a hot hookup session between the two in the dark.
This has put Alicia into a happy mood and she returns to the secret panel the next day. However, Captain Hicks has been removed from the proceedings. Of course, this bothers Alicia and she refuses to move on until she knows exactly what happened. Captain Hicks is being questioned for breaking confidentiality. When it turns out that it wasn't Hicks, Alicia is being accused of the leak. And guess who happens to be listening to the call? None other than the NSA hackers that have been spying on the firm for the last few seasons. Of course, they were also spying on her when she was getting it on with Jason. In the end, the citizen that Alicia and the panel were discussing was killed from a bomb explosion.
Now we can talk about the return of Elsbeth. Eli (Alan Cumming) is seeking her assistance in order to find out why the FBI is going after Peter. She is still zany (and on point) as she always has been and it is great to see her back. Eli alerts Peter that he needs to tell Elsbeth everything so she can figure out what is truly going between Peter and the FBI.
Elsbeth quickly goes to work to interpret all of the information she has received about Peter. She begins to ponder why the FBI targeted Marissa (Sarah Steele), as she probably had no idea Peter rigged Alicia's election. They pay her a visit, and in fact Marissa did know about the votes being rigged. Marissa admits that the FBI asked her about numerous different topics including purses that she made while in Israel. After Elsbeth asks her a few questions about them, she hurriedly leaves the office and tells Eli she cannot be Peter's lawyer.
The next day Elsbeth tells Eli that her ex-husband Mike can be of some assistance (and he is just as eccentric as Elsbeth). Mike confirms the FBI is not looking into Peter for rigging the votes, but admits they need Elsbeth's client list to find out the truth. Before they can find the name of the client, Elsbeth has the name redacted from her list. In order to find the client, Mike has put a GPS collar on their dog, which he gives to Elsbeth to care for after alerting her the client may have had his phone tapped. Additionally, Eli had Jason following Elsbeth, who is meeting a man named Garber who owned a dairy in Israel where Marissa worked. If I heard Eli correctly, he said that the FBI is coming after Peter and one of his daughters?! Does that mean he has an illegitimate child?! Not that we should be surprised by this fact, but still very interesting! Leave it to The Good Wife, to keep bringing the twists!
The third and very ridiculous story involves Cary, Diane (Christine Baranski), and David (Zach Grenier). It is alomst as if the writer's put this story together in order to give the rest of the cast some lines in this episode. David believes that Diane is trying to make Lockhart, Agos, & Lee a female only workplace after a photographer comes in and wants mostly pictures of the females in the firm. He hires Jason to do some investigating on Diane, which she quickly figures out after a brief conversation with Jason. There is no evidence to prove that is what Diane is doing, but Cary and David still think she has something in the works.
Back at the firm, Alicia and Jason discuss their romantic rendezvous. Alicia makes it perfectly clear what she wants: Another night with Jason. He is on the same page as Alicia, so the two will continue their hot and secret relationship. This is good news for The Good Wife fans.
What did you think of tonight's episode of The Good Wife? Let us know in the comments section below.
Photo by: CBS