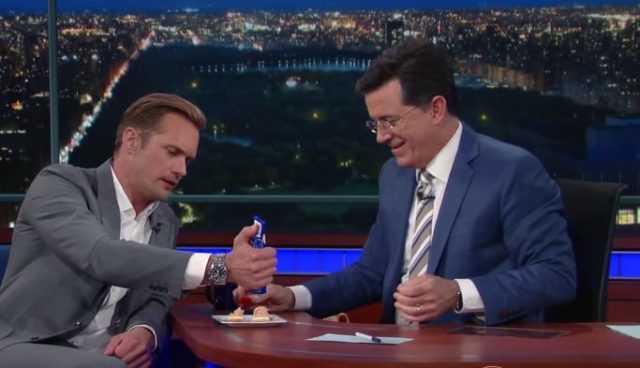 True Blood alum and star of the upcoming The Legend of Tarzan, Alexander Skarsgård, stopped by The Late Show With Stephen Colbert last night to promote the film, which hits theaters on July 1. During the interview, Colbert asked Skarsgård if there are any Swedish (he's originally from Sweden) practices that Americans might find strange, and he brought up KALLES, which is essentially Swedish fish eggs.
According to Skarsgård, everyone in Sweden eats this, despite the fact that the New York Times says the food "challenges the universal gag reflex," so of course Colbert had to try some KALLES with him. However, I don't think Colbert expected that he would have to eat as much of it as he did, as Skarsgård kept putting more and more of it on his cracker.
"Slightly more generous for you because you've never tried it before ," Skarsgård told Colbert when he began squeezing out the KALLES from its tube before taking over the serving duties himself.
Watch Alexander Skarsgård and Stephen Colbert eat Swedish fish eggs in the video below:
In addition to enjoying a Swedish staple with Colbert, Skarsgård also had a couple of fun stories to share with the Late Show host, including one about how he snuck into a taping of the late night show just a few months ago, posing as a roadie for his friends' band, Tame Impala. So why did Skarsgård sneak in? As he told Colbert, it's because he's been such a huge fan of his for so long, and he wasn't sure when, if ever, he'd have a chance to be a guest on the show.
Watch Alexander Skarsgård explain how he went undercover in the video below:
[Photo via YouTube]