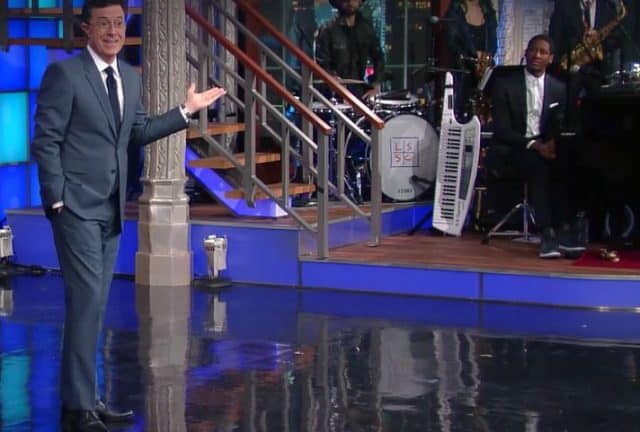 Stephen Colbert is typically the person asking all the questions every night on The Late Show. However, before each taping of the late night talk show, Colbert takes some time to hear a couple of questions from the audience, and his answer to one particular inquiry about his wife was so good that the Late Show team had to share it on its Facebook page.
In the video below, Stephen Colbert discusses how he first met his wife and how he knew that she was "the one." Without giving too much away, the story involves him heading back home to South Carolina for a much-needed trip, as he contemplated whether or not he should marry his current girlfriend, who had essentially given him an ultimatum: marriage or break-up.
After having one quick conversation with his mother about the situation, Colbert knew that his girlfriend at the time, Anne, wasn't the one for him, and later that night is when he first met his wife at an after-party following the opening of a new musical. As Colbert says, when he first saw his wife, it was the first time had ever looked at a girl and thought "That's a woman," as she stood in front of him in her black dress.
"Honest to God, I thought, 'There's your wife. You're going to marry her,'" Colbert tells the laughing crowd.
Check out the video below to hear Stephen Colbert's full story about how he and his wife first met.
[Photo via The Late Show With Stephen Colbert Facebook]