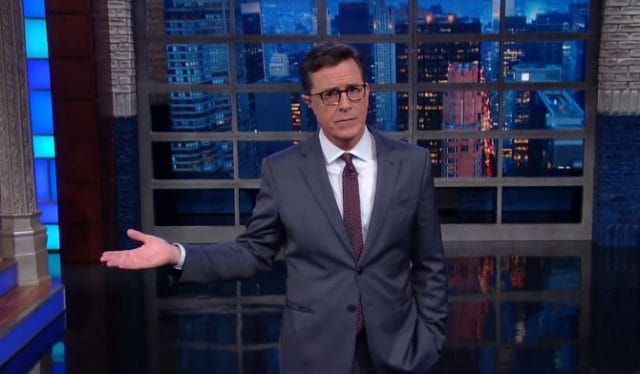 Stephen Colbert has never been shy when it comes to expressing how he truly feels about Donald Trump, but as he admitted last night on The Late Show, yesterday was the first time that Trump ever looked somewhat presidential to him, as the Republican candidate visited Mexico to speak with the country's president, Enrique Peña Nieto, about the issues between the two nations. For the first time ever, Trump stood next to another politician and let him or her actually speaking instead of talking over them or interrupting. However, one has to wonder what the private meeting between Trump and the Mexican president was like before the two of them came together for their more "professional" press conference.
Fortunately, Colbert and the Late Show team were able to obtain some actual footage of the meeting, and believe me when I say what you see will surprise you. The video is almost out of a soap opera, and that's because, well, it actually is taken from a soap opera. But that doesn't make it any less funny, especially when Colbert starts to explain what's happening in the clip.
"That's rough stuff, but, you know, it's what Trump gets for sleeping with Peña Nieto's lover when he was in a coma," Colbert jokes.
Watch Stephen Colbert share his thoughts on Donald Trump's visit to Mexico and how it affects the Trump campaign overall in the video below.
[Photo via YouTube]