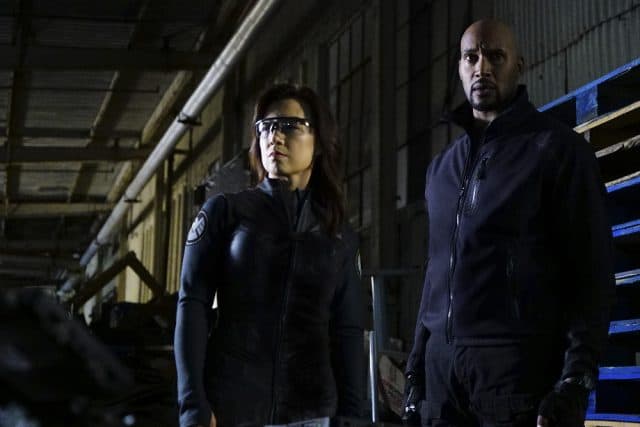 It's finally here! Marvel's Agents of S.H.I.E.L.D. , after a long hiatus, has returned from the dead as if it's a ghost…OK. I know that was bad. As a matter of fact, SHIELD returned more full of life than ever. After a few months have passed, OTS (Original Team SHIELD) has been fractured by the new director, but that doesn't stop them from doing what they do best: beating up bad guys and breaking rules.
This week on Marvel's Agents of SHIELD: Coulson & Mack, now partners, use a mission as a front to look for Daisy. Agent May now leads a strike team of her own, but is jealous of Simmons' new role. Simmons reports directly to the director, so Fitz cannot tell her about Dr. Radcliffe's latest invention… a Life Model Decoy. Daisy is trying to track down a "serial killer", who turns out to be more than she bargained for.
Premiere episodes after a long hiatus can be chocked full of little moments checking on different characters and reacquainting you with them. But SHIELD wasted little time in getting down to brass tacks. I was really impressed with the way that they were visiting with each character after the hiatus, but doing so in a way that advanced the story, instead of making the entire premiere episode checking in on characters, and teasing action that's yet to come. Nope. SHIELD got right to the action, and I very much appreciate that.
Obviously, Ghost Rider isn't a bad guy, so I wonder what the angle will be here. I find it likely that they'll end up facing a trickier enemy, like the new SHIELD director or some such. I guess we'll find out about him next week. But, I'm getting a little off topic: Ghost Rider is really freakin' cool. Gabriel Luna played things especially cool, and all the action surrounding his flaming skull was really fun to watch.
I will really be glad when and if the original team gets back together, but my favorite characters have always been (and always will be) Fitz and Simmons. Perhaps my favorite element of this episode was the evolution of their relationship to the point that Fitz will have to keep the Life Model Decoys a secret from her. Fitz lying to her, and Simmons being in a position of power adds a really cool dynamic to their already compelling relationship.
SHIELD has always been a strong show, and it's showing no signs of changing that any time soon. It's introduced several new mysteries, had some great action, and added a cool new hook for viewers in Ghost Rider. And that was just in the first episode! I'm really excited to see what's coming next. "The Ghost" was a perfect appetite wetter for what's to come. Overall, a really solid premiere.
As you may have noticed, I'm not the regular reviewer of this show. However, going forward, my colleague Blaise Hopkins and I will be splitting the weekly reviews of Agents of SHIELD. I am excited to bring you my thoughts once every couple of weeks!
What did you guys think? Did you enjoy the episode? Let us know in the comments!
Marvel's Agents of S.H.I.E.L.D. airs Tuesdays at 10/9c on ABC