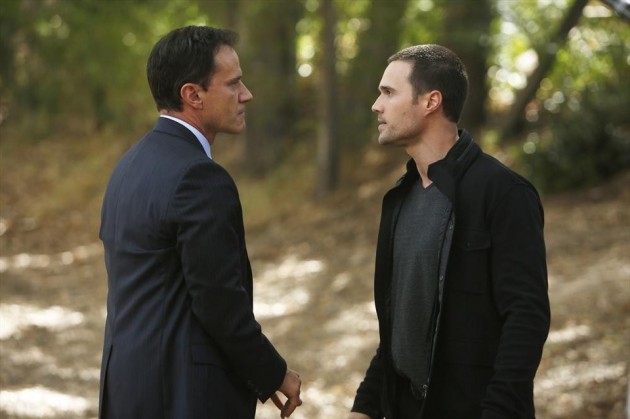 This week's episode of Agents of S.H.I.E.L.D. was not only one of the the best episodes of the season so far, but also one of the most well-written episodes of the entire series as a whole as we get deeper into the history of Daniel Whitehall (Reed Diamond).
As Phase 2 of the Marvel Cinematic Universe has started to head into darkness, so has the TV show as this was one of SHIELD's darkest hours which is perfect because of the fact that the show is now on 9 PM. I have been intrigued by Whitehall since the season premiere so it was great to finally get a lot of background on him. With flashbacks into his history, we also get to meet the kick butting Peggy Carter (Hayley Atwell) and it's a nice taste of what we will get in Agent Carter that will start in two months. There were so many references to Red Skull in this episode that at some point, I expect him to return in Phase 3.
The young woman (guest star by Dollhouse's Dichen Lachman) that we see in the flashbacks who doesn't seem to age at all was supposedly Skye's mother as we see Skye's father cry when he find her dead body after Whitehall's action. I really thought that the source of Whitehall's slowed aging was going to come from The Infinity Formula, but I was wrong. It's interesting though what this mean overall because I'm still betting that this is in fact the introduction of the Inhumans. I was really impressed with the flashbacks overall and it was a nice touch to finally get to see how powerful Diamond is an actor.
There were a lot of stakes in this episode which was good because it added some suspense and you weren't sure who would come out of it alive. I was scared to death that they would kill off Bakshi (played by the remarkable Simon Kassiandes) who has become one of my favorite characters and villains on the show. I would be foolish if I didn't say that I was terrified about the possibility of losing Triplett after he got shot, but luckily the show didn't play the classic Whedon card a.k.a. killing off your favorite characters.
Even though it was predictable as heck, it was somewhat funny to see Bobbi and Hunter bicker so much that it eventually lead to them hooking up. Good for them that they didn't do it in Lola because I'm sure Coulson would have killed them, brought them back to life before killing them again if they did. Palicki and Blood are great to follow, especially Palicki because I'm on the Mockingbird train as she has become one of the best additions this season. I just loved seeing how smart Bobbi is (which is one of her famous character traits in the comic books), as it adds another sweet layer to her on the show.
We also get to see the Ward brothers finally get let some steam out as Ward goes after Christian and gets him to confess about the whole Well situation. Tim DeKay gave some compelling performances and even though he confessed his crime, I couldn't help but feel sorry for him. It was a tragic reveal in general and hearing later on that the whole Ward family was dead (except for Grant) was just horrifying. I don't know how he did it, but I bet Ward killed them all brutally and thankfully, we didn't get to see it because this episode had already gone to some pretty dark areas.
The biggest surprise in the whole episode was seeing Coulson run into Skye's father after Triplett got shot. I knew it was going to happen before the end of 2014, but I didn't think it would be in this episode. But hey, I'm not complaining: seeing phenomenal actors like MacLachlan and Gregg interact is just pure entertainment. It was a great way to set up the war that will take place later this season between those two as they fight for Skye that once again, is not her real name (MacLachlan is a great screamer).
How does ABC expect me to wait till December 2 to get a new episode after the way the episode ended with Coulson and Skye finding something else regarding this city that I still bet is Attilan (the home of the Inhumans). I'm tired of one week hiatuses so December 2, you are welcome to get here as soon as possible. Overall, "The Things We Bury" was a phenomenal episodes and a personal favorite with lots of character development, visual exposition and another example of how much this show has improved.
Marvel's Agents of S.H.I.E.L.D. will be back with new episodes on Tuesday, December 2, 9/8c on ABC.
Photo via ABC