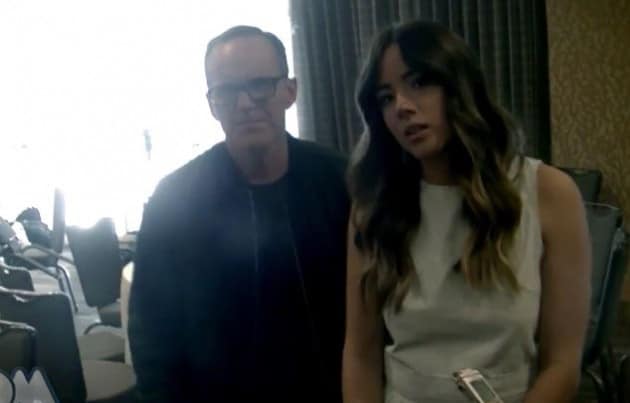 As the Marvel Cinematic Universe has evolved on the big screen, the small screen has also grown through the ABC series Marvel's Agents of S.H.I.E.L.D., which has dealt with a lot during its first two seasons, from exploring S.H.I.E.L.D.'s battle agaisnt Hydra to introducing the Inhumans. Now, in its upcoming third season, Agents of S.H.I.E.L.D. will be bringing in the Secret Warriors from the comics into the MCU for the first time. Two of the show's core characters, Director Phil Coulson (played by Clark Gregg) who came through the Marvel movies and Daisy 'Skye' Johnson (played by Chloe Bennet) who both went through a lot in the packed second season. The third season will be a big one for them as it will feature Daisy/Skye and Coulson leading the project Caterpillars a.k.a. the Secret Warriors, a group of gifted individuals, through S.H.I.E.L.D.
TVOvermind was fortunate enough to participate in Agents of S.H.I.E.L.D. Press Room at San Diego Comic-Con with other news outlets at roundtables where stars and producers from the show discussed what is coming up in Season 3. Gregg and Bennet were two of the people we got to talk to, and you can watch their entire roundtable interview in the video below. Here are some of the highlights:
– How Coulson has made so many big sacrifices by working in S.H.I.E.L.D.
– What the transition will be like for Skye going into Daisy Johnson/Quake mode in Season 3.
– What aspects Bennet hopes to bring from the comic version of Daisy Johnson into her version of the character in the MCU.
– Whether or not we will be seeing more of Coulson's background and early days of working at S.H.I.E.L.D.
Marvel's Agents of S.H.I.E.L.D. kicks off its third season on Tuesday, Sept. 29, at 9/8c on ABC.
[Photo via YouTube]