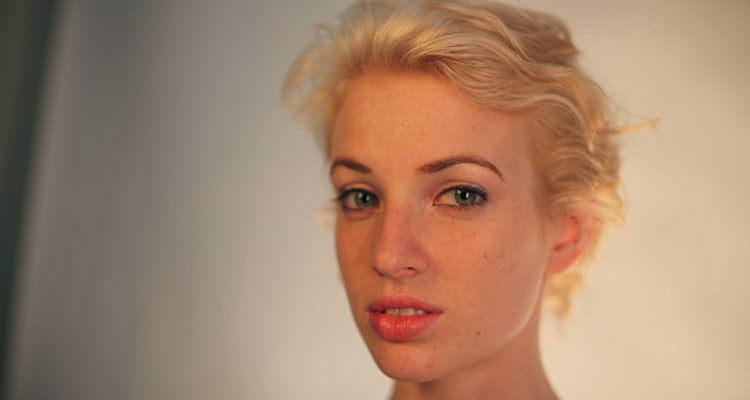 Adele Pomerenke is an American actress, dancer, singer, and multi-instrumentalist. Best known for her lifelong career as a Ballerina, she has been building her acting career with film projects, including the newest one titled "The Penitent Thief," starring Kevin Sorbo and James Russo. Adele plays the role of Herodias, Herod's (Kevin Sorbo) wife. She also recently premiered as My Chemical Romance's new Helena in short film 'A Summoning'. Learn more about Adele below:
1. Adele almost ran away to join the circus.
For a brief moment, there was another art form that fueled Adele's passion. She moved to Seattle to study dance more extensively but primarily circus arts such as aerial silks, static trapeze, and hoop. Her goal was to join Cirque du Soleil. After two years of hard training, she stepped back onto a stage in her pointed shoes as a Flower in the Corpse de Ballet of Tchaikovsky's Nutcracker and realized that dance was a part of her soul, and she chose to reinvest in the career full time.
2. She sold a song in Nashville.
While living in Nashville, TN, Adele tried her hand at songwriting. In 2017 she co-wrote and sold a country song titled, 'Loving You Keeps Me Alive,' now performed by Brenda Kaye Perry. The song sold for a whopping $12.50! Adele received a plaque with the album and her name (which was misspelled). She chose to keep it misspelled as a fun momentum to her humble beginnings.
3. Adele was a Monster on Crypt TV.
What was Adele's first gig after moving to Los Angeles? A monster in a blindfold and covered in fake blood. One of her first noted roles, you can't even recognize her. Adele was cast recreating the character Estelle for Crypt TV's series Fight Night; she gurgled fake blood and walked around on set, looking like a nightmare creature you wouldn't want to run into in real life.
4. She was a Hooters girl.
Since 2015 Adele Pomerenke started working for Hooters of America, serving wings, bartending, and making customers happy as a world-famous Hooters girl. She worked at multiple stores across the country and even participated in bikini pageants, and became an events model for the company at biker rallies and car shows.
5. Adele lived out of her car.
Before getting serious about her career, Adele Pomerenke had hard times. She got wrapped up in very dangerous situations and substance abuse that eventually led to a hard financial position. She decided to fold down the back seats of her 1985 Volvo station wagon and lay out her bedding. Adele shaved her legs in gas station bathrooms and hid this difficult situation from her family until she decided to make a better life for herself. Now she takes care of her mental health problems that led to the initial fall and can't be stopped from moving forward in a positive way daily.
6. She is a Certified Lifeguard
Adele has always been a bucket list person, enjoying crossing off small and large accomplishments that interest her. In 2018 Pomerenke took a Red Cross OSHA Lifeguard course and today makes an effort to keep up on the certification. She had even considered changing her entire career to being a beachside Lifeguard. Besides her love for the ocean and swimming, knowing she could help save a life is important to her.
7. Adele was a carhop for Sonic and has sweet roller skate moves.
During the Covid19 Pandemic, Pomerenke made the decision to move back to her hometown and stay with her parents, where she worked in fast food to make ends meet, and of all places, Sonic as a carhop on skates! Roller skating every day in the summer heat was a fun challenge, and she developed a new hobby of roller skate dancing.
8. She owns and collects vintage vinyls.
Christmas of 2002: Punk-goth skater-chick; Adele was celebrating the holidays with family at her Grandparent's home. She then opened a gift that would change her life forever. A Nostalgic Victrola Record Player! After expressing interest in the original classic vinyls that filled many shelves in her Grandparents' basement, she was given the turntable and then given all 300+ old original print records. She continues to collect classic vinyls and listen to them as often as possible.
9. Adele was in a classic rock cover band.
Before leaving her hometown for her acting and dance career, Adele was an occasional vocalist for a classic rock cover band. Singing lead and back up vocals for covers such as Joan Jett, Janis Joplin, Blondie, AC/DC, and top chart songs. She performed live at different bars, events, and outdoor stages alongside some of her closest friends. It was thanks to her high school competition choir and private voice lessons she had taken at a young age that helped her feel confident enough to take the stage. Throughout her music career Adele has learned how to play instruments such as the ukulele, drums, piano, and flute.
10. She drools over Hot rods, Rat rods, and Motorcycles.
Growing up, Adele's Father made sure to teach her the basics of working on and taking care of your own car, changing tires, checking oil, knowing what's what under the hood, and learning to drive a manual transmission first! He had a motorcycle most of her life, and today when she visits, she continues to ride around the countryside with him. This, combined with living in a town that hosts a fair share of antique and classic car shows, Adele was quickly inspired. It was in High school when a 1969 Plymouth Roadrunner first caught Adele's eye and fueled her interest in older muscle cars. Today you can catch her attending any and all car shows or biker rallies possible or grabbing a Hot Rod magazine to dive into on a plane ride to her next gig. Today, her dream car is a 1970 Corvette Stingray T-top, canary yellow, and a Triumph motorcycle to match.
Watch for Adele in "The Penitent Thief," a movie that releases in December 2020.