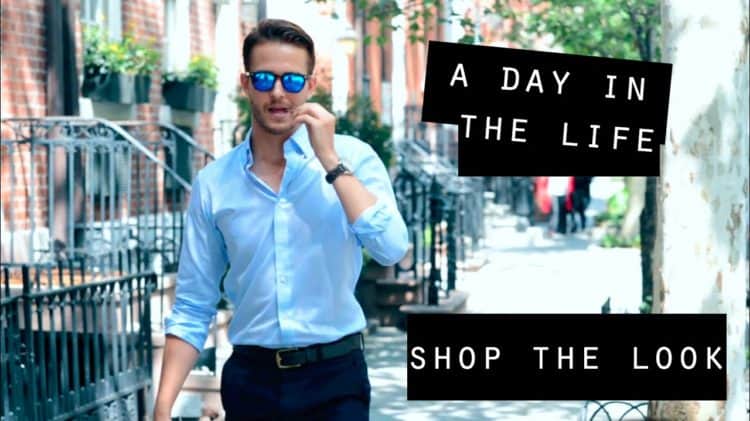 Adam Gallagher is an American blogger who is best known for masterminding the famous blog "I Am Galla." He rose to fame quickly for his outstanding fashion sense. He has amassed a huge crowd of admirers and fans who follow him faithfully on social media. He is a fashion sensation who has a very interesting history and career. Here are 10 things that we learned about Adam Gallagher that you may not already know.
1. He was born a fashionista
Adam has had a natural sense of fashion since he was just a baby. The fashion connoisseur made a personal commitment to himself from the time that he was a very young child that he would change up his appearance every year. He is a rare breed because most younger children don't even think about the clothes that they are wearing or what they look like. He has discriminating tastes when it comes to clothing, accessories and physical appearance.
2. He won an award in high-school
Adam Gallagher's keen fashion sense has been noticed for as long as he has been in the public eye. This means that through his school years he maintained his vow to change up his look every year and it's always been a great look. When he was in high-school he received the best-dressed award at his graduation. This came as no surprise to his classmates or to anyone who knew him.
3. Adam Gallagher is a major influencer
Gallagher has an eye for fashion and apparel, and his fashion blog exerts a major influence on the way that people see fashion and clothing. His eye, as well as his taste, is impeccable and he was a natural tendency towards choosing tasteful and stylish fashion items. He is immensely popular and his fans are intrigued by the blogs that he writes on fashion and they listen to his every word. The combination of his impeccable fashion sense, his skillful blogging, and his perfect appearance are what make him such a powerful influencer.
4. He has built an empire of fans
Adam's blog "I Am Galla" has caught the attention of people interested in fashion from all over the world. So far, he has amassed a following of more than two million followers on his Instagram page. This is nothing short of phenomenal. He is also a big deal on other social media platforms including Facebook, Twitter, and YouTube.
5. Adam recently launched his own accessory collection
Adam Gallagher knows the power of accessorizing to enhance the clothing that a man wears. His fashion sense extends beyond apparel and goes into design. He recently joined forces with the Miansai jewelry brand, which is high-end. He aided in designing a ten-piece collection and Michael Saiger, the founder of the brand, remarked that the pieces are wearable and classic for everyday fashion. Each piece in the collection is unique and includes braided leather bracelets, silver airplane stamped pendants, a mixture of metals, and more.
6. He's been blogging since he was just a teen
Adam was just 17 years old when he began his "I Am Galla" blog. He is the founder and owner of the insanely popular blog that is all about menswear, along with lifestyle and travel. His work is appealing to the masses of males. His great photography skills are also highlighted in the blog and the photos enhance the words that he writes bringing his ideas and concepts to life. His natural sense of fashion, great writing style, and photographic skills have helped him to become an internet fashion sensation with a ton of charisma that makes people want to get in on his secrets for successful dressing.
7. His hometowns are reflected in his style
Adam previously lived in New York, which is a fashion hub. While living there his sensibilities were impacted by that classic uptown New York fashion scene. This is reflected in his fashion. He moved to California which has its own fashion vibe. He has found a way to present the California style of dressing and accessorizing and thrown in a New York Twist to create the famed Galla fashion.
8. His efforts have been recognized
Gallagher has been widely acknowledged as one of the best-dressed men since he was in high school. The accolades have kept pouring in. Not only fans think he's brilliant when it comes to men's fashion, but others within the fashion industry have also taken note of his talents. Adam was given a Bloglovin Award in the category of Best Men's Fashion Blog recently. It's fair to say that he is officially an award-winning blogger in the fashion industry.
9. Gallagher has multiple income streams
Adam Gallagher is doing well financially. We learned that he makes an income from the advertisers that pay him for ads on his Instagram account that has a considerably high traffic count. He is given a percentage for sponsoring ads that are in the thousands. The merchandise that his viewers and fans purchase through Miansai.com is frequently sold out. He has an estimated net worth that is between $800,000 to $900,000. He's almost achieved the million-dollar mark and if things continue in the direction that they're currently going he will be there this year.
10. Adam Gallagher is a rising star to keep your eye on
Adam has tremendous potential for becoming one of the greats in the men's fashion industry. He is just 28 years old and he has already built an empire of supportive fans and brands that seek his endorsement of their products. He has his own fashion line and his blogs are pulling in viewers by the millions. He is at the height of popularity and there doesn't seem to be any let up in his upward spiral. When we think of men's fashion, we think of Calvin Klein or the late great Gianni Versace, but Adam Gallagher has brought his own trend with California style with a hint of New York twist. We believe that he has a great future ahead.
Tell us what's wrong with this post? How could we improve it? :)
Let us improve this post!