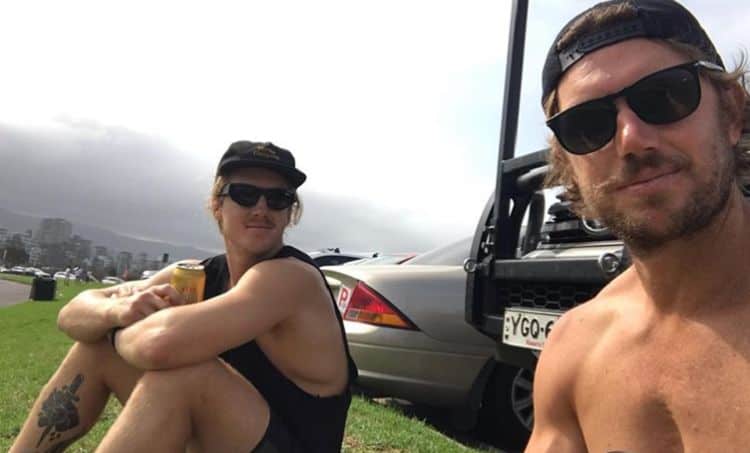 A journey of a thousand begins with a single step. To many actors, acting starts in their childhood when they are in the theater or commercials. For Adam Demos, although he wanted to be an actor someday, it took him more than twenty years for his break. He is now on the most talked-about romantic film on Netflix and with these few facts you can know more about him.
1. He is single
Adam is what many women would refer to as "a catch" due to his charming looks. Adam stands at 6′ 1″ tall, weighs 85 kgs, has biceps measuring 16 inches and to top it up; he has blue eyes. It is hard to believe that with his handsome look, Adam is yet to find a girlfriend. Still, that is the truth as Adam revealed to Who that he was single. The truth is Adam believes he is okay on his own therefore does not search believing that the right person will come into his life. He is not in a hurry to settle down so even if it takes a year, Adam will wait until it feels right.
2. He was a construction worker
Adam's body speaks volumes, and with one look, you can tell that he works out. Although now the gym has become part of his daily routine, Adam's job as a construction worker ensured that he kept his body in shape. He started working in his Year 12 and after high school in his father's demolition business. Adam later worked at a roofing company and laborer in a steel company before finally moving into acting at 23.
3. He took an acting course
Adam may not have come from a town that paid much attention to the acting profession, but in his heart, he knew that it is the road he wanted to take. Therefore after working for so long and still having nothing to show for it, Adam decided to try and make his dream of being an actor come true. However, since he knew his friends would not understand and perhaps even discourage him, he did not tell them he had enrolled at Screenwise Acting School in Sydney. Instead, he lied that he was working overtime as he continued with his acting course.
4. His first experience working overseas was with Unreal
When Adam signed up for acting classes, it never crossed his mind that he would go out of his home country to film a television series. However in season 2 of "Unreal," Adam was cast as August Walker enabling him to travel overseas, Vancouver to be precise, for filming. Adam found out about the role in Hollywood set aside for an Australian exclusively, while on the set of "Janet King."
5. His first time to visit New Zealand was when filming falling Inn love
There is always a first time for everything. For Adam, the first time he set foot on the neighboring country of his home country is when filming "Falling Inn Love." According to Distractify, apart from Adam enjoying working alongside Christina, drinking wine in the cabins after shooting were the highlights of his stay in New Zealand. He fell in love with the place so much that even after they were through with filming, Adam has visited the country twice.
6. Falling Inn love is his first film
Adam has been cast in various series mostly aired in Australia. You can catch up on his acting prowess in "Home and Away," "Winners & Losers" as well as "Rescue Special Ops." Adam even was involved in the theater, maybe trying to polish up on his acting skills. After so many television shows, he now has made a breakthrough in the film industry by being featured as the lead in "Falling Inn Love." The fact that he was cast alongside Christina Milian and the film is streaming on Netflix is bound to have a positive impact on his career.
7. His Net Worth is $500 Thousand
It is always about the money; otherwise, no one would be pursuing any careers. Adam began working as a teenager, but that did not contribute to his wealth. Al the jobs that he held did not interest him, so he kept shifting, hoping one day to make it big in what he loved doing; acting. Luckily for Adam, his hard work has paid off because although he does not have a long list of television shows and films, he still got a lucrative pay. As of 2019, his net worth is $500,000.
8. He loves traveling
Since Adam never committed to a job, all the money he earned was saved to take budget trips abroad. He has been to Canada, Thailand, Bali, the UK, and Europe. Despite loving to travel, Adam loves his country so much that he never stays away for so long as to start missing him. According to Daily Mail, the minute Adam begins feeling homesick, he gets on a flight back home. He, however, loves being away if it is due to work since the excitement of having a paycheck is enough to keep him wherever he needs to be.
9. His early years
Adam was born in Wollongong, where he was also raised. There are no details of his family, but Adam disclosed that he went to Dapto High School where he graduated in 2003. He began working at his father's company while in high school and even after graduating, helping him to lay a foundation in his job as a construction worker.
10. He was not always a heart-throb
It is easy to assume that Adam has always been one guy that women have been chasing after for his entire life. Unfortunately, in his younger years in high school, Adam was chubby and much shorter than his peers. Worst of all, he had a pimply face that had no girl interested in him. However, Adam experienced a growth spurt that saw him lose a few pounds. To ensure that he keeps the weight in check, Adam maintains an active lifestyle by swimming, hiking, and surfing.