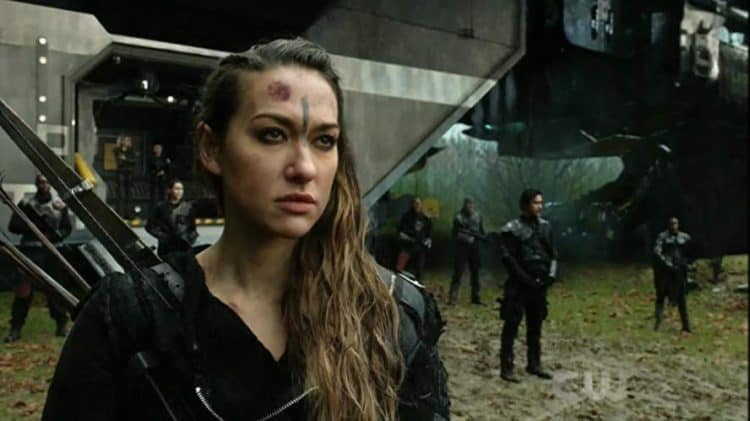 The 100 season 7 is out, and one face you will see is that of Tasya Teles, who became a regular. Although she has other credits under her belt, being in the series made her popular with the fans who also asked if she ever thought she would become a regular cast one day. Tasya was a bit comfortable with playing Echo at first, but she eventually found a way to identify with the character, and since then it has been smooth sailing. Here is everything else you need to know about the actress.
1. She suppressed her dream of becoming an actress
Fear of failure led to Tasya pushing her ambition to become an actress to the farthest corner in her mind. Although she knew she wanted it so bad, she never thought it was attainable. Tasya even studied accounting, but when the chance to be an agent arose, she turned it down because deep in her gut, she hoped that her dream of being an actress would pan out. Still, with such thoughts, Tasya had not laid out a plan for venturing in the industry.
2. She did not expect to have a more prominent role in The 100.
Tasya came on the show in its second season, and she only expected to be in at most two episodes. However, after they changed the finale, her role in the show has been increasing with each season. By the time they were through with the third season, Tasya had kept praying that she would be called to be in season 4 because she loved being in the series, describing it as her favorite experience.
3. She was nervous being introduced in The 100
Once filming starts, the cast gets to be like a big happy family, so when you are a stranger, it can be overwhelming wondering if they will make you part of the family or you will be an outsider. With Tasya coming on board in the second season, she was quite nervous, so she tried breaking the ice with a simple greeting. The rest of the cast kept telling her she would love Zach, and they were right because they hit it off immediately, both on set and off set.
4. She took weeks to memorize a big speech in Trigedasleng
The Grounder language was created specifically for the show, and learning it was difficult for Tasya. She had to improvise to memorize it; thus, she found rap to be helpful. On her first day on the set, she was supposed to give a big speech in Trigedasleng, and it took her weeks to memorize it, muttering it to herself wherever she was until she got it right. Unfortunately, just when she was ready to showcase her mastery of the speech in the language, they changed it to be in English. As she told Tell-Tale TV, Tasya has never been more disappointed.
5. How Thandie Newton helped her overcome her fear
It is common to hear of actors who are the worst to work with and even being hostile towards their fellow actors. Tasya was lucky that she did not meet such people during her first acting gig. As she went to do the table read for Rogue, the actress was so terrified that Thandie Newton got up and gave a hug, then looked her in the eyes and said, "Welcome." That kind gesture meant a lot to Tasya, who felt at ease from that moment, and since then, she always ensures that she makes her colleagues comfortable.
6. She gave herself three years to find her footing in the acting industry
Despite having done some acting in her childhood, Tasya's energy was better spent in the soccer field; hence she focused on the sport. However, since she had already experienced being an actress, Tasya felt she would regret it if she never gave it a chance. Therefore she promised herself that if within three years acting was not leading anywhere, she would give up on it for good. The minute she stepped in acting class, the actress knew she was meant to be in the industry and was thankful that though it was in her late years, she had still found her passion.
7. How "Skin Trade" resulted in Tasya starting an organization
When she was cast as Rosa in Skin TradeTasya experienced what it was like in the sex slavery industry and vowed to do something about it. Therefore using her knowledge in the subject gained from the film, she established Unslaved, an organization that raises awareness on the issue. In 2017, she told Chloe Magazine that they were launching a bracelet line that the public should purchase as a show of solidarity against sex trafficking.
8. She is fluent in four languages
Tasya's background is quite multi-cultural. She was born in Toronto and raised in Vancouver, where the only junk food allowed in the house was Nutella. She has Ukrainian and Brazilian roots; thus, Christmas comprised of Ukrainian perogies, African stews, and Brazilian rice, served with roast turkey. Among her family members, they spoke 12 languages, but the actress is only fluent in English, Portuguese, Spanish, and French. Although she thought her mother was lying when she said learning the languages would help Tasya one day, the actress has found it to be true because of how quickly she picked the Trigedasleng language in The 100.
9. She hopes to be a movie director
Upon reading that Robin Wright was directing House of Cards, Tasya became convinced that she should head in that direction. At first, she thought it was impossible, but Robin made her feel the dream was not beyond reach. She even told Daman that she is interested in back end production and has been spending a lot of time with the Warner Brothers editor crew because she is planning something big soon.
10. How she relieves stress
After the pressure to get everything right for a scene is over and she gets a day off, you will find Tasya with her girlfriends in a club dancing like nobody's watching. She especially loves dancing to reggae music.
Tell us what's wrong with this post? How could we improve it? :)
Let us improve this post!