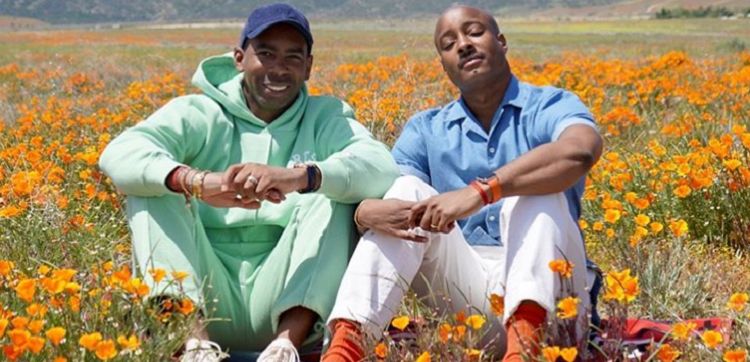 There are a select group of men that have set the trend in the fashion industry for their exquisite taste. Moreover, their impeccable taste in interior designing has also led to some of the best series, such as "Unspouse My House." Adair Curtis is among the men whose eye for interior design have led him to be the ideal person for giving celebrity homes their unique look. Get to know more about Adair through these facts detailed below.
1. He designed Gabrielle Union's home
Adair is lucky to have landed a husband whose Hollywood connections have led their business to be the first destination for most celebrities. Besides, Jason has maintained a close relationship with Gabrielle Union, who not only put his name on the Hollywood map but also attended the couple's wedding in 2012. As a result, Gabrielle also trusted the couple to work their magic in her home since she and her husband Dwayne are too busy with their schedules to monitor the process. Therefore as reported on Earn the Necklace, Adair and Jason decorated Gabrielle's' home, but by the end of the series, Adair will have severed at least one working relationship.
2. He worked for Russell Simmons
Looking at Adair's LinkedIn profile, you get the picture of a loyal employee. Adair started working for Russell Simmons in November 2006 as Brand Manager for Def Jam enterprises. He held that position for two years and three months before being promoted to be the Vice President of Rush Communications, in the Communications division. Adair remained the VP of Communication for more than for years after which Adair climbed up the ranks again to General Manager of All Def Music. Adair stuck to the general manager position for 14 months after which he began working along with his husband in JSN Studio.
3. He is the CEO of JSN Studio
JSN Studio is named after Jason, Adair's husband, but that does not mean that Adair is a silent partner. Matter of fact is he is the Chief Executive Officer of the business handling most of the operations. He admits that the studio comprises two separate branches that feed off each other. While Jason runs the fashion and styling branch, Adair manages interior designing. He still handles a lot of operations even in Jason's business, such as communication with Jason's clients and agents.
4. He went to New York University
Everyone wants to have a career that will pay the bills, but there is nothing as frustrating as waking up to go work in a place that drains your soul. Adair joined New York University in 2012 to study digital media marketing strategy, perhaps hoping to become a digital media marketer. However, even before the year ended, Adair decided it was not he wanted to spend the rest of his life doing. Still, the fact that he got accepted in New York University goes to show that the guy was an above-average student in his high school.
5. He considers Steve Rifkind his mentor and father figure
There is not much revealed about Adair's biological father. However, that has not stopped him from looking up to other men. Adair discloses that Steve Rifkind is not only his mentor but a father figure to him too. Since Adair has been in the music scene for so long, it is no wonder that he has interacted with Steve closely. Steve is the chairman and founder of SRC Records and Loud Records whose music business had led him to accumulate a net worth of around $200 million.
6. He is starring in "Styling Hollywood."
Once your husband is the stylist behind the fantastic looks of most celebrities, then you are bound to be pulled into the limelight, whether you like it or not. Adair may be talented as interior design, but it is his husband's connections that have led the couple to star in their show. Carlos King created the show that was released for streaming on Netflix on 30th August 2019. The series has already attracted a considerable fan base with most people giving positive reviews on Twitter. One man was excited that for the first time in his 51 years, he was getting to see a real black gay couple on television. Another could not hide her love for the unscripted show saying she watched six episodes back to back.
7. His family background
Adair is lucky to have had many playmates in his family since he comes from a large family. However, there is no exact number of his siblings, but we know that he has at least two sisters, namely Dionne and Zulaikah. He also has lots of cousins and his mother, who still lives in New York, got remarried in 2015 changing her last name from Curtis to Johnson.
8. He cannot wait to be a dad
Anyone who has watched "Modern Family" has to admire the gay couple, Mitchell and Cameron Tucker with their adopted daughter, Lily. Although it is just acting and Eric Stonestreet who plays Cameron is straight, the way they love their little girl is adorable. Adair also cannot wait to start a family with his husband. However, it seems like Jason is not ready to have any children; every time Adair raises the topic, Jason puts it off and brings up other issues.
9. He was a cast member of "Running Russell Simmons."
In 2010, "Running Russell Simmons" premiered on Oxygen to show how Russell Simmons manages his business. Adair Curtis having been an employee of Russell Simmons was therefore regularly cast. The series focused on the assistants who helped Russell in managing his business and party life. There was only one season that comprised six episodes that run for 45 minutes each.
10. He loves working with his husband
Most people will hate being involved in family business due to the disagreements that are sure to follow since everyone has an opinion on how the company should be run. Jason and Adair, however, have developed an ideal working dynamic, and they would not have it any other way. For years they have worked together, and as Adair told Architectural Digest, they understand each other profoundly. The only challenge is when they are overwhelmed with work and do not have time to talk about anything else but business.
Tell us what's wrong with this post? How could we improve it? :)
Let us improve this post!