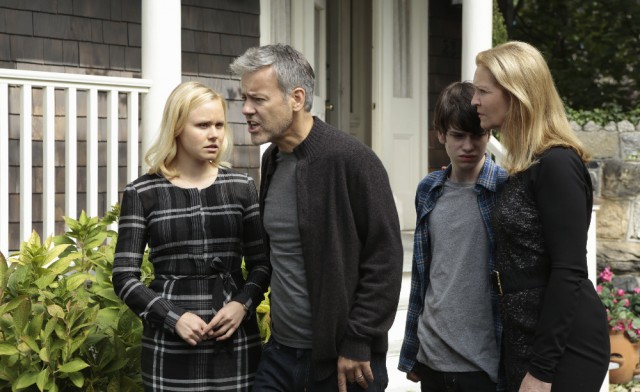 Aside from the superb acting – for starters, Joan Allen is in it as matriarch Claire Warren – ABC's The Family has a solid mystery/thriller going on. We have no idea who the returned Adam Warren (Liam James) is, but we know he was seriously abused. As for Tom (Michael Esper) – the man who took him but apparently has no desire to get him back or silence him – what's his deal? In The Family, "Feathers or Steel" – which will air this Sunday, March 20th, 2016, Detective Nina Meyer (Margot Bingham) and FBI Agent Gabe Clements (Matthew Lawler) are closing in on Adam's abuser. You'd think this would make just about everyone happy. Well, not so much…take a look!
I can why Adam is freaked out. Seeing the man who's locked you in a dungeon and sexually assaulted you for years can't be pleasant – to say the least. However Adam's siblings, Willa (Allison Pill) and Danny (Zach Gilford) are both having odd reactions. Danny is likely trying to reconcile the idea that he doesn't believe this is Adam with the visceral reactions he's seeing "Adam" have to this picture. Okay, that's fair enough. However, what is up with Willa? (If you missed last week's episode, you can catch up with my recap and review here – because I've got some thoughts about Willa. If you've been watching, I'm sure we all have some thoughts about her!)
What else will be going in The Family, "Feathers or Steel"? Here's the story synopsis!
Detective Meyer and Agent Clements go on the hunt for a child kidnapper whose MO is eerily similar to Adam's abductor. Meanwhile, Bridey continues to infiltrate the Warren family, searching for intel on Adam, but arouses Willa's suspicions when she is caught prowling around the house uninvited. In a flashback, Claire's darker side is revealed as she attempts to get Hank to spill secrets about Adam's kidnapping. Unfortunately, she also makes a painful discovery about John.
I think we all can guess what Claire discovered back then, and if we're right, how weird is everything that's gone on between Claire and Nina this entire time!?
ABC's The Family has done an excellent job with answering one question only to replace it with two more! I've no doubt this week will answer a big question – and we'll be no closer to figuring out what the heck is going on! This is a good thing. A thriller's no fun if it's easy to guess what happened and why. I am looking forward to when we finally learn the truth!
The Family airs Sunday nights at 9pm EST on ABC. You can catch up with it on Hulu or at ABC.com.