Apparently, Quicksilver could've been in Deadpool 2. No, not Evan Peters' version that charmed his way into the hearts of audiences in X-Men: Days of Future Past but Aaron Taylor-Johnson's Quicksilver, who featured prominently in Avengers: Age of Ultron. Since Deadpool 2 is a Fox property (which was still under the Marvel brand), its highly doubtful that he would've entered in the world of Deadpool 2 as Quicksilver. Though it wouldn't have been a surprise if some kind of joke was made about his time in Marvel.
The Kick-Ass star actually revealed this surprising news during his interview with The Hollywood Reporter but he doesn't particularly go into detail on what role he could've played. Johnson doesn't even speak on why he ultimately turned it down, but it's interesting that he was consider based on his ties to the MCU, "[Bullet Train] was one of those hot scripts around town, and David Leitch actually asked me to be in Deadpool 2 ages ago. So I met him, but I didn't do that. So when this came around, I was like, "Hey, do you remember me?" And he was like, "Of course. I like you as an actor." So I was like, "Cool, what about this character?" And he was like, "Get in line, buddy. There's like ten other actors who want this job and they've got a bigger name than you do."
Ouch. Johnson did get the role of Tangerine eventually, which was ultimately a good choice. Tangerine and Lemon (Brian Tyree Henry) are widely considered the best and most compelling characters in the film. There's no word on which other actors were in the running to play Tangerine in Bullet Train. The film featured a colorful cast with intriguing stories and juicy dialogue. It wouldn't be a surprise if top-level A list names desperately wanted to be in this wild action spectacle.
While Aaron Taylor Johnson does not reveal the role he was up for in Deadpool 2, one has to wonder if his cameo would've been as much of a fun surprise as Brad Pitt.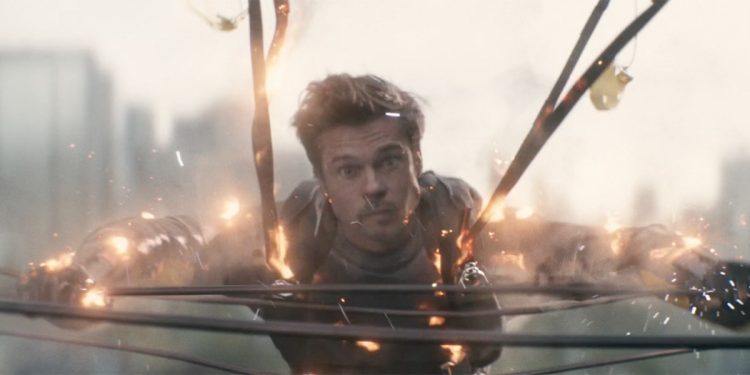 As mentioned above, Johnson is no stranger to playing superheroes as his breakout role was Kick-Ass. He's been able to show that he play both comedic and dramatic roles, so it wasn't much of a surprise to learn that he was in the running to star in Deadpool 2. However, he'll also play Kraven the Hunter in the upcoming Spider-Man spin-off. He's currently a hot ticket in Hollywood right now as there are reports that he could end up being the next James Bond. Whatever the case may be, it's interesting to speculate which role Johnson could've played in the popular sequel.
Deadpool and the X-Men are still under the Marvel name, even though it was a Fox property. It wouldn't have been a stretch to mention his ties with the Avengers and Scarlet Witch. Though Quicksilver does not survive the end of Age of Ultron, it would've still been hard to use his Marvel character, even for a cameo. However, Deadpool 2 was dealing with time travel, so it wouldn't have been impossible to use some time traveling tricks. Perhaps Cable could've passed through the Ultron war by accident? Or maybe the gang felt that Pedro was the only man that could stop Deadpool 2's big bad? It would be cool to know what his role would've been in Deadpool 2. Nevertheless, Johnson will be focusing all his energy on his Kraven the Hunter feature, which is set to be released on October 6, 2023.
Tell us what's wrong with this post? How could we improve it? :)
Let us improve this post!