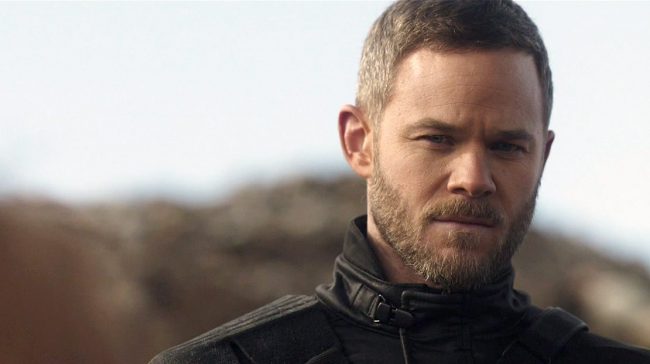 Canadian film and TV actor Aaron Ashmore is best known for his recurring roles as Jimmy Olsen on Smallville, Steve Jinks on Warehouse 13, and most recently, as Johnny Jaqobis on the Canadian TV show, Killjoys. Having been active in the industry since 1991, the 39-year-old actor has been going from strength-to-strength in recent years, with 2019 set to continue the trend thanks to new parts in the political thriller Designated Survivor and the crime series Cardinal, and a continuation of his role in Killjoys. To learn more about the talented performer, take a look at these 10 quick facts.
1. He's a twin
Aaron isn't the only Ashmore who's forged a path in entertainment; his identical twin brother Shawn has also carved out a successful career in acting, having appeared as Bobby Drake / Iceman in the X-Men franchise, Jake Berenson in the kids TV series Animorphs, Agent Mike Weston in the television drama series The Following, Eric in the horror film The Ruins, and Sam Spencer in the legal drama Conviction. Aaron and Shawn often get mistaken for each other, with Aaron even joking about how frequently the confusion occurs on the bio of his Twitter account: "Actor/ Movie and Book fan. Also Not Shawn Ashmore but an honest mistake".
2. Both Ashmore brothers starred in Smallville
Difficult though it may be to tell them apart, the casting directors of Smallville had no problem in casting both Ashmore brothers in the popular TV series. Shawn was first up, appearing as Eric Summers in the season one episode "Leech" and the season 3 episode "Asylum". Almost five years after his brother left the show, Aaron made his first appearance in season 6 as Chloe Sullivan's love interest, Jimmy Olsen. Aaron departed the show after season 8 but made a brief return in the series finale to play Olsen's grown-up younger brother, James Bartholomew Olsen.
3. He was born a minute before Shawn
Aaron was the first of the twins to be born, arriving just one minute ahead of his brother Shawn. When it comes to acting, however, Shawn has generally been the leader of the two, largely down to the fact that as kids, Shawn managed to get the first shot at fame when he replaced Aaron in a commercial, after the latter came down with an illness.
4. He has a tattoo on his wrist
Some of the blame for people's confusion about which Ashmore twin is which is down to the brothers themselves. Not content with their genetic similarities, they decided to take things one step further by getting identical tattoos. In an homage to their grandfather, who also had a very similar inking, the twins have tattooed the initials "GMA" (standing for Good Man Ashmore) on their wrists.
5. He has two daughters
In June 2014, Aaron married long term girlfriend Zoe Kate. The couple's first child was born on June 5, 2016. In April 2019, they welcomed their second daughter into their growing family. Aaron shared news of the birth on Twitter, posting a sweet picture of him cradling the new arrival captioned with the message "My second amazing daughter has arrived safe and sound. All my love to my wife for growing and delivery this gift. Truly #blessed photo cred to the wonderful @scarletoneill".
6. He's a huge sci-fi fan
Aaron is known best for his roles in sci-fi shows (Smallville, Lost Girl and Warehouse 13 to name just a few), a genre that thankfully, he's a huge fan of. "I've always been a big fan of science fiction and fantasy," Ashmore told Entertainment. "I was a huge Star Trek fan. I watched Next Generation every day whenever it was on, and then I got into Deep Space Nine which I really, really liked. I also loved The X-Files, which was a huge show I didn't miss. My parents, my brother, and I would watch it every week it was on."
7. He likes a challenge
Rather than taking on roles that allow him to stay within his comfort zone, Aaron likes to push his boundaries on camera, claiming to get a sense of satisfaction from testing his talents to the limits. An example of this came in Lost Girl, when Aaron had to play guitar and sing on camera. "It turned out fine, but it was a little nerve-wracking pushing your boundaries around stuff like that, where you're like, 'There's going to be a lot of people watching me sing, and I'm not a singer," he told Entertainment. "But that's a great thing about playing these roles. Sometimes you end up pushing yourself a little out of your comfort zone."
8. He likes to take mementos from set
Aaron occasionally likes to take a little something from set to remind him of the good times he's had on a shoot, although his choices can sometimes be a little left field. As a memento of his time on Smallville, Aaron secreted a few pairs of Jimmy Olsen's signature bowling shirts away with him and still has a couple tucked away in his wardrobe to this day.
9. He was an executive producer on I Put a Hit on You
Although best known for his acting, Aaron has also tried his hand at producing. His first (and to date, only) effort behind the camera came in 2014 when he executive produced the romantic comedy, I Put a Hit on You. The film tells the story of Harper (played by Sara Canning) who teams up with her ex-boyfriend Ray (played by Aaron himself) to try and stop the hitman she accidentally hired to kill him.
10. He's worth $2 million
Thanks to his long career in showbiz, Aaron has amassed quite the fortune. According to Celebrity Net Worth, he's currently worth an estimated $2 million…. which must be especially nice given his twin, Shawn, is worth exactly half that at $1 million.
Tell us what's wrong with this post? How could we improve it? :)
Let us improve this post!