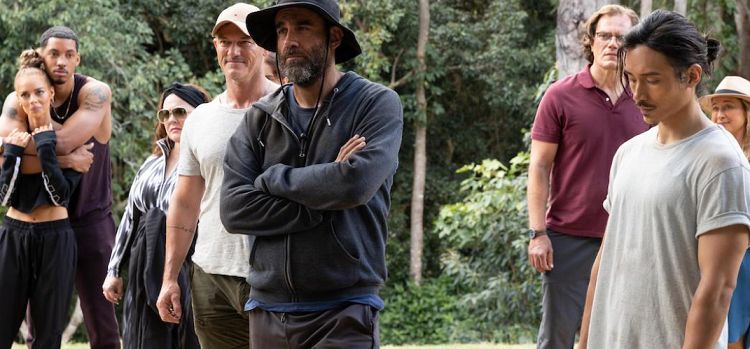 Hulu's "Nine Perfect Strangers" based on the best-selling novel by Liane Moriarty had all the appropriate ingredients for a show-stopping thriller but many believe that this hyped mini-series is a dud. It could be that many were hoping the miniseries would be somewhat similar to the popular HBO show Big Little Lies which was also written by Liane Moriarty and stars Nicole Kidman but the two series are nothing alike. As you can tell from the title, the show is based around nine strangers that sign up to transform their lives and address their issues at Masha's (Nicole Kidman) retreat. The Tranquilium House is run by Masha and her two "right hands" Delilah and Yao who are in a romantic relationship. The guests are in for a rude awakening when they discover that this isn't a normal retreat and that there is something more sinister brewing beneath the surface.
The nine guests are from all walks of life. There is the Macroni family who is struggling in dealing with the loss of a family member. Then there is Toni, an ex-football player who is battling opioid addiction. Next, it's Ben and Jessica, a young and beautiful might I add troubled married couple who are dealing with the pressures of social media. Of course, we can't forget Frances, a famous romance novelist played by Melissa McCarthy who is amid a big catfish scandal. Last but not least, there's Carmel a sweet, caring divorce with deep-seated anger issues. The guests are forced to surrender their cellphones are prohibited from making contact with the outside world. Substance use is also against the rules, at least substances that are not administered by h In the first episode, we find out that Masha's treatment approach is unethical but she promises her guests that it will completely transform their lives.
The writers do a great job at exploring the emotional struggles of each guest. Although, for some, it can be a bit overwhelming. Nicole Kidman's character has a past of her own. She says that in her former life, she used to be a workaholic until she was shot dead in the parking lot of her office one late night and brought back to life by Tao. This revelation startles her guests. Masha is weird, unpredictable and the guests all start to wonder if coming to the retreat was the right decision. On the surface, Masha seems as if she's got everything under control but it's clear that she still has some underlying issues that she needs to address before she can be of help to her guest. In the second episode of the series, we learn that something or someone is after Masha. Perhaps it's chaos from her past. Or maybe, Deliah is messing with her because we soon learn that Masha is having an affair with Yao. For a woman who is supposed to help other people get their lives off track, it seems as if her world is slowly but surely falling apart.
When the guests learn that Masha has been drugging them every morning with psychedelics they are furious. Also, Masha has been taking shrooms herself. This leaves us to wonder whether she's really providing therapeutic help or self-medicating her and the guests. In the first episode, Masha promised to make her guests "well" and hints at using innovative trends that are supposed to push them outside of their comfort zone. She fails to follow through on these proclamations and instead seems to be slowly leading them down the same path of destruction that she's on.
Masha's team starts to fall apart. Yao begins to notice that's something is usually off with Masha and he begins to question her methods. He protests against her the new extreme measures she's taking with the guests and Masha drugs him. Deliah realizes what's going on and decides to leave the wellness resort. She steals Ben Lamborghini and peels off into thin air. The fact that she's so willing to leave her boyfriend behind lets us know that she probably already suspected his intimate relationship with Masha. While "Nine Perfect Strangers " are pretty straightforward with setting the tone for the show at the beginning, it does take a while for the plot to thicken. The painfully slow buildup might be a turnoff for some but if you're willing to stick out and see beyond the underdeveloped eery elements of the show you just might enjoy it.
Tell us what's wrong with this post? How could we improve it? :)
Let us improve this post!