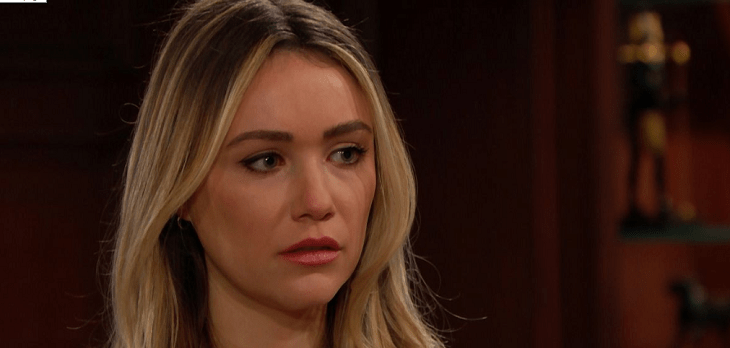 The Bold and the Beautiful fans know that there is nothing they can't predict, but there is always something that no one will see coming. We know that there is going to be a long list of things that work out for some, and an even longer list of things that don't work out for anyone involved in this show, this situation, and this life that people are leading around here. But, that doesn't mean we cannot see things happening that might not be on our agenda. Flo, for instance, is a new girl in town. She showed up as a girl who didn't seem to know anyone, she lied to everyone and sold Hope and Liam's baby to Steffy so that she could earn a few bucks and work with Reese to pay off his own debts and keep his daughter alive. But, she also then found out she was a Logan sister, she is related to this baby, and her ex is the brother of the man from whom she took baby Beth. It's complicated, and we want to know more about her.
She Was A Craps Dealer
It turns out this Vegas girl is someone who has a lot of issues with the people in her life. She's living her best life, so she says, and that involves being someone who doesn't make wise decisions. She's got some stuff on her plate, and she was a dealer at a casino in which Reese was a frequent visitor and one of her best tippers. She liked him enough to come to LA and do this thing for him that she figured would never hurt anyone. She seemed to be the kind of girl who wanted to be close to Reese, so she did what he asked. We cannot decide if she genuinely liked him or she was just looking for a way out of her current life and into one that seemed to have a lot more money, prestige, and power. Either way, she seems to be the kind of girl who has some issues she has to get out of her own way in this situation.
She Does What Her Mother Tells Her
For a young woman who did a lot of lying to her mother, she seems to do anything her mother tells her to do. For example, her mother had no idea she came to LA to say she was pregnant, giving birth, and then selling her baby. She seems awfully upset about not knowing any of this, and we cannot figure out why none of the people they are suddenly so close to don't realize that this is nothing good on behalf of anyone. For example, how is this even possible? She is a young woman who is so close to her mother, but her mother was shocked to learn that her daughter was pregnant, had a baby, and came to town to sell her baby? She didn't know this, but they are so close? And she has no interest in meeting the baby her daughter gave up? It's weird to us, and no one will pick up on it.
She Must have Had A Rough Life
What we get from this situation is that she had a rough childhood. It seems like her mother was a bit of a party girl who was always on the hunt for someone to take care of her, and her daughter seems like she is not like that, yet here she is. Her mother is so excited to be part of a family with so much money and so much prestige, and she seems to have so much to offer those in her life. But, she also seems to have a big situation on her hands with the lie that's being told. Her mom is now part of it, but she's not going to let anyone know about it because what's more important to her than her daughter's happiness and mental health is the fact that she has money, a name, and a lot of friends in high places. She seems to appreciate that more than anything right now, and we are not certain that's a good thing.