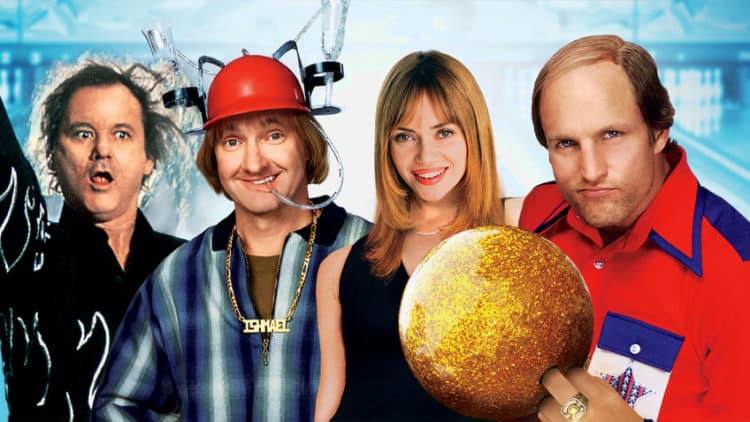 The first question that comes to mind when learning about an impending sequel to the 1996 comedy Kingpin is: "What's the point?". Seriously, the comedy ended on a high note with Roy and Claudia driving off together and Ishmael playing the part of the hero that had redeemed his friends and helped save the farm. As comedies go this one was pretty underrated since it was definitely a lot of sick and nasty humor, but it was still insanely funny. But it sounds as though the Farrelly brothers are going to be producing this movie, and there's no word yet on whether it's going to be a direct sequel or if it will be something different that will take the name of the first movie. But then again, if the original actors aren't there, then why bother making it in the first place? There's no idea as to whether Woody Harrelson will come back, and it doesn't sound as if Randy Quaid would be available since his life has taken a very different course.
One might hope that Bill Murray or Vanessa Angel might return, yet even that isn't certain since it sounds as if Murray is down if Harrelson is there, but otherwise, it's hard to say. Getting back into why it would be a lesser movie right from the start, it has nothing to do with the fact that it's a sequel. 25 years ago this movie didn't exactly impress a lot of people, but it definitely made a lot of people laugh. It was more of a fringe comedy that people could watch or simply ignore since it was what it was, a comedy with gross humor and great actors that had for some reason signed onto this project. I'll admit, I laughed quite a bit at this movie since it was hilarious, but for one reason or another the critics didn't like it, and as it's been seen more often than not, way too many people too way too much stock in what critics tend to say.
But sticking up for the original movie a little more, it was a redemption tale that took a lot of silly jogs and twists that almost felt like they were serving the Farrelly brothers' twisted sense of humor as much as the audience. There's nothing wrong with it really, but it was a pretty juvenile movie, and that's why a lot of people still enjoyed it. A sequel doesn't even sound like it would be half the movie the first one was, but again, this is depending on who's in it and what the story is all about. These days it feels as though it's become a giant game to toss a mention of an idea online to see how the lot of us are going to react and then gauge just how effective something is going to be. That feels a little paranoid, but it's not too out of bounds to think that anyone in the entertainment industry would do such a thing, especially since gauging how people react is a good way to decide what needs to be done with an idea. The best advice for this one, at the moment, would be a full stop in order to fully contemplate what is being planned.
Every story does have a valid right to exist and be told, but there are times when the thought process of those that come up with certain stories need to be questioned before moving ahead. This is one of those times, and if the premise is something that feels like it can make some kind of sense within the story, then so be it. It's still going to be tough to accept something like that unless it manages to come with the comedy in a big way, but at the very least it's worth it to listen to what's going to be planned in order to really get a better feel for it.
This continual need to bring older movies back into focus is a little worrying at times since it tends to indicate that the creativity in Hollywood is seriously waning. Some would deny this outright and they wouldn't be wrong since there's still plenty of creativity, but there are those that appear to be falling back on old ideas for a reason that isn't always forthcoming but is usually chalked up to nostalgia, which is widely accepted by many. That's not the worst explanation to be sure, but it's one that's been used quite often in the past couple of years and it's not exactly comforting any longer. Hopefully this sequel will be worked through, thought over, and given the kind of treatment that can make it work as a streaming movie since it still sounds pretty dicey. You never know though, it could be worth something.