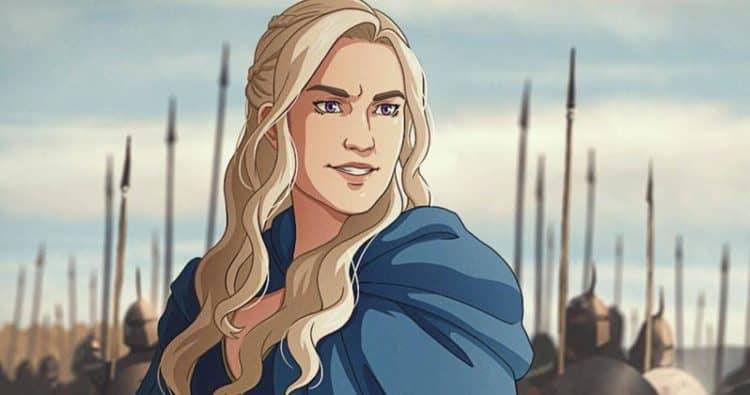 One thing that might calm a lot of fans down is that it doesn't sound as though a Game of Thrones animated series on HBO Max will simply be redoing the original show in animated form. Instead, it sounds as though Westeros might be expanding to include more of the landscape and show other stories that might have been going on at the same time, or are a result of what's been happening upon the continent, and perhaps even around it since the show came into being. When one looks back at how long it took from the beginning to the end of the show it's almost impossible for a lot of people to admit that we didn't see much of the lands in which the battles and intrigues took place, but it's true. If one had the ability to look around and really take note of the settings they would see that quite a bit was shown, but the telling of the story still didn't expand quite that much when it came to the overall settings considering that we were convinced to focus upon the people, since the people were the ones driving the story, and only a few key elements within the setting were really given that much attention and the kind of importance that demanded that we learn that much about them. But in this coming series, it does sound as though things are going to be expanded even further as George R.R. Martin might be given an even bigger chance to share the world he's created.
Hopefully this time he can keep up with everything since it doesn't sound as though he'll be writing a book during the making of the series, which would obviously hamper him in a big way. That might sound like a dig at Martin, and to be certain, it is. The frustration of a writer not being able to keep up with a deadline because of writer's block is one that many of us that apply the written word know about, but it's also one that a lot of us know how to get around at some point in our career in order to give the people what they want and to ensure that we have some say in the creation that we've brought to life. In Martin's case, it does feel as though there was a great deal of pressure that was being placed on his shoulders, but it's also something that might have been alleviated if he would have just kept writing. There could have been other issues going on that people weren't made privy to, but it still feels as though waltzing into production without the entire story being available and ready to be delivered was a poor decision that forced the hands of the showrunners when it came to the final product that was pushed through. One has to imagine that had Martin been able to finish the books before production that the ending might have been a little better and a lot easier for many people to understand and to accept. Or maybe the ending would have been worse and even more reviled by the fans. Who knows?
But what does feel apparent is that this series will show us more of Westeros and perhaps even the lands beyond, perhaps enough that fans will begin to regain faith in the story and even invest in it once again as the aftermath of the main story is felt across the world. Of course, without really knowing what time period this will occur in it's hard to say what will happen. There are already two other ideas for spinoffs supposedly coming as Dunk and Egg will take place before the original idea, as will the story dealing with the Targaryens and their fall from grace in their own homeland and their subsequent war upon Westeros. So far the animated series is one that has a lot of people talking, but until we find out more about it then it's likely that people will continue to reach conclusions that may or may not be as accurate as they need to be. It is enough to get people excited for something new and still familiar though, and it's easy to think that a lot of folks will be hoping to see something that will restore their interest in the overall story.
It almost felt as though GoT was going to end on the sourest of notes, but at the very least, invigorating the idea with a few different spinoffs that will take place at different points in history should help to keep people coming back for a while. And with new characters to get used to and enjoy it's very likely that talk of the GoT brand will continue for a while to come.