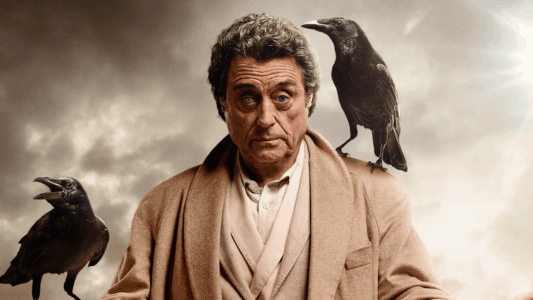 It's a banner year for Neil Gaiman. First, Starz ran American Gods, based on Neil Gaiman's 2001 modern fantasy novel with the same title, to critical and fan acclaim. Then, Starz renewed American Gods for a second season. Now, Amazon have scored Michael Sheen and David Tennant as leads in a six episode series of Good Omens….also from Neil Gaiman. Mr Gaiman will adapt the scripts for all six episodes from the apocalyptic, satirical novel he cowrote with Terry Pratchett. Amazon have also selected Mr Gaiman to serve as showrunner.
Mr Gaiman and Mr Pratchett wrote Good Omens in the late 1980s, and HarperCollins published it in 1990. It tells the story of the Apocalypse and the Angel and Demon meant to usher it in. Except the Angel, Aziraphael, is writ as a doddering ninny; and the Demon, Crowley, is writ as the coolest of the cool. Yet, neither one of them really wants to end the world. And there's the small matter of the misplaced, young Antichrist who isn't whom both of them thought.
With good cheer, the writers compare Good and Evil to the opposing sides in The Free World vs Soviet-bloc Cold War that raged quietly throughout the 1980s. Heaven's agent is never quite sure the best way to go about what he thinks, he knows, he ought to do. And Azriaphael's style is always a century or so out of date. Hell's operative is so cool and so in love with human luxury that he misses the Spanish Inquisition and the Nazi Holocaust. And, yet…. somehow, simultaneously, Crowley is also the most insightful character in the book.
Michael Sheen will portray the Angel, Aziraphael. Mr Sheen is primarily known for his work in film. Mr Sheen's resume includes serious projects like Frost/Nixon, A Special Relationship and Kill the Messanger as well as fantastic projects like Harry Potter, Underworld and more recently, Passengers. Doubtless, Mr Sheen can bring Aziraphael to life with gravitas.
David Tennant will portray the Demon, Crowley. Mr Tennant is perhaps best known for his three seasons and nine specials as heroic The Doctor for BBC, as well as his villainous turn as Kilgrave in Netflix's Jessica Jones. Most recently, Mr Tennant played Detective Inspector Alec Hardy in the acclaimed BBC series Broadchurch. Cool and charm will be redefined when fans see Mr Tennant as Crowley.
If anyone out there is worried about Neil Gaiman as showrunner, consider whom he worked alongside on American Gods: Bryan Fuller. Mr Fuller's record in fantastic television is nothing short of superior. Mr Fuller created Dead Like Me, Wonderfalls and Pushing Daisies, after starting out in Star Trek on Deep Space Nine and Voyager. Neil Gaiman learned from Bryan Fuller; the circle is now complete; the learner has become a master. Wrong saga. I know. But it's still true.
Amazon will premier Good Omens — staring David Tennant and Michael Sheen, featuring Neil Gaiman's debut as showrunner — in 2018. TVoverMind will continue coverage on Mr Gaiman's development of Good Omens, and all your other favorite shows, so come back and visit us often.
Save
Tell us what's wrong with this post? How could we improve it? :)
Let us improve this post!