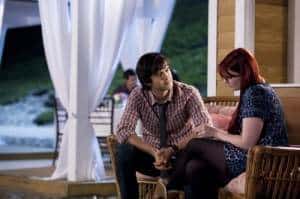 Jasper is still alive. Why? Dixon has another downhill storyline. Why? Silver and Teddy has hit a snag. WHY?!!?!? And someone might be wedging themselves between Harry and Debbie. Kill them.
The Set Up
Dixon's mom, Dana (April Parker Jones), is in town and sitting in the Wilson's living room. Awkwardness abounds. Dixon is thrilled, but Debbie? Not so much. After Annie spills about the trip last spring break she and Dixon took to go see Dana, Harry and Debbie look stupid, because they had no clue. Later while having dinner, the conversation gets even more awkward after Dana wants to say grace and remains mostly quiet through the whole meal. And did I mention that Dixon invited her to stay with them during her visit? Uh-oh…
Silver and Teddy try to have a peaceful dinner, but Teddy is being fawned over by just about every female in attendance. Silver is about to go insane. She later vents to Naomi, who suggests Silver engage in the 'tried and true' art of investigating the new boyfriend through phone, laptop, and other activities if she wants to know if Teddy is really through with his player ways.
Navid is still stuck at home, but he has to study PSAs to get ideas for one as his punishment for the drug incident. A Blaze member. Lila (Amber Wallace) stops by and delivers the latest edition of the school show, which features a new segment that Navid didn't approve and stars none other than Naomi Clark. Our boy Navid does not approve…
Annie jogs in the night and notices The Creeper Jasper stalking her by cruising the area in his car. Later that night as Annie throws away the trash, she hears something but doesn't see anything. After she locks the gates to the door, we see Jasper sitting in his car, watching like the perverted creep that he is. Then my fist flies to the TV screen.
Dixon and the Problem With Parents
Dixon thinks that it was a bad idea seeking out Dana given the dinner they just had. Annie tells him that maybe pressure could have been the factor in the awkwardness and that he might need to try again, but without the family around. Meanwhile, Harry and Debbie discusses the awkward dinner with Debbie thinking that Dana might've been judgemental about their parenting skills. Harry thinks otherwise and feels that they should make Dixon feel that they are OK with Dana being there. But Debbie is sooo not OK with this…
At yoga the next day, Debbie's instructor Kai (Greg Vaughn) sees that Debbie is not at her 'all she can be' status and asks what's going on. Debbie vents about everything and admits that she is threatened with Dana, which Kai says that her feelings are valid and that she should be able to say that. I think. My DVR skipped at that part.
Dixon takes Dana to a sports bar where they bond over sports, especially basketball. Dana lets slip that she gambles a bit, but they don't dwell on it when Dixon mentions the elephant in the room, which is their awkwardness. Dana discloses to Dixon that she didn't want to divulge on the past in front of the Wilsons, because the past was horrible to her and she didn't want to compete with them in terms of good memories and parenting. Dixon eases Dana's fears by saying that she has to be a good enough mother to pass him on to them so they could give him a better home. Awww…
Debbie worries when Dana and Dixon don't home and when they do, Harry tells Debbie that all that worrying was for nothing. But Debbie repeats the words that Kai said to her earlier that day about her having the right to say how she truly feels about the situation. I hate Kai.
Meanwhile, Dixon returns to his room and decides to give online gambling a try. What?!!?
Navid and Lila
Navid returns to school and before he can get back on the saddle he is ready to reattempt to bring down Jasper, but the guys tell him to let it go. Navid's all 'frak that' cause Jasper gave Adrianna drugs, which lets the guys know that Navid is not over Ade. He says that he is and is about to put himself back on the market.
As Navid and Lila edit a parody of Naomi's little segment, Navid flat out of nowhere asks Lila out on a date. She is flabbergasted but accepts. Is it me or does Lila lool exactly like Gia a bit?
Lila and Navid meet at the Beach Club and after some awkward greetings the date commences. Sorta. Navid is clearly nervous, which they bond over and realize that they were cotillion partners when they were in the 4th grade. Wow, Beverly Hills is small… The two start having a boat load of fun and after they get it out the way that the date was initially a ruse to get over Adrianna, Navid asks Lila out again and kisses her. This is tragic, because Adrianna sees it as she walks on the beach with Gia.
Ade and Gia
As Adrianna and Gia drive off to cover something for the Blaze, Adrianna reveals her singing talents, which blow Gia away. Adrianna admits to Gia that she can't wait to see Navid, who she knows planted the drugs on Jasper for her. She swears Gia to secrecy on this, but Gia has a secret crush of her own. She doesn't reveal who it is, but we know good and damn well that she's crushing on Ade.
Gia suggests that with Ade's sultry voice it would be a good idea for Adrianna to join the band. Ade says she will mull it over.
Later after Adrianna sees Navid kissing Lila, she freaks, but declares that she has to find some way to get over her ex. Gia brings up the band again and Adrianna accepts this time. Gia takes her back to the school where tryouts are being held and Adrianna gives a winning audition. Now Ade's a rocker chick!
But that all goes sour when Adrianna finds out that Lila is the bass player for the band. Do I smell a catfight on the horizon? She vents to Gia about the cruelty of the cosmos and Navid. Gia snaps and finally admits that she likes Adrianna, who is stunned.
Silver and Teddy
Teddy and Silver are studying when Teddy leaves to go to the restroom. He leaves his laptop unprotected and an instant message comes in from a girl named Amy, which Silver catches. What does Amy want? She can't wait to see Teddy at the coffee shop later. Silver, pack a stiletto.
Naomi suggests that Silver goes to the coffee shop and spy, but rightfully deduces how quick Silver would be caught, so they come up with a new plan. Ask a stranger to do it. And that lucky stranger? Gia.
Gia "spies" the restaurant for Amy and finally spots her, but no Teddy. As Gia texts Silver the good news, Teddy walks in and he and Amy share an intimate embrace. Busted!
NOT! Teddy stands his ground and blows Amy off, telling her that he is gonna give the monogamy thing a try. That's wassup, Teddy!
Silver later confesses to Teddy about reading his email. She did it out of a guilty conscious and feels terrible about it, but apologizes because she feels that she can trust him now. But Teddy drops the bombshell that he can't trust her now. Wow… He then decides that he needs space. WOOOWWWWW!!!!
Annie
Dixon finds out that he and Annie's car is missing and is later turned up stripped down to the frame in downtown LA. What gives?
As Annie has a girls' night out with Silver and Naomi, she immediately spots Jasper two tables from them. She tells her friends that they need to go and now they are in on the fact that Jasper is a stalking creep.
The next day, Jasper approaches Annie and she rebukes him for stalking her. He claims that he is only trying to help her and when Annie asks what the hell is he talking about, Jasper reveals that it was he who stole the car. He goes on saying that it was the only piece of evidence linking Annie to the accident and that he is only looking out for her. Now my foot kicks the TV screen…
The West Beverly Blaze
– Sweet Mother of GOD If SOMEONE DOESN'T OFF THIS IDIOT!!!!!!!!
– Dixon. First he had an ungodly box on his head; then he gets involved with an older woman; then said older woman acts like she is pregnant with his kid; now after finding some sort of happiness with his birth mom, he starts online gambling?!?!? NOOOOO, DIXON!
– I hate Kai.
– Teddy is an ass. Sorry, but even though Silver was slick in the wrong, he was wrong for meeting Amy in the first place.
– Adrianna and Gia. I nice combo in my book, but I am more into the inevitable catfight between Adrianna and Lila.
– Speaking of Lila, she's a red head and has the name Lila. Some one has read their share of Sweet Valley books!
Sorry for the late recap. Blame my life, job, and LOST, which all screwed me royally this week.
See you lata!