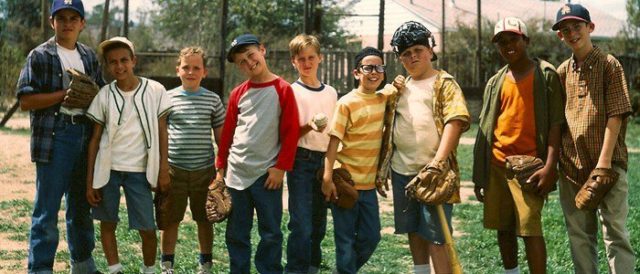 The 4th of July is upon us. The holiday brings families together in a time of relaxation, fun, and celebration. For most people that means good food, fireworks, and maybe a few movies to keep guest entertained. To help you pick a movie that the entire family will love I've compiled a list of the top 5 movies to binge watch that have a 4th of July twist.
Let's start with this family film that has become nothing short of a classic.
The Sandlot
This is just an all around feel good movie for the entire family. I mean c'mon, who doesn't love The Sandlot? This coming of age film perfectly mixes comedy, adventure, feel good moments and serious messages. Oh, yea and one of the most memorable scenes in the movie happens during the 4th of July, complete with fireworks and "America the Beautiful" playing to set the scene.
Independence Day
Will Smith vs Aliens. How can you go wrong with that? "Independence Day" is a great movie that the entire family will enjoy. It will also send the message that no matter what the country is going through at the moment, we could all be spending our 4th of July fighting Alien invaders like Will and his crew. Just kidding, but you get the point.
Captain America: The First Avenger
Honestly, The Marvel superhero movies are worth binge watching on any day, but this one holds special significance for the 4th of July. In this film, we get to see sickly Steve Rogers transform into Captain America when he is enlisted to take part in a super-soldier experiment. The goal: To stop the Red Skull, Hitler's henchman and leader of an organization that intends to use an artifact called the "Tesseract" to enact world domination. Love this movie. It's full of action and adventure that you can't help but enjoy.
Forrest Gump
"Run Forest Run!" "Life is like a box of chocolates. You never know what you're gonna get." This film produced more than a few memorable lines and moments. Certain scenes aren't kid friendly so you might want to be prepared to cover eyes if there are children around. All in all, Forest Gump is a must see, full of powerful messages and moments that reflect on this great holiday.
Top Gun
https://www.youtube.com/watch?v=qAfbp3YX9F0
Tom Cruise and Val Kilmer lead the charge in this action-adventure film as fighter pilots attending the Navy's elite training school in San Diego. This movie is a classic, but there is some violence and gore, a few sexual jokes, and a sex scene in the film so you might want to have the kids exit the room before you turn this movie on.
Conclusion
The 4th of July is about reflecting. Not only how far our country has come, how far we plan to go, but also the freedoms that allow us to enjoy this moment with the ones we love. Have fun, cherish the time, enjoy some fireworks and movies. Happy 4th of July from our entire staff.