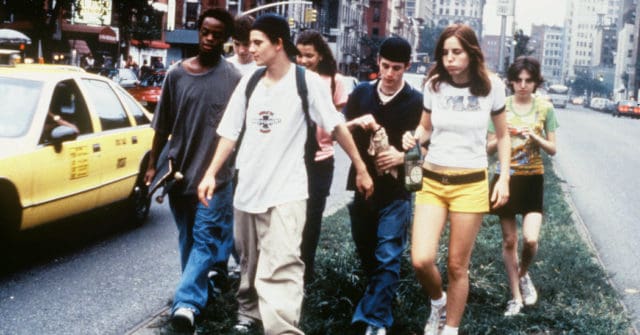 Adolescence is a very confusing time in a kid's life. It's that transition point when you're not yet an adult but you're pretty far from being a child any longer. You want independence but chances are you're not really ready to be out on your own. While your parents are busy stepping from one foot to the next trying to anticipate your next move you're just trying to survive through each day without going completely nuts. Then, sometimes, you figure out that going nuts is just what you need to do. Sometimes it's the only way to get back to an even playing field.
Teens are one of the most difficult puzzles in all the world.
5. Kids
The life of a kid is chaotic at times, especially when you're a teenager trying to make it in a world where neither the younger kids nor the adults seem to understand you. Is there really any wonder why more and more kids get in trouble nowadays when they seek a role model and find only people that are willing to show them what they shouldn't be learning? The landscape of a teenager is hectic enough without making them figure out things entirely on their own.
4. Bully
Bullying is hard on kids no matter how it happens. How you can possibly stand by and say that kids will be kids and not see the damage it does? The weaker, less popular kids are bound to be targets of bullies more often than not, and since schools are overcrowded and underfunded many teachers don't seem to think it's their job to care enough to stop it.
3. Thirteen
Once you become an adolescent popularity is all that matters. If you want to be popular then you tend to need to go to the limit and further with some people. Your parents might seem uncool, they might seem like they're out to ruin your life, but in truth they are the only people you can hope to depend on in the hardest times. Being 13 and older doesn't mean that you have to take on the world all on your own, it simply means that you have the kind of potential that would be a crime to waste.
2. Project X
So I have a guilty admission that I'm sure a lot of you might share. I laughed my butt off at this movie even while I was thinking of all the trouble it could mean in real life. Think about it, teenage drinking, drugs, sex, a house filled with people you barely know, and eventually a guy with a flame thrower looking for his stolen drugs. If your parents didn't see it on the news they'd put the pieces together eventually when they got home.
1. Brick
Sometimes adolescent problems seem so adult in nature, and why not? Adolescents are always growing so fast and getting into things they don't truly understand, and it seems like they might have a good handle on things until it's revealed that they really don't. In an adolescent crime thriller problems aren't typically discussed over shots of whiskey and a few brown bottles of beer. In this world it's done over milk and cookies.
Adolescents have a lot of issues to tackle as they continue to grow, but the important thing is knowing that they have support to fall back on.
Save