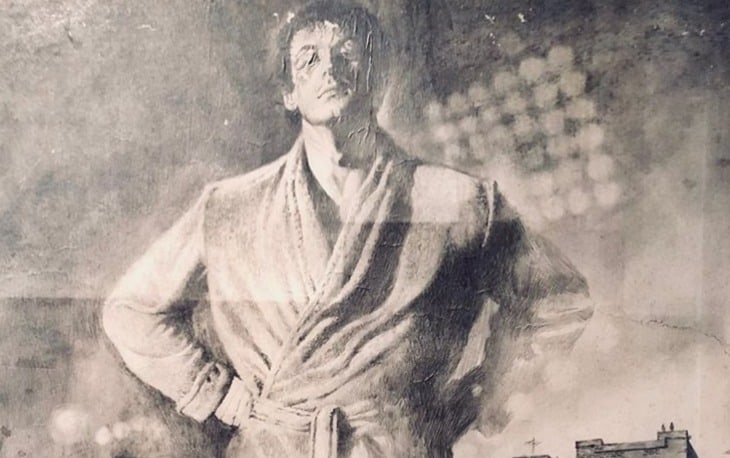 If you like sports and you like movies, you probably like sports dramas. Personally, I'm not into the popular football and baseball, because I got a taste for a more physical sport. So what's more physical than football? Sports where the physical contact goes way beyond just tackling. I'm talking about the bloody sports of boxing and mixed martial arts. If you have a weak stomach, those sports are not for you. Call me crazy for being so invested in those sports, but they got much more action than baseball, basketball, or even football. And when the movies want to show how boxing/mixed martial arts matches play out, they don't hold back.
First of all, what's the most popular sports drama of all time? There are many contenders, but the champion is often Rocky. That's right, the longest running sports drama franchise ever. Yeah, perhaps Sylvester Stallone turned it into an action franchise as he dragged it out, but I must say, that character began with him. Heck, the character of Rocky is him. Stallone deserves to be credited for writing and creating the first truly inspirational sports drama movie. I mean, I personally prefer the Creed movies over the Rocky movies, because they brought it back to the actual sports drama roots, but it all still started with the first Rocky.
Here's a rather unpopular opinion when it comes to Rocky: I think there are several sports dramas that are superior. Five, to be exact. Today, I'm going to breakdown the top five sports dramas that I believe are better than the first Rocky. And when I talk about sports dramas, I'm sticking with the ones that revolved around boxing and mixed martial arts. So get off the couch and grab your gloves, because it's time to go to war. Not really, but you boxing/MMA fans get it.
5. Million Dollar Baby (2004)
Leave it to Clint Eastwood to get serious. Back in 2004, he turned Hilary Swank into a brawling badass who would probably give Ronda Rousey a run for her money. Okay, maybe not, but seriously, Hilary Swank killed it as the underdog female boxer. I mean, she would KO her opponents faster than Conor McGregor! But aside from the awesome boxing scenes, this movie puts the drama in sports drama. Why? Well, because it doesn't have a happy ending like Rocky. It's more of a tragedy than anything else, but this movie shows a female version of Rocky: a true underdog who refused to give up until she went the distance. And boy, did she reach that distance.
4. The Fighter (2010)
If there's one trend that I like seeing in movies, it's the sibling rivalry trend. The Fighter from 2010 had Mark Wahlberg and Christian Bale play real-life boxers Mickey Ward and Dicky Eklund. Of course, the role of Dicky Eklund led to Christian Bale winning an Oscar, rightfully so. As Dicky, he was the trouble-making (understatement) older half-brother of Mickey Ward, played by Mark Wahlberg. I must say, their chemistry on-screen was phenomenal, as the two siblings shifted constantly from bitter rivals, to loving supporters, to desperate siblings trying to help each other out.
The best thing about this movie is that there is hardly any boxing. The true highlights of the movie were during the family drama that began with a family being torn apart, then ended with that family working its way back together. All the fighting and boxing happened because Mickey had to fight to get the family he wanted and needed so desperately. For a retelling of a real-life story, it sure made us believe that one can truly go the distance.
3. Raging Bull (1980)
Now here's an older sports drama that is basically Rocky flipped on its head. Martin Scorsese's Raging Bull, starring the always legendary Robert De Niro, had him in a not-so glamorous spotlight as former real-life Italian American boxer, Jake LaMotta. I'll admit, I'm not too familiar with his actual story, but he's certainly no Rocky. What's compelling about this movie is that it shows Jake LaMotta as a man who struggles more to conquer his demons than fighting in the ring. Like Rocky, he actually does go the distance and earns his fortune, but he eventually loses it all. However, he grows as a more humble and calm man overtime and learns to forgive himself and seek forgiveness from the ones he has hurt. Raging Bull is a tale of a fighter who learns that becoming a bigger man outside the ring and conquering his demons is a true fighter.
2. Cinderella Man (2005)
Rocky may have been fighting to go the distance, but Russell Crowe was fighting for much more than that in the 2005 Cinderella Man. As real-life boxer, James J. Braddock, boxing was the only way he could provide for his family during the Great Depression. This man was fighting for more than just personal glory, he was fighting for the very survival of his wife and children. His story is about fighting for others, as well as his own love for the sport. In the end, he not only goes the distance by becoming the heavyweight champion of the world, but he also secures a future for his family during one of America's most darkest chapters.
1. Warrior (2011)
And now the champion of our list is a seriously underrated gem that brilliantly flexes the ropes of mixed martial arts. For real, check out Warrior, starring Tom Hardy and Joel Edgerton. Remember when I said I liked the sibling rivalry trend? Well, Warrior gives us an extraordinary dose of that. Tom Hardy as Tommy Conlan, the more hot-headed brother, takes on his brother, Brendan, played by Joel Edgerton. While Tommy was fighting to earn money for the families of his fallen comrades, Brendan was fighting to prevent his home from being foreclosed. Their fights in MMA led them to fighting each other. This led to the ultimate battle between brothers. What began as a shattered brotherhood ended in redemption and reunited brothers. Man, that final scene gets me every time I watch it. Rocky may have gone the distance, but these two warriors won more than just a belt.
What are your favorite sports dramas? If you love Rocky, I'm with you, but I personally like these five movies better. They sell on the fighting, but they can really bring tears to your eyes.