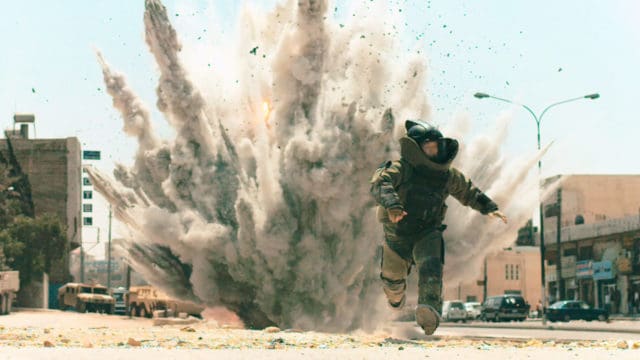 Women have struggled to get respect and equality in the workplace throughout history. Film is just one of the areas where women have had to prove themselves. The 21st century has found successful female film directors who are accepted and awarded for their outstanding work. With Wonder Woman making such a splash in films this year we decided to take a look at other influential and amazing films that are directed by women.
Here are our picks for the 20 best films directed by women in the 21st century.
The Hurt Locker
Katheryn Bigelow won the Academy Award for Best Director for 2008's "The Hurt Locker". She was the only women to win the award in that category. "The Hurt Locker" is a highly acclaimed film about a bomb squad in the Iraqi War. Bigelow has won 6 academy awards and inn 2010, Time magazine named her one of the 100 most influential people. Bigelow grew up in California and initially pursued a career as an artist. She earned her Masters Degree from Columbia University and made money fixing up rundown New York City apartments and selling them. Bigelow started directing movies in 1978. Her films include "Blue Steel", "Point Break", and "Zero Dark Thirty". Bigelow was married to director James Cameron and famously won the Academy Award that he was also nominated for.
Lost In Translation
Sophia Coppola has won critical acclaim for the films she has directed. One of her best films is "Lost In Translation", the story of an aging actor (Bill Murray) who befriends a young woman (Scarlett Johansson) while both are staying at a Tokyo hotel. The film had a $4 million budget and grossed more than $100 million. Sophia Coppola learned from the best. Her father is Francis Ford Coppola who directed "The Godfather" films and "Apocalypse Now". Sophia's has directed films including 1999's "The Virgin Suicides", "Somewhere", and "Marie Antoinette". She just won the Cannes film award for Best Director for her film "The Beguiled". Sophia Coppola is the second woman to win the award.
Bend It Like Beckham
Gurinder Chadha has been directing films since 1990. Like 2002's "Bend It Like Beckham", Gurinder's films are about the struggles of Indian immigrants, particularly women, living in England and the way traditional and modern cultures clash. In "Bend It Like Beckham", 18 year old Jasminder "Jess" Bhamra wants to play English football. Her parents, traditional Indians forbid her to play because she is a girl. Jess goes behind their back and joins a local women's league. Gurinder, who was born in the British colony, Kenya, moved with her family to London at the age of 2. Most of her films are based on her own experiences. Gurinder's other films include "Baji on the Beach" "Bride and Prejudice" and "It's a Wonderful Afterlife".
American Psycho
Mary Harron is the Canadian director behind the cult hit "American Psycho". The film was controversial when made as it tells the first person story of Patrick Bateman (Christian Bale), a Manhattan businessman and serial killer. The 2000 film did earn critical success. Harron also directed "The Moth Diaries", "I Shot Andy Warhol" and "The Notorious Bettie Page". Harron went to school at Oxford University in England and dated the future Prime Minister, Tony Blair. She lived in New York City during the 1970's where she was part of the Punk Scene. Harron is married to filmmaker John C. Walsh. They have 2 daughters and live in New York City.
Monster
Patty Jenkins directed the film "Monster" in 2003. "Monster" is the real life story of prostitute and serial killer Aileen Wuornos (Charlize Theron). Wuornos had a troubled upbringing and despite being a lesbian, she turned to prostitution in Florida, robbing men and eventually killing some of them. Despite claiming self defense, Wuornos was convicted and executed in 2002. Patty Jenkins is a screenwriter and a director. She directed for television shows including "Arrested Development" and "Entourage". She directed the upcoming film "Wonder Woman" and is the first woman to direct a superhero film.
Selma
The movie about Martin Luther King's leadership in the Selma, Alabama 1965 march for equal voting rights was directed by Ava DuVernay. DuVernay won critical acclaim for the film. DuVernay was born in Long Beach, California and graduated from UCLA. She is a screenwriter, director, producer and publicist in the Hollywood film industry. DuVernay made her directorial debut with the 2008 documentary "This Is Life" about Los Angeles's hip hop movement in the 1990's. She also directed last year's documentary "13th" about the 13th amendment to the constitution. This year, DuVernay will direct "A Wrinkle In Time" and is the first black woman to direct a live action film with a large budget.
The Kids Are All Right
Lisa Cholodenko is a critically acclaimed film director whose film themes are character studies of psychology, sexuality and desire. The 2010 Golden Globe winning film "The Kids Are All Right" is one of her most famous films. The movie follows a married lesbian couple, Nic (Annette Benning) and Jules (Julianne Moore), who have 2 children with the same sperm donor. When their children, now teenagers, find the sperm donor, he becomes a part of the family. Paul (Mark Ruffalo) creates a rift in the family when Nic doesn't like him. Jules ends up in bed with him. Despite the drama that unfolds, Nic and Jules stay together. Cholodeko was born in LA and received her Masters in screen writing and direction from Columbia University. She began her career directing shorts and in television. Her films include "High Art" and "Laurel Canyon".
35 Shots of Rum
Claire Denis is a French screen writer and film director. Her films carry the themes of colonial and post colonial West Africa and modern France. "35 Shots of Rum" is a character study of family relationships. It tells the story of Lionel, a widower, and his daughter, Josephine and their sheltered Paris life. They have a small social circle with tenants of their apartment building. Lionel deals with issues of growing older. His friend from work retires and commits suicide. Lionel and Josephine explore their futures. Denis studied film making at Paris' IDHEC. Aside from "30 Shots of Rum", she directed 1988's "Chocolat" and several other films.
An Education
Lone Scherfig is a successful Danish film director and screenwriter. She began her career after graduating from Denmark's National Film School. She is known for her attention to details in films. She began directing for television and has directed films throughout the 21st century including "Italian For Beginners", "The Riot Club" and "Their Finest". Scherfig's highly acclaimed film 2009's "An Education" is based on the memoir of British journalist Lynn Barber. The film is a coming of age story of a high school girl, Jenny (Carey Mulligan) who fall for an older, charming conman, David (Peter Sarsgaard). David seduces Jenny until she finds out he's married. She is devastated that she wasted time with him but picks herself back up and goes to Oxford University.
A Simple Life
Ann Hui is one of the greatest directors in Hong Kong. The 70 year old director was born in Manchuria and moved to Hong Kong at the age of 5. She began her film career as an assistant director and directed her first film, "Below the Lion Rock", in 1978. Hui intended to retire after directing "A Simple Life", but continued to direct. Her films tackle controversial social issues. "A Simple Life" is the story about Roger, a middle aged film producer who returns home from a business trip to find his longtime family maid had had a stroke. She tells him she wants to retire and live in a nursing home. Roger visits her often and becomes close to her. His family also begins to visit, but the maid has a second stroke and her health deteriorates. Roger, the closest person to her, has to make the decision to let her die.
The Babadook
Jennifer Kent made her directorial debut with 2014's "The Babadock". The Australian filmmaker had worked as an actress. "The Babadook" received a good reception at the Sundance Film Festival mostly because of Kent's direction. The film follows a widowed mother, Amelia, whose husband died in a car accident driving her to the hospital for the birth of their son, Sam. Kent also wrote the screenplay and filmed a short. Although it is a horror film, it has a psychological element. The camera views portray emotions in the movie including anxiety, fear, terror, possession and courage, all emotions that the widowed Amelia experiences. Not just a monster movie, we see Amelia coming to terms with the "monster", confronting it and even letting live in her basement on her own terms.
Tomboy
Celine Sciamma is a French film director who studied at La Femis film school. Sciamma's films are mostly themed with adolescence girls discovering their sexual and gender identifications. "Tomboy" is the story of a 10 year old girl, Laure, who is a tomboy. When she and her family move to a new neighborhood, Laure is mistaken as a boy, Mikail. Sciamma has a minimalist approach to filming and uses little dialogue. Her other films include 2007's Water Lillies" and 2014's "Girlhood".
Pariah
Dee Rees' 2011 film "Pariah" has received critical acclaim. The film follows teenager Alike who is exploring her gender and sexuality in Brooklyn, New York and explores love and the secrecy Alike must endure. Originally a short film, Dee Rees created "Pariah" for her graduate thesis project at New York University. Rees has also directed "Bessie" and this year's "Mudbound". Her films include rich and saturated colors making them stand out.
Persepolis
Marjane Satrapi co-wrote and co-directed 2007's "Persepolis" based on her own life. Marjane grew up in Iran during the 1970's when Islamist Fundamentalists overthrew the Shah's regime. Marjane was outspoken, and her parents sent her to Vienna to study so she wouldn't get in trouble with Iran's new regime. She was disillusioned when she returned to Iran and witnessed the restrictive laws, particularly on women. Marjane is a graphic novelist, cartoonist and children's book author as well as a film director. Her other films include 2014's "The Voices" and 2011's "Chicken with Plums".
Cameraperson
Kirsten Johnson created and directed her autobiographical documentary, "Camerperson" in 2016. The film uses footage from Johnson's cinematography around the world. It has received 14 international awards and was widely accepted at the Sundance Film Festival. Johnson graduated from Brown University and teaches film at New York University. She directed 1999's "Innocent Until Proven Guilty and "Citizen Four" about Edward Snowden and the NSA.
Whale Rider
Niki Caro is a New Zealand film director, producer and screenwriter best known internationally for 2002's "Whale Rider". The film is about Pai (Keisha Castle-Hughes), a young Maori girl who wants to become the leader of her family's tribe in place of her father who doesn't want the position. She eventually succeeds in her dream. Niki Caro was a sculptor before going into the film industry. She began her career making commercials and music videos before going on to television, shorts and film. Her films include "North Country" and "The Zookeeper's Wife".
The Beaches of Agnes
French film director, Agnes Varde, created the documentary, "The Beaches of Agnes" in honor of her 80th birthday. The film looks at her past using Varde's unique themes of stills and collages usually involving beaches. Varde's directing career began with 1955's "La Pointe Courte". Her prolific career includes 1995's "One Hundred and One Nights" and documentaries like 1967's "Far From Vietnam" and 2017's "Faces Places".
https://www.youtube.com/watch?v=DYa7_OBEO0U
Lovely and Amazing
American screenwriter and film director, Nicole Holofcener directed "Lovely and Amazing" in 2001. The movie follows a family of women including mother Jane Marks (Brenda Blethyn) and her adult daughters and pre-teen adopted daughter. Holofcener has been a director since 1983. She began directing for television including "Six Feet Under". Her films include "Friends With Money" and "Enough Said".
No Home Movie
Perhaps one of Chantal Akerman's best films was her last one, "No Home Movie" filmed in 2015. The Belgian film director created this documentary based on her close relationship with her mother. Her mother was a survivor of Auschwitz, where her own parents were killed. Akerman's mom died months after the film's completion at the age of 86. Sadly, Chantel killed herself the following year. Akerman's prolific career began in 1968, and she is considered a pioneer of the feminist filmmaking movement. Her films include "Jeanne Dielman" and "1880 Bruxelles".
Breathe
Melanie Laurent is a young French director, actor, screenwriter, pianist and singer. She won critical acclaim at the Cannes Film Festival for directing "Breathe" also called "Respire" in 2015. The story is based on a popular young adult novel and tells the story of 2 teenagers' friendship. Sarah befriends Charlie, a shy asthmatic girl with a troubled home life. The girls go through all of the drama that comes with friendship as teenage girls. Sarah can be ruthless, but you begin to feel sorry for her and understand her motives. Melanie Laurent made her acting debut in Gerard Depardieu's 1999 film "The Bridge" and appeared in Quentin Tarantino's "Inglorious Basterds".. Laurent made her directorial debut in 2008's "De Moines en Moines". She also directed 2011's "The Adopted
Save
Save
Save
Save
Save