2 Broke Girls undergoes something of an experiment in its latest effort "And the Drug Money" from its first season, which sees Max (Kat Dennings) and Caroline (Beth Behrs) taking part in a drug trial to raise enough money to hire Caroline's lawyer in a deposition for her father. "And the Drug Money" makes some progress in correcting 2 Broke Girls on its low attention span, but still makes a few missteps.
Boy, we've reached that awkward time of year where (if you're anything like me), good TV just winds further down and down, and we're simply waiting for the network shows to run out the clock, coast by on the good Summer programming we know to be ahead, and end up right back where we started. It's too early for season finales, but its not too late to wring some decent episodes out of the less plot intensive stories, and here 2 Broke Girls actually managed to surprise me for once.
2 Broke Girls will never be among my favorite shows, nor could it be, but in a way that makes it all the more endearing to respond to, as I have to travel a far greater distance in understanding not only my own reaction, but why others respond to the humor as they do. Even with How I Met Your Mother as a lead-in, and enough star power to turn a few heads, 2 Broke Girls simply isn't good television. It's crass even for 2012, it's uncertain of its own voice, and inelegant in its humor. In a way, it feels like a cupcake created from an unrefined talent, gobbed with candy and frosting to the point that while delicious, it becomes rather unwieldy in its use. And to be honest, I never thought the show would last this long, or that I'd stick with it as I have, but , well, here we are.
I will say, that 'And the Drug Money'felt like a wide margin to be one of the cleanest episodes of 2 Broke Girls to date, carrying a fairly linear story through 22 minutes rather than some of the violently meandering plots of weeks past, where entire stories resolve themselves before the second act break. Caroline's still-unseen father needs her to testify on his behalf, bringing Leo Hutchinson of the legal team down to the diner to retrieve her, only he needs $1100 in order for the girls to retain his services. The girls undergo a weekend drug trial to raise the necessary funds, and then work together to deliver the deposition when side effects seize Caroline's tongue. Sounds simple enough, right?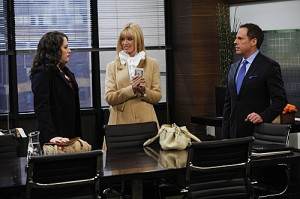 I mean, narrative clarity aside, I did try to measure out precisely how often I actually smiled, or even drew breath on the humor presented therein. I'd say there were a solid three. But for the moment, I'm more intrigued at the notion that 2 Broke Girls could tell a reasonable story rather than have me rolling in the aisles…of my apartment. If anything, I'll be most interested in the show's return for a second season, to see if it might iron out any of the kinks from the supporting characters or unnecessary crudity.
By this point, Caroline's yet-to-be-cast father still remains something of a non-entity, merely a plot device through which we give Caroline different emotions to play week to week, but the drug testing and deposition sequence did bring out some nice colors to Beth Behrs'portrayal. It's all a bit moot without having an actual presence to color in the relationship, but effective use of a weak tool isn't something to be ignored. It can be hard to gauge where either Max or Caroline begin or end, from a series of programmed one-liners to actual people, but little moments like Caroline's inability to sleep while remembering her father do wonders for escaping the show's atmosphere of banality.
'And the Drug Money'probably best utilizes its recurring gags than many other episodes this season effectively calling back to the cold-open by having Max volunteer as Caroline's 'emotional companion,'calling on her Law & Order obsession to at least buy enough time for Caroline's lawyer to grow a heart, and grant them an additional hour.
So…yeah. That's about it. Like it or not, this show is here to stay, and I'm glad to see it show a few tweaks of improvement now and again. Like the girls'fund, every little bit helps.
And Another Thing…
Rare, to see the girls doting on Han for speaking Korean, rather than jumping to any racist jokes.
With Max pretending to be courtroom savvy, I couldn't help being reminded of a show that made the joke better first, Charlie's lawyering on It's Always Sunny in Philadelphia.
'Pissy Spacek.'Not classy, but I like it.
And unfortunately, it's impossible to watch Jordan Black and see anyone other than Community's Dean Spreck.
What did YOU think?