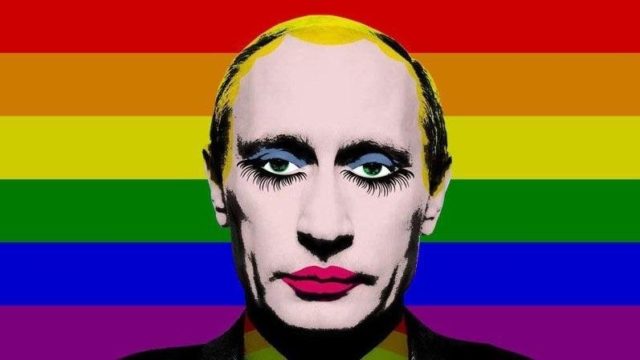 At some point we're going to have a massive photoshop battle using this picture for the sole fact that in the United States we can do whatever we want with this picture. However, only yesterday this picture of Vladimir Putin in drag with a gay flag in the background has officially been banned in Russia. Yes, this is 100% true. The image you see above depicting the Russian president with painted eyes and lips has been banned by the justice ministry in Moscow. According to The Guardian
The picture is cited on the Russian justice ministry's list of banned "extremist" materials — a list that is 4,074 entries long. No 4,071 states that the poster, depicting Putin with painted eyes and lips, implies "the supposed nonstandard sexual orientation of the president of the Russian Federation".
It's unclear exactly which image the ministry is talking about — but it is believed to be similar to one used on signs during protests against Russia's anti-gay laws. It turns out there are quite a lot of photoshopped images in circulation that depict Putin in drag.
Turns out that the photoshopping of makeup on Putin images has seen an uptick in popularity ever since Russia passed a law banning "gay" propaganda in 2013. Despite the ban there are still some people in Russia sharing pictures via social media that depict Putin in drag. My guess is that they have less than 24 hours to live.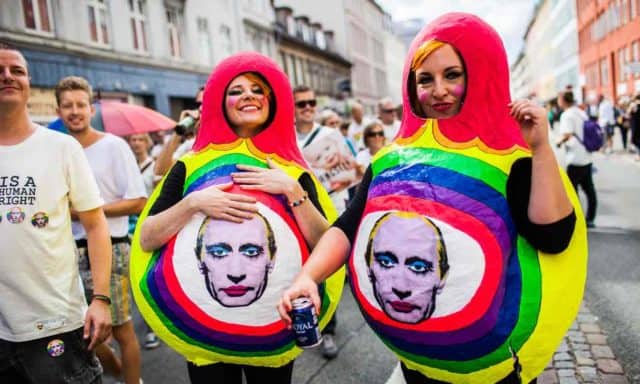 The Kremlin press secretary, Dmitry Peskov, told the state-run news service Tass that he had not seen the image. Claiming Putin was "quite resilient to these vulgarities", he said: "Our legislation has, so to say, a certain code defending a citizen's honour and dignity, including those of the president. Individuals need to be guided by these norms, so unfortunately, I can say nothing."
https://twitter.com/LGBTPlusProud/status/849798682354601986
https://twitter.com/xeni/status/849859409203396609