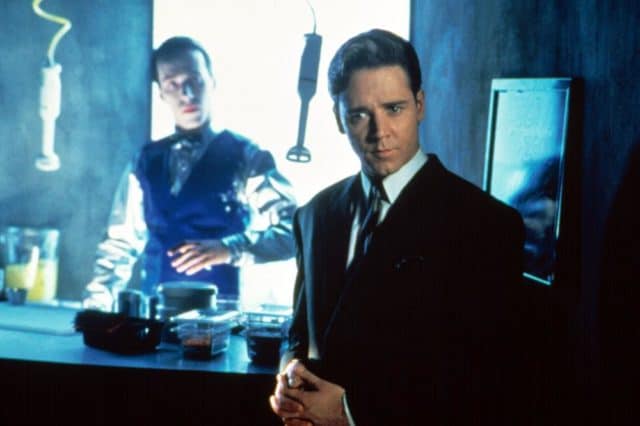 The movie Virtuosity was kind an oddball feature when it came out. A lot of people laughed simply because they didn't understand the technology and others did so because there were genuine moments that seemed rather amusing. But the film was so far ahead of its time that it wasn't received nearly as well as it should have been. This is unfortunately the issue with most things that are brought to the public's attention before the public even knows what they are. It's the ages-old dilemma of confusion and fear brought on by the unknown. Thankfully in this case it was mostly confusion because people had no idea how to react to the futuristic bent of the film.
Denzel Washington was, as always, so devoted to his role that you could easily believe that HE believed in what he was doing. As a disgraced former police officer he was perfect because he nailed the attitude and the persona of a man that had lost everything and yet still had enough left in him to understand the plight of another human being. He was the guy that looked forward after a loss and was almost afraid to look backward for fear that the past would undo him yet again. He lost his family to a killer that had targeted him specifically, and in return he gunned down the killer and a news crew that had been interviewing him, which was why he was incarcerated.
Russell Crowe was still a relative newcomer to the big screen but played his role just as well. Try to imagine a killer that is the composite of every hate-filled, mad genius, mad dog, and genocidal maniac ever conceived. SID was just straight up evil and he reveled in it. There was no one he wouldn't hurt if given the chance and not a single soul that was safe in his presence. He enjoyed the thrill of killing and absolutely loved tormenting Parker, Denzel's character. This was because he was also programmed with the personality traits of the same man that killed Parker's family to begin with, so it was easy for SID to identify the man and how to get to him.
The plot is pretty straightforward. Parker and another con were sent into the virtual world to track down SID. SID kills the other convict and wounds Parker, but in the real world Parker is still in one piece. The safety parameters of this program were altered, which prompts the authorities to order SID shut down. Instead of doing this the creator discovers a way to bring SID into the real world via a program that can manufacture him a body. Once this happens all bets are off as SID goes on a rampage throughout the city of Los Angeles, taunting Parker, who has been released to track him down, each step of the way. Parker is charged with bringing SID back to the virtual world, but the task is anything but easy.
This film deserves another look and possibly a reboot as the advanced technology of today could really give it an upgrade.