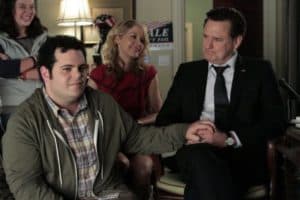 Skip's at it again!
Marshall was intent on shutting down his unsanctioned podcast but got sucked into appearing on a episode and accidentally let it slipped that he used to write the President's correspondence letters and Skip realized that the one letter he thought his father wrote expressing he was proud of his was actually written by Marshall. What a crushing blow to find out that one of your most treasured childhood memories was all a lie.
Naturally Skip went ballistic and ambushed Standrich as an awards gala where Becca and Emily were having their own momentary lapse of crazy. The two were arguing once again on whether Marigold should take honours algebra or photography.
I get it, Becca. You assumed the role of mom at a young age and help raised your kid siblings, but Emily was there now and as much as you didn't want to relinquish the reigns of "mom" over to her, you have to remember that a child is currently gestating inside of you and you should really be more focused on that one. Don't ya think?
In the end, Emily and Becca realized that the reason they were always butting heads was because they were both strong, assertive and opinionated women who had to have their way and be right all the time. I hope they can put their pettiness aside for the good of the family. Let's be honest, they won't. Plus I love seeing the two go at it.
As for Skip, he got his father to appear on his podcast and got the apology he demanded along with a fatherly hug and an admission from Standrich that although he's never verbally said he was proud of his son, it didn't mean he didn't feel it. Standrich admired that whenever Skip failed, he always got back up and never let it get to him. Aww!!!