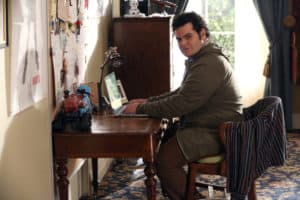 "Bar keep. A bowl of your fruitiest pebbles." Once, just once I want to walk into a bar and say that and have the bartender slide a bowl down cereal to me. Aw to live in Skip Gildchrist's world.
After having his heart broken by Stacy, Skip moved on by getting a job at NASA. While Skip thought he was going to be an astronaut, but he was told that he needed a college degree before even suiting up to step inside a space shuttle. How hard was it for Skip to finish? He only needed three credits. All he needed to do was finish a sociology paper and he would finally have his diploma. Too bad Skip doesn't have it in him to see anything through to the end.
Meanwhile, Becca discovered that Marshall made up a person (Reba Cadbury) in order to just have some tine to himself. Naturally, Becca used this fake person to get her ideas across to Senator Faxler, the head of a task force she was appointed to. Too bad Faxler name checked Cadbury on Hardball and now this imaginary person had a leg to stand on, along with a fake Wikipedia page courtesy of Xander. She even scored a meeting with the President.
In the end, after trying to fake her death, Marshall came clean and told Standrich that Reba wasn't really. As for Skip, he finally received his degree and decided to become a teacher, so he could never grow up like the cast of Cocoon. "Adulthood, I'll see you in hell." Yet another Skipism I want to implement in my real life.
Man, I love 1600 Penn. It's so good, but it looks like NBC doesn't really seem to care about it. Two episodes aired and something tells me that NBC is just burning off episodes so they can cancel it.