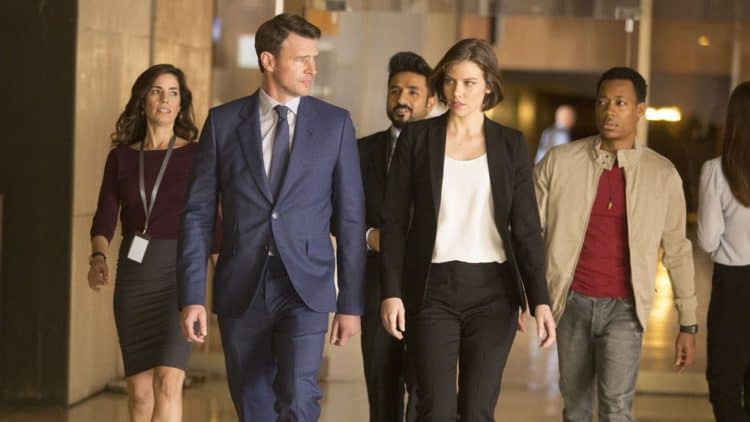 It would seem that many people would love to argue over one TV show after another and claim that each one of them in their own right has the kind of virtues that are needed to be deemed as one of the absolute best. But at this point Whiskey Cavalier is a show that is coming in to a veritable mess that has been created by one show after another being thrown into the mix until it's become confusing for many viewers as to which way they should turn and which channel they should program into their remote. This show however is one of those that offers the viewer a chance to just sit back, relax, and let the show take over as despite the fact that it is pretty involved it still seems to give out more than enough detail and explanation for the viewer to stop thinking just for a moment and enjoy themselves.
Here are a few things about the show you might not have known.
10. Two of the stars were previously in The Walking Dead together.
Lauren Cohan and Tyler James Williams were on the show at the same time up until Tyler's character was killed by walkers. Cohan's character, Maggie, isn't currently on the show, but there's been hints that she might come back once or twice just for a cameo. Until that happens though the show will continue and Cohan will keep on with her career.
9. Filming started in September 2018 and ended in February 2019.
That seems like a very truncated time table for a show to start and finish but it could be that the showrunners have finally come up with a formula that allows for a very short and efficient timeline that can see a project through in just a matter of months. Plus that's not taking into account the writing and other matters that had to go into it. But it's still impressive.
8. It's listed as an action/comedy/drama series.
This seems to be what kills a lot of shows since they'll be described as one thing and then try to delve into other genres without much success since the audience wasn't expecting it. Saying what the show is about is bound to put people at ease a lot quicker.
7. More than one network had interest in this show.
You know an idea is worthwhile when more than just one network is willing to chime in and try to snag it for their own lineup. The fact that it was looked at by more than one network hopefully means that it has the kind of staying power that will keep it around for a while.
6. Scott Foley is also a producer for the show.
This is on top of being one of the main stars as he plays opposite Cohan and is one of the focal points of the show. Foley is one of those actors that is pretty good at what he does and yet plays a lot of supporting roles with a few leading roles on his resume. He's good, but it would seem that he needs support now and again to be great.
5. The program combines the efforts of the CIA and the FBI.
Two of the biggest powerhouses in the US working together might make it seem as though no bad guy would have a chance against them. But one thing the audience has to factor in is that agents of this caliber aren't going after small-time crooks, they're taking on bad guys that are capable of mass destruction or worse.
4. So far the reception has been pretty good.
In terms of the critics, who some people ignore entirely, it would seem that the show is worthwhile and able to be watched fairly easily without too many problems to announce. But as far as the audience is concerned it will be good or bad, as there's not a lot of in-between with TV viewers.
3. It's been slated for a 10 pm time slot.
This seems kind of late for any show since it would indicate that there's not a lot of confidence being that a good number of people are in bed around this time. But then again, it could be banking on an adult audience that doesn't sleep much or doesn't run for the covers when night comes along.
2. So far it seems as though the show has a lot of potential.
Given that it has a very popular cast and is dealing with subjects that many people love to watch it would seem that this show might be able to impress those that make the decisions on whether to keep or cancel shows, and it could wow the audience as well.
1. A lot of people feel that this is the show that's needed on TV right now.
This is where opinion really comes into play since there are untold numbers of people that could easily say yay or nay depending on what they want to watch. But so far this show seems to be a savior in a sea of programs that are either floundering or just aren't the right fit for a wide array of viewers.
It might be worth it to just give the show a look at least.