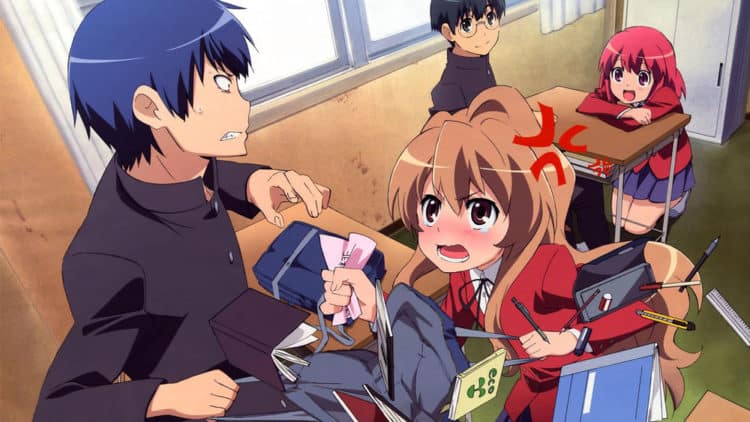 Torada is the story about Ryuji Takasu who does his absolute best to look as good as he can as he begins his second year of high school, but he's getting frustrated. He has a soft manner and a kind personality, but his eyes have a look about them that intimidates those around him and they make him look like a thug. It's a Japanese story taken from the manga and adapted into a variety of formats. If you haven't seen or read Toradora, then here are ten things you didn't know about it that may encourage you to learn more.
1. The Manga is available in English
The Manga was released in a serial form beginning in September of 2007. It was first released in MediaWorks shonen manga publication called Dengeki Comic Gao. In February of 2008, the tankobon volume was published under Dengeki Comics and since that time a total of six volumes have appeared. Seven Seas Entertainment started their publication of the Manga series which is printed in English in March of 2011.
2. Toradora was adapted into a light novel series
Yuyuko Takemiya wrote the light novel series adapted from the Manga which was released in 2006 by ASCII Media Works. It appeared under the Dengeki Bunko imprint. In addition to this, a spin-off of 2 volumes more in a light novel format has been written and the title is Toradora Spin-Off.
3. Toradora was made into an internet radio show
The broadcast internet version of Toradora first aired in September of 2008 with another in May of 2009. The internet show consisted of 25 episodes which were adapted from the anime and hosted by Animate TV. The radio series aired on TV Tokyo in Japan.
4. Toradora is out on Blu-ray
A box set of Toradora was released in December of 2011. It consists of an original animation episode video. A North American release of two DVD collections that each contain a half-season of the anime was released in 2010. The DVDs featuring dubbing in the English language was released in 2014.
5. The title has a unique meaning
When you translate Toradora into the English language it means doragon. In an interesting twist, this is a combination of the Japanese names of the two characters which mean dragon and tiger. When you put Taiga and Ryuji which mean tiger and dragon, you get doragon or Toradora.
6. Ryuji is an underdog you'll root for
The otherwise happy character doesn't seem to have the best of luck. First, his eyes make him appear to be a totally different person than he actually is and this makes him sad. To make matters worse, the best friend of the girl that he has a crush on is a violently mean person. From the first time that she lays eyes on Ryuji, she takes a strong dislike to him. This complicates his life greatly.
7. Toradora is also a story of romance
Well, it's the tale of romance gone wrong anyway, but there are numerous attempts made by Ryuji and Taiga to set up romantic circumstances to help one another out. it's almost comedic the way that their bests laid plans keep backfiring. The people around them begin to speculate that there is a romance brewing between the two of them because of the amount of time that they spend together.
8. Toradora was released in an anime version
This is good news for all you anime addicts. If you've read the manga or any of the light novels, it might be fun to check out the anime version and compare the differences. The anime is directed by Tatsuyuki Nagai. There are 25 episodes which have been released. They originally aired between October of 2008 through March of 2009 but they are available on DVD and Blu-ray.
9. Toradora is released in a video game format
Toradora has been developed into a series of video games that have been made for the PlayStation Portable. The game was released in April of 2009. The player takes on the role of Ryuji Takasu and if you're familiar with the story, you'll find yourself moving around familiar places in the town and the school and talking with the other characters featured in the anime.
10. The reception for Toradora was high
The ranking for the light novel series of Toradora was high in Japan. It won a light novel contest in 2007 and also was awarded recognition in the category of romantic comedy. Rie Kugimiya won an award for Best Actress in 2009 because of her contributions as the voice of Taiga.
Tell us what's wrong with this post? How could we improve it? :)
Let us improve this post!