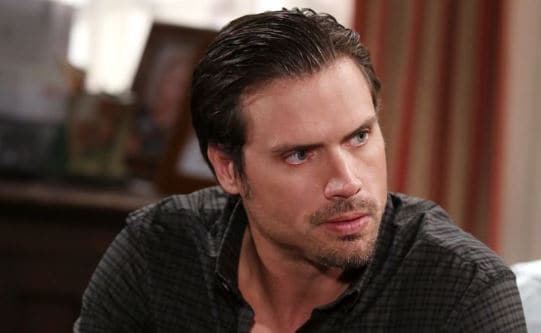 Joshua Morrow is the kind of man people love on Young and the Restless. He plays Nick Newman, the unwanted and unloved son of Victor Newman. For whatever reason, Victor always preferred his other son, Adam, and his daughter Vickie to Nick. They cannot get along. They cannot get their lives right, and they cannot seem to see eye to eye on anything. And that's all right. They are not two peas in a pod, but people want to know more about the handsome actor who makes us all wonder what he's thinking. He's a real person, and we do want to know more about him as one.
1. He's Long Running
Not only has this man been living the dream of playing Nick Newman for many years, he's been living the dream of playing Nick Newman since 1994. That's 24 years, and that's a long time for one person to play the same role on any television show. How does that feel to know that this is reality for so many people?
2. He's From Alaska
He was born and raised in Juneau, Alaska. We could make a joke about how hot he is and then how cold it is there, but we won't. Because we have more respect for you than that.
3. He's A Singer
Not only is he an actor, he's also a singer. He's the founding father of a musical group called 3Deep. He and two of his friends decided they were definitely into music, and they decided to form the band. We don't think they're famous.
4. His Best Friend is Famous
One of his bandmates and best friends in the entire world is another man who is also famous, and who just so happens to have once been his costar on his hit soap. That man is famous for being an actor and having many roles in the daytime world and on television shows and movies, but he's more famous for cheating on his wife with a married woman, and then both of them left their spouses for one another. If that sounds familiar, yes, we are talking about the infamous LeeAnn Rimes' husband, Eddie Cibrian.
5. He's Married
He's married to his wife, Tobe. They married in 2001, and he calls it the most beautiful, most amazing, most unforgettable day of his life. He says that he's never had a better day, and he has his wife to thank for that.
6. He's A Father
He and his wife have four kids. Their kids are Cooper, Crew, Cash, and Charlie Jo. Their three oldest are boys, and their little one is a girl. They are currently 15, 13, 10, and 5. And he's very excited that he was able to add a little girl to the mix after having so many boys with his wife.
7. He Thinks His Wife is Hot
One thing that he says is that he has nicknamed his wife the Hotness. He says that no matter where they go or what they do, she is the hottest woman in the room and he is all about that. He appreciates her inner and outer beauty, and he is quite happy with the way things worked out for him.
8. He's Not Letting His Daughter Date
His little girl is his last baby. And she's his only girl. And he says his home will be like Fort Knox, but they'll be working to keep boys out that aren't related to her. He's saying she'll never date, and we know most dads who agree with that one.
9. He Knew His Wife Was the One
He knew immediately, and he says that all the time. He thought she was hot and gorgeous and beautiful and all kinds of special, and that led him to know right away she was the one. That's not hard to imagine.
10. He Got Married in California
He did nothing to plan their wedding, but his wife did it all herself. They got married in Santa Barbara, and he calls it the most beautiful wedding he's ever been to. He said his wife looks liked an angel walking down the aisle. Now that's quite the compliment on your wedding day, isn't it?
Tell us what's wrong with this post? How could we improve it? :)
Let us improve this post!