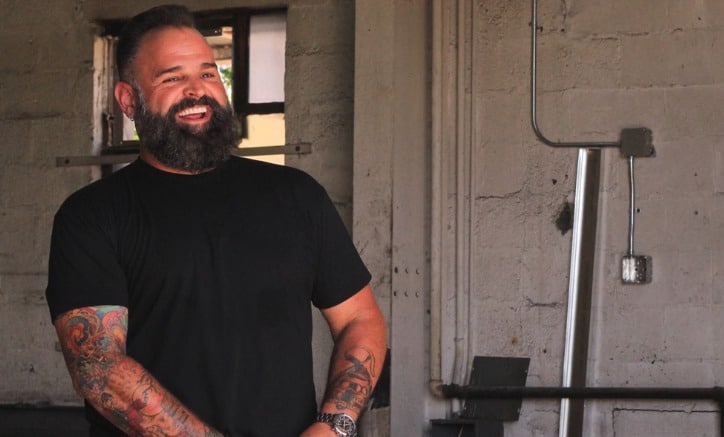 Destiny sometimes plays a role in the jobs we get, but sometimes, simple things like etiquette go a long way in determining our future. For Russell Holmes, he found that out after landing his Garage Rehab job in 2016, which he holds to date. Also, while most of us learn to drive in our late teens, Russell was different, and maybe his interest in cars has helped him build the career which now earns him a handsome paycheck. Let's get into the fine details of these accomplishments, as well as his personal life.
1. His sons are his biggest fans
Russell Holmes has two sons, Dylan Holmes, and Zachary Holmes, from his previous marriage to Regina. According to Russell, his sons are his biggest fans.
2. Russell's first driving experience was at 12 years old
When Russell was 12, one day he was at home with his friend. They were all alone since his parents and siblings had gone out. Russell saw his stepfather's car in the driveway and told his friend they would drive the car after finding the keys in the ignition. Although Russell could barely see over the dashboard of the 1972 Pontiac Catalina, he drove up to his friend's house where he found his parents. His parents allowed him to drive the car back home.
3. Russell's mother taught him for his road test
When Russell was 15 and a half, his mother taught him for a road test. The experience was terrific for Holmes since she showed him how to drive a standard transmission. The fact that the car is usually challenging for most people was thrilling for Holmes, and he loved the challenge. However, he was so nervous and was driving so slowly that the instructor asked him to speed it up. Since then Russell decided that no one would ever have to tell him that he was driving slowly.
4. He bought his first car at 14
Russell was 14 when he bought his first car, a 1978 Camaro, which he paid $75 made from cutting lawns and landscaping. The main reason for buying the car was because, in high school, he was taking an auto shop class. He took the car to school, though it did not run and got to rebuild its engine which earned him an A. Russell thinks it is essential for kids to learn the importance of auto shop class because, for only $75, he got to have a car which he would not have otherwise had.
5. Russell had always been a big fan of Rawlings
Holmes had never been on television but he pictured himself hanging out with Rawlings after watching Misfits, Demolition Theater and Fast N' Loud, even telling his family and friends of this vision. Russell applied to host the show after seeing that they were looking for someone who could be a foreman, business owner, a construction guy, and an automotive installer. He knew he was capable of doing that so he sent his resume and later got a missed call. He then called back only to find out it was Pilgrim Studios, learning a valuable lesson in calling people back.
6. Russell thought his beard would prevent him from being in the show
After going through interviews and being flown to Los Angeles, Russell thought his beard would keep him from getting the job. He, therefore, said that he grew the beard for hunting season and was not attached to it so he can get rid of it if need be. He was however told he needed to keep it and Russell kept his signature beard.
7. Russell was once an EMT
Russell volunteered with EMT in New York and later became a captain. The job, according to Russell, deepened his ability to thrive in chaos, something which has become instrumental in Garage Rehab. The position of being a captain also enabled him to learn how to be a successful leader and other attributes required in running a business.
8. Russell's primary drive to be Garage Rehab was to help people
Being on TV is great, but that is not what fueled Russell to be on the show. The fact that they would be assisting people with struggling businesses and garages drove him to want to be part of the show. Making a difference in people's lives has seen Holmes and the team put in 20 hours each day. The secondary reasons were being on TV and working alongside Richard respectively.
9. He is active on social media
Russell is active on Instagram and Facebook, and by mid-January, his Instagram followers were more than 116k. Maybe it was this that led him to spot Rawlings advertising for a right-hand man, the job he got.
10. Russell is silent on his love life
After a divorce from his wife, Regina, Russel has not yet revealed if he is dating anyone currently.