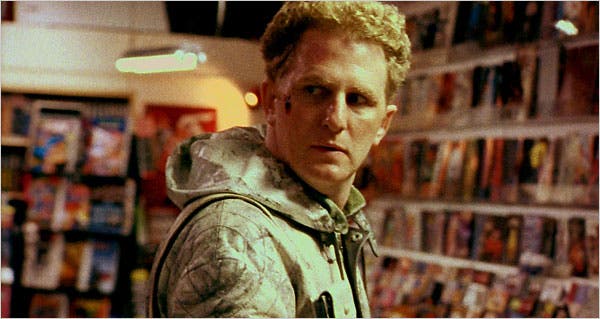 Some people like Michael Rapaport and to others he's kind of an oddity since he is kind of a funny-looking guy that you might not know what to think about at first. But quit honestly he is a good actor and he is able to take a role and make it into something you feel is a bit awkward at first but turns out to be a vital part of whatever movie he's in, providing he's not an extra or just doing a cameo as he's done in movies like Next Friday when he played a postal carrier. Despite all this he's played some very personable roles that can make you like him immensely and some roles that make you want to stomp his character into the ground. That's the kind of actor he is though, he's one of those that can pull that kind of emotion from the audience and cause them to forget the line where reality crosses into fiction now and again. Such acting is a kind of genius in itself.
Here are a few other things you might not have known about Michael.
10. He pleaded guilty to harassment of Lili Taylor.
Michael and Lili were an item at one time but it seems as though things didn't go too well when they split and she had file a restraining order against him when he wouldn't stop harassing her. Whatever the story is behind it Michael at least plead guilty to the charge and did stop the unwanted behavior.
9. Michael thought about being a basketball player at one time.
Being tall enough to hang with the big boys is one thing but having the talent as well is really needed and whether he had it or not isn't really known. But what is known is that this thought never turned into anything as he went into stand-up comedy instead and then made his way into acting.
8. He's been a diehard fan of Eddie Murphy for most of his life.
Michael would even dress like him when he was younger. The greatest part about being a fan though was that he got to star with his idol when he got older. One thing Michael has always said though is that he walks onto the set as a professional, not a fan. That's an important distinction that he's been able to hold to thankfully.
7. A lot of people have thought he's less intelligent because of the characters he plays.
This isn't exactly a fair assumption that anyone could make since in some films he might seem less intelligent but if you take a film like Deep Blue Sea he actually played a very intelligent character that sounded as though he knew what he was talking about.
6. The hip hop community really embraced his character from Higher Learning.
This is kind of surprising since the character of Remy was a very confused and nervy young man that joined up with a gang of white supremacist skinheads that dared him to shoot someone during a school function. It is kind of inspiring that they would embrace but the character but it's also confusing on the outset.
5. He has a picture of himself and Tupac Shakur.
Michael had a very brief appearance in Poetic Justice, the kind in which he was there and gone in a very short time. But he was also a fan of Tupac and managed to get a photo with him that he still has to this day.
4. Michael and Sylvester Stallone would speak the lines from Rocky to each other on the set of Copland.
Sly was another idol of his and Michael had every line of Rocky memorized. It's kind of fun to think that Sly actually took the time to banter with him in this manner but someone on the set apparently told Michael to knock it off eventually. What a killjoy.
3. He was expelled from school at one point.
It sounds as though Michael had a hard time in school. After being expelled though he did make his way to a different school and eventually graduated, so one can't say that he just gave in and gave up.
2. At one time he did have a recurring role on My Name Is Earl.
For anyone that's ever watched the show his character was actually the original owner of the mobile home that Earl and Joy lived in. There was an episode during which the character escaped from prison and made his way back to the trailer to acquire a hidden fortune. So he was there for a few episodes at least.
1. He had to evict Natasha Lyonne from a property he was renting to her.
One of the stars from Orange Is The New Black, Natasha was kicked out after exhibiting a drug problem, but the two have since reconciled.
He might seem like an odd guy, but Michael is a pretty astute actor.
Tell us what's wrong with this post? How could we improve it? :)
Let us improve this post!