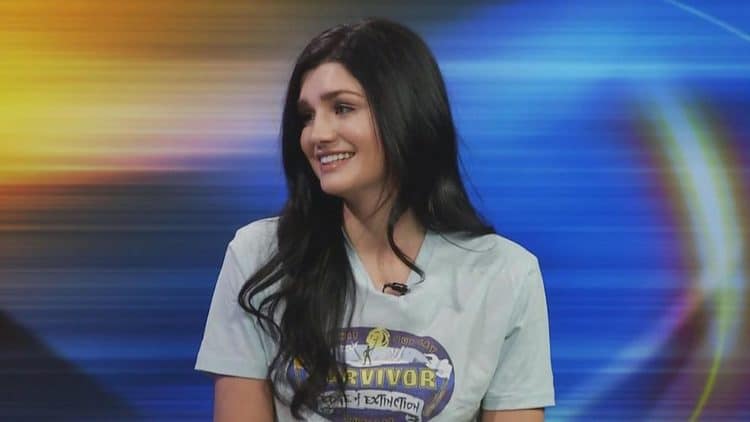 In February 2019, the 38th Season of Survivor: Edged of Extinction exploded onto our screens with a lineup of 14 new cast-mates. Joining the new recruits are some familiar faces, including Kelley Wentworth, from Survivor: San Juan del Sur and Survivor: Cambodia; Joe Anglim from Survivor: Worlds Apart and Survivor: Cambodia; Aubry Bracco from Survivor: Kaoh Rong and Survivor: Game Changers and David Wright, the fourth-place finisher from Survivor: Millennials vs. Gen X. Of the new cast mates, Lauren O'Connell has already won the favor of fans with her plucky attitude and strategic game plan. Brush up on your knowledge of the 21-year-old student with our list of top 10 things you didn't know about Lauren O'Connell.
1. She hates Twizzlers
If you favor the fruity delights of a Twizzler over a Red Vine, it's fair to say you've lost a fan in Lauren. Along with her discriminating confectionery tastes, Lauren is also a firm judge of character, citing people who lack tolerance of other people's beliefs and opinions, along with impoliteness, as two of her top pet peeves.
2. She's a Netflix addict
When she's not busy on the soccer field, Lauren likes nothing more than to binge-watch TV shows on Netflix. If there's a party sized bag of M&M's on hand, she's even happier. Given her student status, it's perhaps no surprise that her other favorite hobby is catching some Zzz's by sleeping through her alarm.
3. She's a collegiate athlete
Lauren has a demanding schedule with her activities on Baylor Women's Elite 8 soccer team. Despite seeing her fair share of success on the team, Lauren's athletic career hasn't been without its struggles: as a result of the sport, Lauren has undergone 4 orthopedic surgeries.
4. Her claim to fame is her resilience and grit
Lauren's career as a collegiate athlete, along with the physical injuries she's sustained, have endowed her with the resilience and grit she claims will get her to the very end of this year's Survivor. Lauren believes her drive, physical endurance and ability to throw herself wholeheartedly into new adventures will give her the competitive edge she needs to survive the challenges of the show.
5. She like's to give back to the community
College student, athlete, reality TV show star… fans may be wondering if there's any end to Lauren's abilities. Apparently, not… not content with confining her activities to the soccer field and classroom, Lauren also likes to get out and about with her volunteer work in the communities of Waca.
6. Her parents are her inspiration
Most of us love our parents, but in Lauren's case, she's also very much inspired by them. Lauren credits her parent's love for each other, their family and their friends, and the selflessness they show in their daily actions, as her inspiration for persevering through tragedy and smiling through even the toughest challenges.
7. She's a believer
Claiming inspiration from her parents, Lauren uses their love, guidance and support as the model for how to reflect Jesus in her life. Lauren's faith is demonstrated by her choice of dream Desert Island luxuries… asked what 3 things she'd bring to the island if she could, Lauren claimed the Bible as her first choice. Her 2nd and 3rd choices of M&M's and sunscreen may be less devout, but perhaps just as useful.
8. Her Spirit Animal is Parvati Shallow
Of all the cast-mates, Lauren is most drawn to Parvati Shallow. Lauren credits Parvati's infectious smile, wit, and talent at using her sexuality to her advantage as the three things that won her a place in Lauren's heart. Lauren also strongly relates to Kelley Wentworth, believing the two share a strong sense of self, physical prowess, and ability to cope with any challenges thrown their way.
9. She's a long-term fan of the show
Lauren has been a fan of Survivor since childhood. She even named her Barbie and Ken dolls after stars of season 2, Colby Donaldson and Tina Wesson.
10. She has a cunning plan
Lauren won't be relying on just her physical strength to win the show; she also has a devious plan on how to win the social challenges it presents. Her game-plan involves making her fellow cast-mates feel in charge, and telling them they are loved, valued and important, while secretly masterminding their moves in the background.