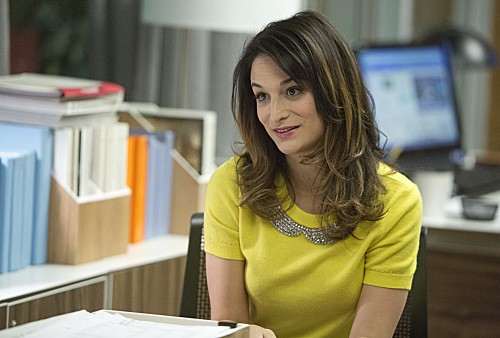 Jenny Slate is among the many comedians that you might not know how to take at first since her sense of humor is definitely on but is still something that takes some getting used to. So far in her career she's done quite a bit that people should be able to recognize and has established herself as a real talent, but once again, change is kind of hard for some folks and while she's here and not going anywhere it might be a little bit of time before she's considered to be one of the greats. Her comedy is solid and she's a very funny woman, there's no doubting that when she turns it on she's one of the most entertaining people on the stage. The only drawback is that she's not usually so over the top funny that she sets herself apart from the pack in a big way. She's done more than enough to be recognized though.
Here are a few other things people might not know about Jenny.
10. In 2009 she accidentally dropped an F-bomb on Saturday Night Live.
She's not the first and she probably won't be the last to do something like this but in this supposed PC era people want to know that the shows their kids might end up watching aren't going to be spewing profanity. Plus, the FCC is usually a stickler for foul language, because heaven forbid we hear it on TV even though we hear it constantly in real life.
9. She's voiced a few different characters in movies.
Two that come to mind are Mrs. Wiggins in The Lorax and Bellwether in Zootopia. She's lent her voice to a few films and done just fine since her pitch and tone are actually kind of enjoyable for certain characters as it makes them kind of likable but also just a little edgy.
8. Jenny is admittedly a workaholic.
She does admit that she likes to stay busy but she also enjoys her downtime as well. Some folks need to be constantly doing something in order to feel productive and work is one of those things that keeps you busy at all times since depending on what you do there might be a million things that need your attention before you can rest.
7. She's not the type to just want to be famous, she wants to have fun too.
One might think it's possible to famous and have fun with it and that might be the case but it also seems as though some of the celebrities might get wound up a bit sometimes until they forget what it's like to have a day off. Jenny just likes to have fun and kind of worries about the fame at another time.
6. Jenny has a lot of different sides of her personality that she loves to show on screen.
It's very easy to see how a person in show business wouldn't want to be typecast as it kind of limits the roles that they could take on later in their career. Jenny wants people to see that she has more than once aspect to her personality and is more than willing to share different parts of herself in order to let people know that she is more than just a comedian.
5. She enjoys being creative.
I would ask who doesn't like to be creative but there are those that are more into following other people than thinking for themselves and creating their own path in life. But being creative is a big part of being an actor, as it allows the person to come up with new ideas on how to play certain roles and how to formulate new stories.
4. Unlike a lot of people she enjoys cooking AND cleaning.
Not a lot of people like the cleaning aspect but a lot of folks do enjoy cooking. Jenny likes both since she loves to have people over to enjoy good company. She likes to clean however because it gives her a sense of pride to keep a nice and neat space that's all her own.
3. She graduated as a valedictorian.
This proves that she has a good head on her shoulders and is capable of learning as well as thinking for herself in more than one way. While her career might not be the stellar thing that some people would think it should be she's still very much in control of where she's going and what she's doing.
2. She's starred in a number of movies in various capacities.
Jenny really hasn't been 'that woman' in any of her movies since her roles do give her at least a little bit of room to do what she wants so that her characters aren't just one-dimensional.
1. Jenny was only on SNL for one season.
The producers decided not to bring her back after the one season for their own reasons it would seem, though she would have been a decent addition.
She's a funny lady, there's no doubt about that.
Tell us what's wrong with this post? How could we improve it? :)
Let us improve this post!