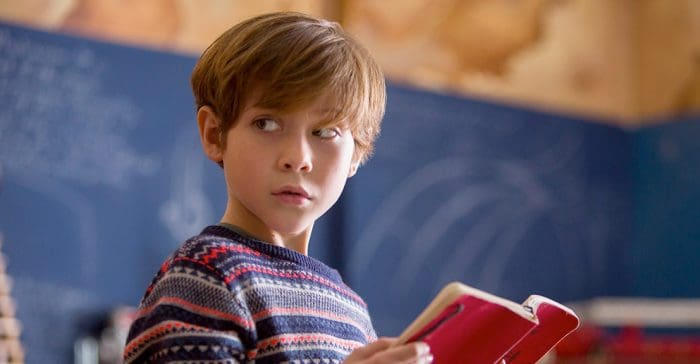 It's amazing to watch kids these days as they're thrust into roles that make them seem a lot more grown up than they really are, but one has to remember that they're still kids. Jacob Tremblay is one of the more successful child actors of the current era and has been given roles that would be able to elevate just about anyone with enough talent. In every role he's done Jacob has managed to wow the audience in ways that was never fully expected but has almost always been nothing less than appreciated. This kid is no doubt going to be someone huge in show business if he keeps going on as he is. One might wonder though if at some point he's going to want to take a break since his accolades are already beginning to pile up a bit, which might mean that the pressure is too. Hopefully he gets enough time between projects to just be a kid, since being famous is great, but a person needs to experience the joy of childhood too.
Here are a few things about Jacob you might not have known.
10. Jacob is a big Star Wars fan.
He has a dog that he named Rey, after the main character from the new trilogy, and he's shown that he absolutely loves the film in a few different ways. Obviously this kid still has his sense of wonder after being in front of the camera, which is great.
9. His presence on social media is just phenomenal.
Seriously, he has close to a million followers on his social media accounts. It's reasonable to say that he's not an a device 24/7 since it's more likely that his accounts are being handled by someone that's paid to do such things. But wow, this kid is already the kind of star that a lot of adults dream about being.
8. Jacob's father is a former actor.
His father quit acting to become a police detective it sounds like, though he also seems very supportive of Jacob, which is good. Sometimes people try something and it doesn't turn out so they move on to something else and find what they were really looking for.
7. He made his acting debut in The Smurfs 2.
It wasn't the biggest movie to make a debut in but at the same time you've got to figure that everyone has to start somewhere and the fact that he's still so young is a good indication that he needed to prove that he could make it work.
6. As of this writing he's 12 years old.
Think of it, a 12-year old boy is making more per project than many of us will make in the next few years combined. That's kind of a head-shaker, but at the same time it's so impressive that you can't help but think that he hit the golden ticket when he was picked for his roles. Good on him.
5. Jacob was 7 when he started acting.
This kid has to be at least a little bit sophisticated for his age to really get into show business this early, though of course some folks have been doing it for longer and have been just astute. It's still something to be absolutely in awe of though since not just anyone could possibly do this.
4. He's got a very impressive resume.
There are adult stars that don't have even half of the resume that this kid has. He's been extremely busy it would seem, though it does kind of make one wonder if he has tutors on-sight that are helping him with his schooling since it doesn't seem like his schedule would be amenable with many schools.
3. There are those that believe he shouldn't have been cast in Wonder.
This is largely due to the fact that he played a kid that was born with craniofacial disfigurement and as you can see from his photos Jacob doesn't have this issue. There have actually been people wondering at the wisdom of casting him and allowing him to don the facial prostheses to play the part. What they don't seem to realize when stating that those with the actual condition might not get this opportunity is that if those that did suffer from this condition were being cast it would be great if they could act. If not, then it's preferred by many to see someone that can act the part, even if he has to be covered up by makeup to get the effect.
2. He's already been in a movie that was nominated for an Oscar.
He was in Room with Brie Larson, which was in fact nominated for an Oscar. The movie didn't win and he wasn't nominated as best male actor, but it did gain him a lot of recognition in the process.
1. Jacob is an award-winning actor.
He has won a few awards so far in his career, so it's been proven that he has the acumen to really be great at what he does.
He's a 12-year old kid, and he's come this far. I think 'wow' about covers it.
Tell us what's wrong with this post? How could we improve it? :)
Let us improve this post!