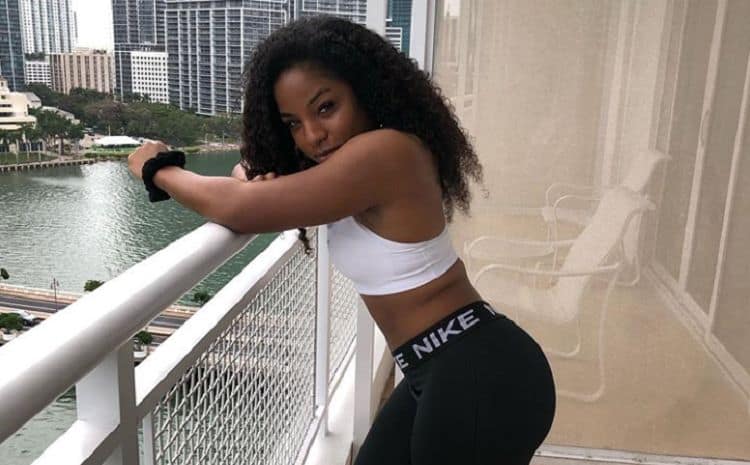 Santia Deck, also known as 'The Queen of Abs', is a certified fitness trainer and social media presence who boasts over 200k followers, many of whom put her fitness programming into practice every day. These things may be what she is best known for, but this multi-talented woman has accomplished much more than that. Deck is also both a television host and personality who is featured in 'Steve Austin's Broken Skull Ranch'. Add to that the fact that she is an accomplished fitness model and has authored a book entitled 'The Struggle,' and you have a person who is not only experiencing some level of success, but is extremely busy to boot.
Yes, there are many facets to this woman that the public is able to view and scrutinize on a daily basis, and these things make her very influential in many ways. But what about her personal life, and what types of life experiences made her who she is today? In order to know the answers to these questions, and many more, one has to discover the facts about her life that are out there for them to know. So, are you interested?
If you answered 'yes' to that question, then this is the article for you. We have dug fairly deep and uncovered some facts about Santia Deck and her life and put them together in one place for you to read. Now you don't have to worry about finding out things for yourself about her; you just have to continue to read. The '10 Things' list below will give you a lot more information that you likely already have…we're willing to be on it. So, whether you're into fitness and have been a Santia Deck fan for some time, or you just came upon this by accident just now and this is your first time ever hearing her name, you are going to enjoy the knowledge you glean from the paragraphs below. Keep reading to learn about one of the most popular and recognized fitness gurus working today.
Here are 10 things you didn't know about Santia Deck:
1. Childhood Dreams
Since she was young, Deck has wanted to be a success, and she has been pursuing that success for just as many years. At the ripe old age of two a physician told her mother that her body was built for running, and by seven the girl had signed up for a track program during the summer. Santia has been running like the wind ever since. She succeeded in those endeavors and built on them with each passing year, and those victories, small and large, are reflective of the success she is stepping into today.
2. Birth and Early Years
Deck was born on November 19, 1991; she is twenty-eight years of age. She has lived in Alpharetta, Georgia, and Stafford, Texas in the past, but most recently she is said to reside in Marietta Georgia. Family members include William Deck, Cynthia Deck, and Santee Deck, and sources say that most of her upbringing was spent in Stafford, Texas, where her parents raised her.
3. Education
While there isn't really much information on her primary and secondary education or the schools she attended, we do know that Deck attended Texas A & M University, Kingsville. During her time there, she excelled in Track & Field. She received her fitness certification from the American Aerobic Association International (AAAI). When it came to graduating from college, her athletic participations did not end at that point. Keep reading to discover what she does in athletics today.
4. Professional Sports Participation
In 2017 Deck joined the Legends Football League (LFL) to play for Atlanta Steam after the league drafted her directly. The team's Running Back Coordinator, known as 'Coach Ike', told Seizeworthy, "I've never seen a woman with the speed and agility that Santia possesses." Deck also plays in the American Women's Flag Football League (AWFFL), and has been their leading rusher three times over.
5. Her Brand
Santia launched her 'The Queen of Abs' brand in 2013, which is representative of her self-designed, core-focused online workout program. The program has helped countless individuals lose stubborn belly fat and tighten their abs, and the results have been proven again and again. She also uses her own unique methods to train clients on a private basis, and has released a workout DVD which features her signature routines. The DVD, which was released in 2014, is still an effective seller on the market.
6. Zodiac and Star Sign Traits
As we mentioned previously, Santia Deck was born on November 19, which means she was born under the zodiac sign of Scorpio. She was also born in 1991, The Year of the Goat, also known as The Year of the Sheep. Scorpio women are more mysterious and sexier than any of the other zodiac signs. She can be very profound , with the ability to draw others to her, and she can also be either tumultuous or very serene, depending upon what type of mood she is in. Scorpio women seem to be extremely perceptive, with an intuition that is almost indescribable and eerie, so they tend to be drawn to anything spiritual, and things that will provoke them to think and feel on a deep level. When it comes to love, they should not be taken lightly; they are very independent, so tying the Scorpio female down or attempting to dominate her will likely be a big mistake. As for her Chinese zodiac, those born in the Year of the Goat are well liked by almost everyone they meet, and are mostly gentle, rational, and calm.
7. Social Media Presence
Santia is very active on social media, sharing not only bits and pieces of herself, but really putting her brand, The Queen of Abs, her workouts, and her products out there, along with encouragement and advise. To check out some of her posts you can visit her on Twitter at @santia_deck. On Instagram she is at @santiadeck. Follow her to get the latest on what is going on with her life and business.
8. Net Worth
At the current time, Deck's approximate net worth has not been revealed by the media, though it is under estimation. With that being said, according to Guruobserver she is currently the highest-paid multi-million dollar player for the WFLA (Women's Football League Association). I think that, when considering all of her business ventures and athletic endeavors (including what guruobserver says above), it's safe to say that she likely has a functioning net worth in the millions-of-dollars.
9. Her Philosophy
Deck states clearly that 'self-love is self-care', and says that the two should be ranked together without differing. If you value yourself, you will treat yourself well, so the two are one and the same. What does treating yourself well consist of? Deck believes that paying attention to good health and nutrition means caring for yourself. This includes eating right, working out, and seeing to it that your body is getting the sufficient and proper nutrients that it needs to function properly and feel right.
10. To Be, or Not To Be…Vegan
According to Tajimag, Deck told them in an interview in February, 2019 that she was vegan until approximately July or August of 2018, when she decided to go back to her previous diet due to the intense sports she is playing. However, when she was vegan she said she looked and felt better than ever before in her life, from her skin clearing up to sleeping better. She also said that she was competing better than ever then, and her body functions were healthier than she remembered. From the sound of it, the vegan diet she was on was excellent for her health, and we would think would be excellent for anyone willing to adjust their eating habits in favor of it.
Well, now, we didn't know too much about Santia Deck before now, but chances are we won't be forgetting her anytime soon. Neither will you, we're sure. This accomplished woman has much to look forward to in her future, and all of that in 28 short years, Her life is a testament to what can be done when one is determined and motivated, as she obviously is, and she is enjoying the success that her hard work has brought. Here's to Santia Deck…may she motivate all of us to live better, be healthier, and care for ourselves more.